Log in to use the pretty print function and embed function.
Aren't you signed up yet? signup!
Diffuse crescite (anche se moderate) nel Nord Est, chiaroscuri nel Nord Ovest, recuperi al Centro, mentre il Sud in molti casi arranca
A consuntivo 2013 la maggioranza (55%) delle province italiane ha conseguito una crescita delle proprie esportazioni rispetto al 2012: si tratta di un risultato non scontato, visto che l'export italiano ha chiuso l'anno con un complessivo calo – seppur leggero (-0.1%) - rispetto all'anno precedente, anche se evidentemente meno favorevole rispetto a quello 2012, in cui le province in crescita erano state il 74% (in un anno che aveva registrato un incremento complessivo dell'export italiano del +3.7%).
Il "bicchiere" sembra quindi, almeno in parte, "pieno", anche se non si è certo nelle condizioni di poter brindare.
[caption id="attachment_3010" align="alignleft" width="1024" caption="Tassi di variazione Esportazioni 2013/2012 (prezzi correnti)"]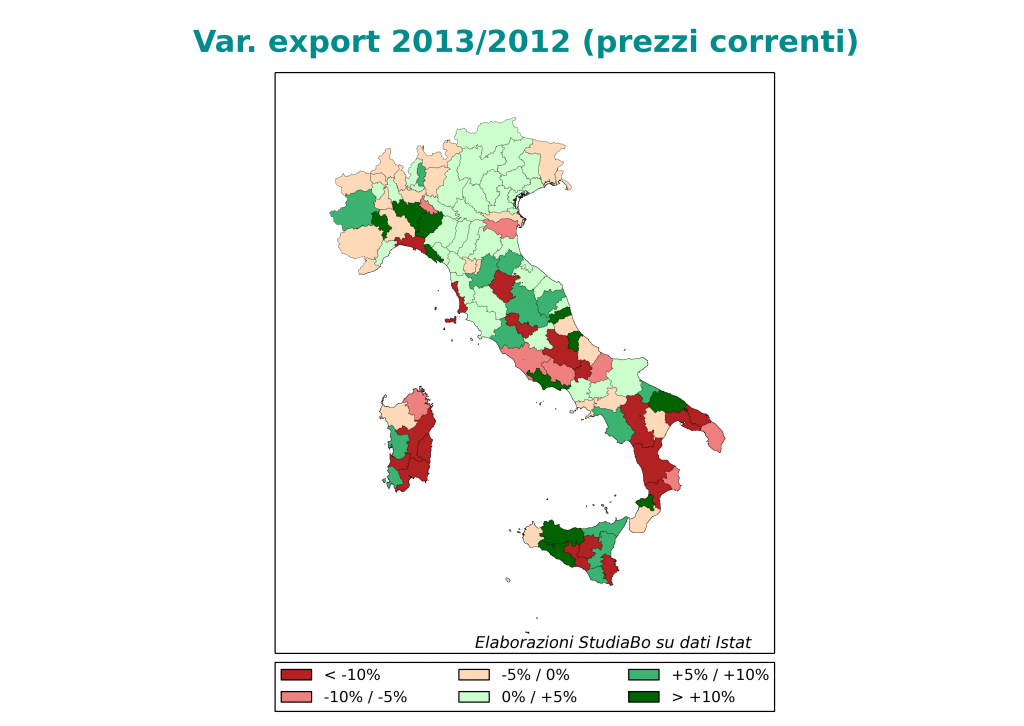 [/caption]
I dati delle esportazioni italiane 2013 per province evidenziano, in particolare, i seguenti risultati:
nelle province del Nord Ovest performance polarizzate : il 52% delle province con variazioni positive (in particolare La Spezia , Pavia , Asti ), mentre il restante 48% con cali delle esportazioni (anche se nella gran parte dei casi contenuti entro i 5 punti percentuali);

nelle province del Nord Est crescite diffuse (77% delle province con variazioni 2013/2012 di segno positivo), anche se mediamente moderate, comprese nella quasi totalità dei casi entro i 5 punti percentuali; solo le esportazioni di Piacenza hanno registrato aumenti a doppia cifra;

nelle province del Centro andamenti nella maggior parte dei casi (68%) favorevoli , in particolare nelle Marche (100% di province in crescita nell'export 2013, con quella di Ascoli Piceno best performer a livello nazionale); da segnalare anche il risultato di Latina ;

nelle province del Sud , invece, si segnalano risultati nella maggior parte dei casi (63%) negativi , anche se vanno evidenziate le crescite significative delle esportazioni delle province di Agrigento , Pescara , Palermo, Vibo Valentia e Bari.
Accanto alle realtà provinciali più dinamiche in termini di esportazioni 2013, vanno infine menzionate le province che l'anno scorso hanno evidenziato le maggiori difficoltà nelle proprie vendite all'estero: Genova per il Nord Ovest , Terni , Arezzo e Livorno per il Centro e, per il Sud , soprattutto Ogliastra , Caltanissetta , Taranto , L'Aquila , Siracusa (ma anche Enna, Brindisi, Catanzaro, Cosenza, Potenza, Cagliari, Isernia, Medio Campidano e Nuoro hanno registrato cali a doppia cifra).