Log in to use the pretty print function and embed function.
Aren't you signed up yet? signup!
Nel primo trimestre del 2014 le esportazioni delle imprese italiane più dinamiche dei concorrenti UE, con riferimento sia ai mercati comunitari sia anche a molte aree extra-UE (Asia e Nord America su tutte).
I primi tre mesi dell'anno hanno evidenziato una dinamica scarsamente dinamica delle esportazioni italiane di merci: +1.1% nei valori tendenziali in euro, secondo le pre-stime del Sistema Informativo Ulisse.
Tale debole performance può tuttavia essere "rivalutata" alla luce dei risultati dell'insieme delle imprese concorrenti europee: in base alle pre-stime del Sistema Informativo Ulisse, nel primo trimestre dell'anno le esportazioni di merci dei paesi UE27 hanno sperimentato una variazione tendenziale del +0.7% in euro.
In particolare, nel primo trimestre dell'anno le esportazioni italiane di merci sono risultate relativamente più dinamiche della media dei paesi concorrenti UE27 sia sul mercato comunitario (si veda l'aggregato Europa UE27 in tabella), sia soprattutto in Asia , Americhe (aree NAFTA e America Latina ) e Africa Sub-Sahariana .
Totale Merci: Esportazioni dell'Italia nel primo trimestre
Aree di destinazione

2014 (1)

2013

Variazioni tendenziali

Diff. Var. % ITA-UE27

Contributi alla variaz.

Milioni di euro

%

(2)

%

Europa UE27

53 106

50 880

4,4

0,5

2,4

Europa non-UE27

11 338

12 573

-9,8

-2,0

-1,3

Asia

9 167

8 474

8,2

5,8

0,7

Medio Oriente N.A.

7 911

8 185

-3,3

-3,5

-0,3

NAFTA

7 832

7 536

3,9

1,2

0,3

America Latina

2 363

2 440

-3,2

6,1

-0,1

Oceania e Sud Africa

1 241

1 525

-18,7

-8,9

-0,3

Africa Sub Sahariana

828

718

15,3

13,7

0,1

Resto del Mondo

1 803

2 195

-17,9

10,2

-0,4

Totale

95 589

94 528

1,1

0,4

1,1
(1) Pre-stima dati marzo 2014. (2) Differenziale tra variazioni % tendenziali Esportazioni Italia e Totale Esportazioni UE27
Fonte: Sistema Informativo Ulisse
Di converso, nell'area MENA ( Medio Oriente Nord Africa ), nei paesi dell' Europa non-UE27 e in Oceania-Sud Africa le esportazioni italiane hanno evidenziato un andamento negativo e soprattutto meno favorevole della media dei concorrenti comunitari.
[caption id="attachment_3255" align="aligncenter" width="606" caption="Totale Merci: Quote % Esportazioni Italia sul totale Esportazioni UE27 (euro correnti, media mobile 3 termini; fonte: SI Ulisse)"]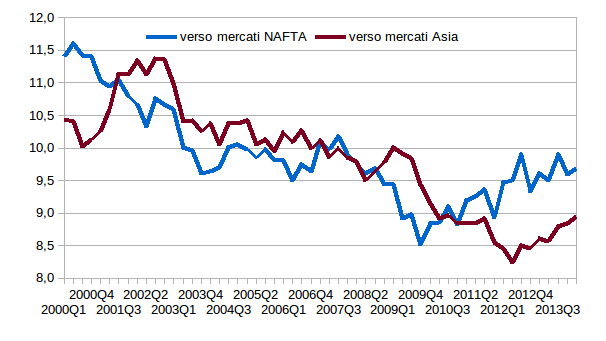 [/caption]
In un'ottica temporale più ampia, i primi risultati tendenziali dell'anno in corso confermano, in modo particolare, i segnali di accresciuta competitività delle esportazioni italiane sui mercati nord americani e asiatici. Se si analizza, infatti, l'evoluzione della quota delle esportazioni italiane sul totale dei paesi UE27, si può evincere una dinamica di tendenziale rafforzamento - in atto ormai da oltre tre anni - sui mercati del Nord America (area NAFTA ) e una più recente sui mercati dell' Asia .
In conclusione, le informazioni a disposizione segnalano come le imprese italiane, nonostante le condizioni complessivamente poco dinamiche dell'economia mondiale, stiano da qualche tempo evidenziando coraggio e determinazione nel ricercare in paesi lontani (geograficamente e culturalmente) quelle opportunità di crescita senza le quali le imprese muoiono. Questo segnale positivo è particolarmente importante perchè dalla minore o maggiore capacità dell'industria italiana di affermarsi sui mercati mondiali dipenderà l'uscita o meno della nostra economia dall'attuale prolungata fase di declino.