Log in to use the pretty print function and embed function.
Aren't you signed up yet? signup!
Exportpedia ( www.exportpedia.it ) è un nuovo strumento informativo finalizzato a monitorare l'evoluzione dei processi di internazionalizzazione, in termini di esportazioni, dei territori italiani, per valutarne nel tempo i cambiamenti, apprezzarne i successi e comprenderne meglio i limiti.
Exportpedia è un portale, sviluppato dalle società Servabit, StudiaBo, Aderit, che veicola nella forma di mappe interattive le informazioni ricavate dalle dichiarazioni di esportazione delle imprese italiane, disponibili a livello provinciale, per settore e per paese di destinazione.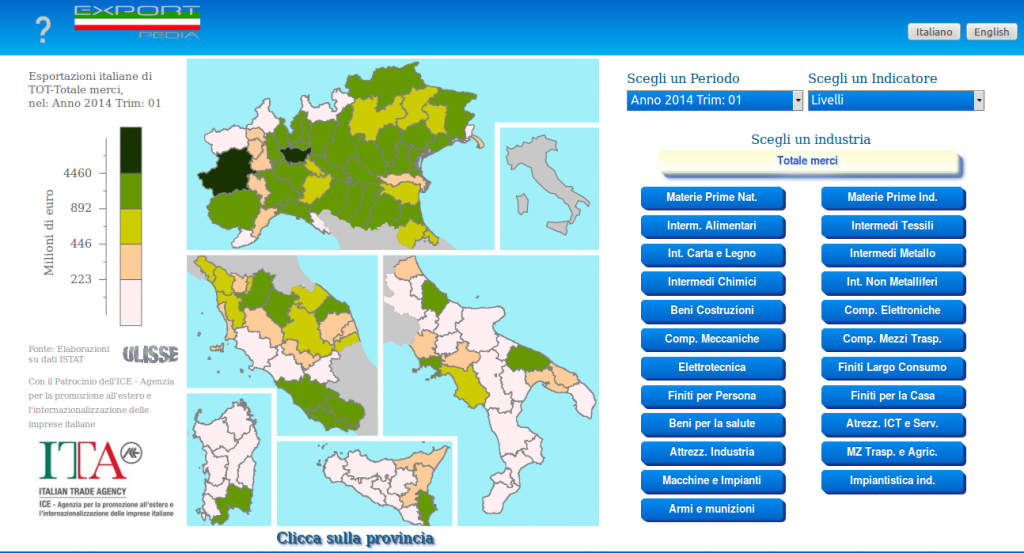 Exportpedia nasce dalla convinzione che, in un fase dell'economia italiana dove la speranza di vedere un recupero diffuso di "benessere" è giocoforza legata alla capacità delle imprese nei diversi territori di vendere all'estero i propri prodotti, diventa fondamentale riuscire a tenere sotto controllo l'evoluzione di questi processi.
Exportpedia si rivolge a tutti gli attori interessati e coinvolti in questi processi. L'accesso (gratuito) ad Exportpedia è rivolto, in primis, al mondo delle imprese , che stanno sperimentando sul campo le difficoltà di questa fase difficile della nostra economia e che sono ormai obbligate a prendere decisioni basate il più possibile su informazioni "oggettive" e documentate.
Exportpedia è pensato anche per supportare il mondo degli erogatori di servizi all'internazionalizzazione, affinché, grazie alla capacità di "leggere" sempre meglio i comportamenti e i bisogni dei propri potenziali utenti, possano perseguire un percorso di crescente specializzazione dei propri servizi.
Exportpedia si rivolge, non da ultimo, al mondo delle istituzioni , chiamate a indirizzare e favorire i processi di internazionalizzazione delle imprese dei vari territori, attraverso una corretta interpretazione dello scenario di riferimento.
L'obiettivo di Exportpedia è quello di supportare questi diversi stakeholder nello svolgere sempre meglio il proprio ruolo, offrendo loro un o strumento di facile consultazione, innovativo nelle modalità di presentazione dei contenuti di informazione, costantemente aggiornato.