Log in to use the pretty print function and embed function.
Aren't you signed up yet? signup!
Il secondo trimestre dell'anno ha confermato per il settore degli elettrodomestici per la casa i segnali di elevata dinamicità delle esportazioni italiane sul mercato statunitense, in crescita tendenziale di oltre il 50% in euro rispetto al corrispondente periodo 2013.
Le vendite di elettrodomestici italiani negli Stati Uniti stanno continuando a registrare dinamiche di crescita particolarmente positive, decisamente superiori alla media dei concorrenti presenti sul mercato. Nel secondo trimestre 2014 le importazioni di Elettrodomestici per la casa del mercato statunitense provenienti dall'Italia sono aumentate di circa 17 milioni di euro rispetto al corrispondente trimestre 2013 (+61%).
Nel complesso, nel primo semestre dell'anno le importazioni USA dall'Italia di Elettrodomestici per la casa si sono attestate su valori di oltre 27 milioni di euro superiori rispetto ai valori della prima parte del 2013, comportando una crescita tendenziale in euro del +52.2%.
Le importazioni degli Stati Uniti di Elettrodomestici per la casa (prezzi CIF)
Importazioni I semestre 2014 (milioni di euro)

Tassi di variazione (euro correnti)

2013

I Semestre 2014

Da Italia

79

+9.1%

+52.2%

Totali

8 154

+2.4%

+2.7%

Fonte: Sistema Informativo Ulisse (DW USATrade)
Va evidenziato, inoltre, come nel primo semestre dell'anno l' Italia sia risultato, dopo il Messico , il secondo partner commerciale estero di Elettrodomestici per la casa del mercato statunitense.
Malesia , Svizzera e Hong Kong sono gli altri paesi competitori che hanno evidenziato le crescite più rilevanti sul mercato statunitense di Elettrodomestici per la casa nel primo semestre 2014. Di converso, i paesi competitori che hanno registrato nel primo semestre dell'anno le peggiori performance sul mercato USA sono, nell'ordine, Cina , Canada , Germania e, in misura minore, Belgio e Polonia .
[caption id="attachment_3809" align="alignnone" width="605" caption="Importazioni degli Stati Uniti di Elettrodomestici per la casa: contributi alla crescita per paese di provenienza (euro correnti, fonte: SI Ulisse - DW USATrade)"]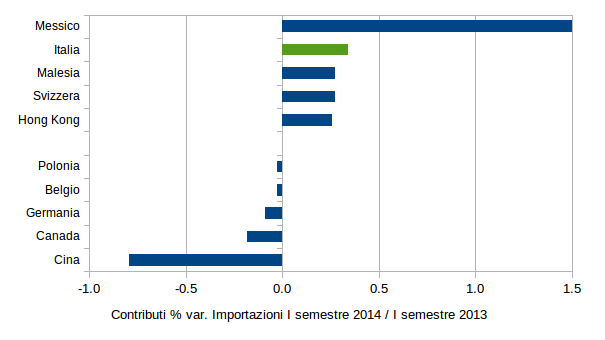 [/caption]
Pur trattandosi di valori complessivamente contenuti (pari a 79 milioni di euro, a fronte degli 8.2 miliardi di euro di importazioni complessive del mercato), i risultati di esportazione del settore degli Elettrodomestici per la casa negli Stati Uniti testimoniano una crescente capacità delle imprese italiane di intercettare con successo opportunità di domanda che si stanno formando Oltre Oceano, guadagnando quote rispetto ai paesi concorrenti. Tali risultati fanno seguito, infatti, ad un 2013 che aveva evidenziato un incremento delle importazioni USA dall'Italia di Elettrodomestici per la casa pari al +9.1% in euro, a fronte di un andamento complessivo delle importazioni del mercato in crescita di 2.4 punti percentuali.
La consapevolezza della debolezza che ancora sta caratterizzando i consumi europei di beni durevoli sembra, quindi, aver spinto gli operatori italiani del settore ad orientare – con successo, come nel caso del mercato USA - la propria azione commerciale anche al di fuori dei tradizionali mercati comunitari. Ciò appare un risultato particolarmente significativo, in un primo semestre in cui il cambio dell'euro nei confronti del dollaro ha presentato quotazioni particolarmente apprezzato, di oltre 4 punti percentuali superiori a quelle del corrispondente periodo 2013.