Log in to use the pretty print function and embed function.
Aren't you signed up yet? signup!
(di Ornella Sottile e Annalisa Vignoli, StudiaBo srl)
Le informazioni rese disponibili dal Sistema Informativo Ulisse segnalano nel terzo trimestre 2014 una ri-accelerazione del commercio mondiale di Componenti meccaniche ed ottiche : tra luglio e settembre le Esportazioni Mondiali 1 di questa industria hanno registrato, infatti, una crescita in euro del 3.1 per cento rispetto al corrispondente trimestre 2013. Ciò fa seguito, peraltro, a 7 trimestri consecutivi (precisamente dal quarto trimestre 2012) di cali tendenziali.
Contestualmente, nel terzo trimestre 2014 le Esportazioni Italiane di Componenti meccaniche ed ottiche hanno continuato a mostrare andamenti significativamente positivi nei valori, con un tasso di crescita tendenziale vicino al +6% in euro, solo in leggera decelerazione rispetto al molto positivo trimestre precedente. Si confermano, pertanto, i segnali di elevata competitività delle vendite all'estero italiane di questa industria, che, a partire da inizio 2013 – pur in un contesto congiunturale poco favorevole (come dimostrano le cadute delle esportazioni mondiali), hanno registrato tassi di crescita positivi.
[caption id="attachment_4740" align="alignnone" width="1235" caption="Componenti meccaniche ed ottiche: dinamica delle Esportazioni Mondiali e Italiane a confronto (tassi di variazione in euro correnti; fonte: SI Ulisse)"]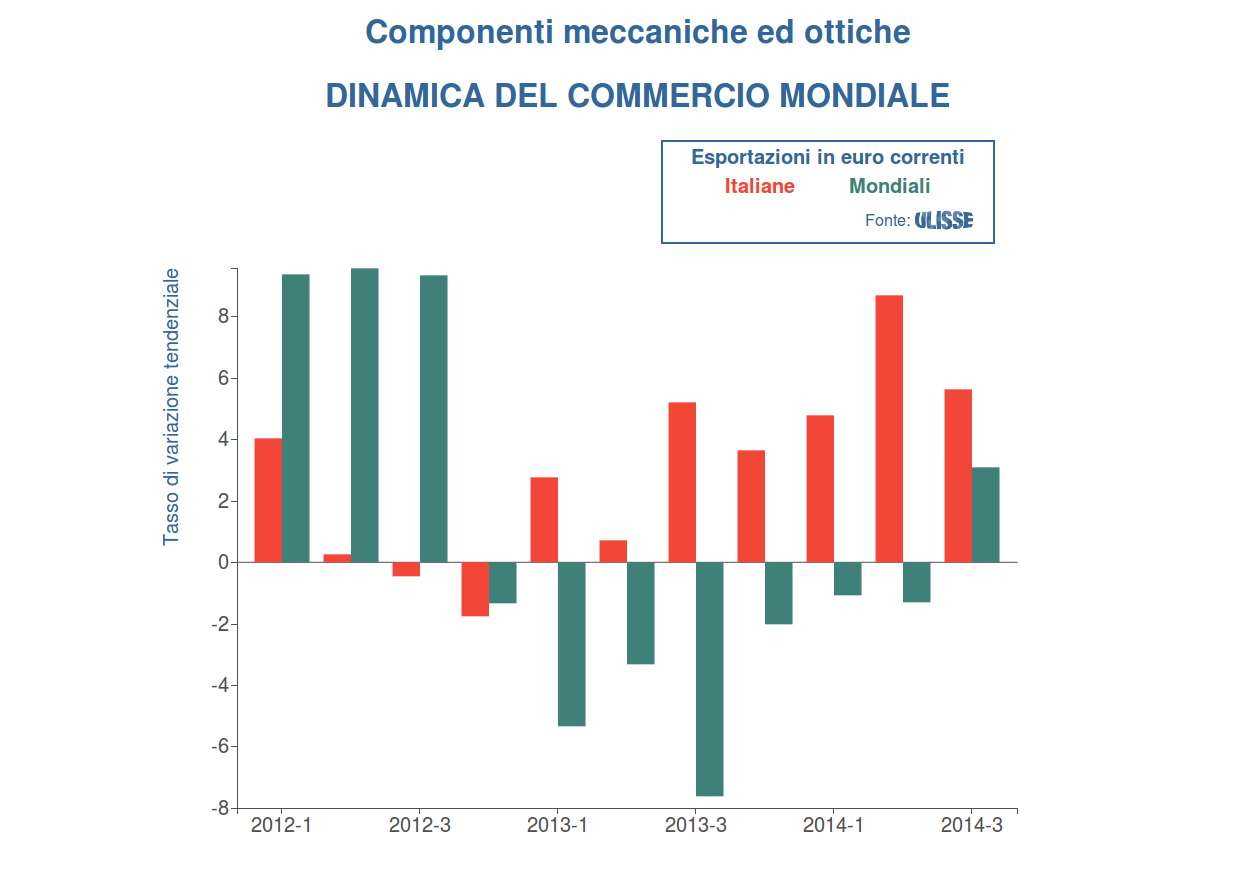 [/caption]
1
1. Il campione congiunturale Ulisse è composto da 70 paesi, rappresentativi del 70% dei flussi di esportazione di beni. Il campione può quindi essere considerato rappresentativo del totale degli scambi internazionali.