Log in to use the pretty print function and embed function.
Aren't you signed up yet? signup!
Nel quarto trimestre dell'anno scorso Brescia si è confermata tra le province trainanti l'export italiano: tra ottobre e dicembre 2014 le vendite all'estero delle imprese bresciane hanno, infatti, registrato un aumento tendenziale in euro del +4.1%.
I dati visualizzabili sul portale Exportpedia ( www.exportpedia.it ) consentono di cogliere in maniera immediata quali sono sia i mercati che i settori che hanno determinato tale performance.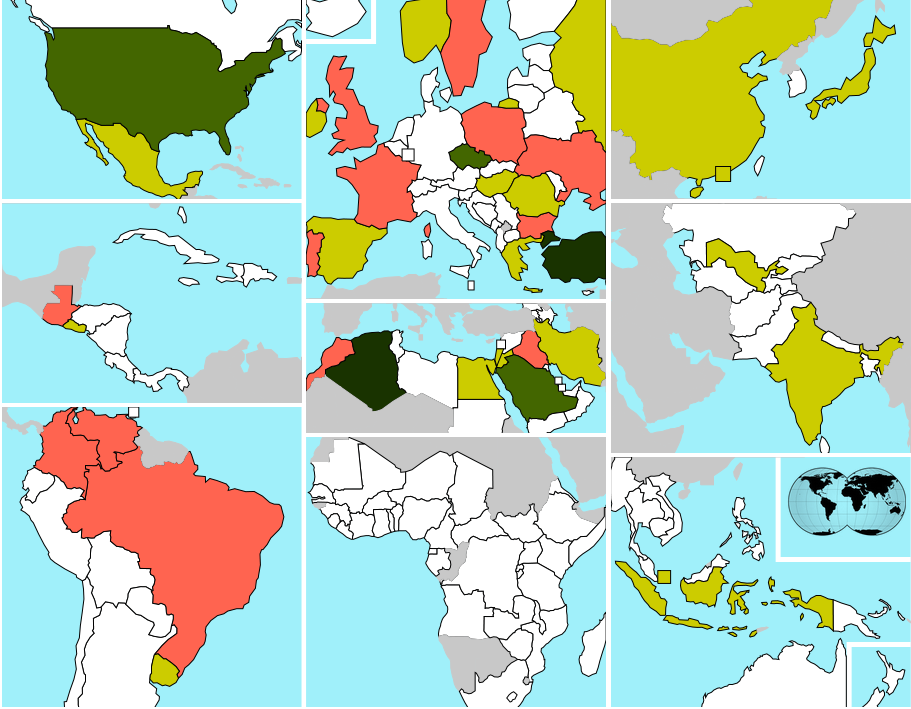 Stati Uniti, Algeria e Turchia si caratterizzano come i principali mercati trainanti l'export della provincia di Brescia. Nel quarto trimestre dell'anno le vendite delle imprese bresciane rivolte a questi tre mercati hanno assicurato complessivamente un contributo che supera i 2.5 punti percentuali alla crescita totale dei fatturati all'estero della provincia.
Arabia Saudita , Repubblica Ceca e, in misura minore, Cina , India , Spagna , Egitto e Iran sono gli altri mercati più rilevanti in termini di contributi alla crescita delle vendite all'estero provinciali nel quarto trimestre 2014.
Di converso, Brasile , Francia , Marocco , Bulgaria risultano i principali mercati frenanti dell'export provinciale nel 4° trimestre 2014. In peggioramento rispetto al terzo trimestre dell'anno appaiono, inoltre, nel periodo ottobre-dicembre 2014 i mercati di Regno Unito, Polonia, Svezia, Ucraina, Portogallo, Colombia, Venezuela, Guatemala, Iraq .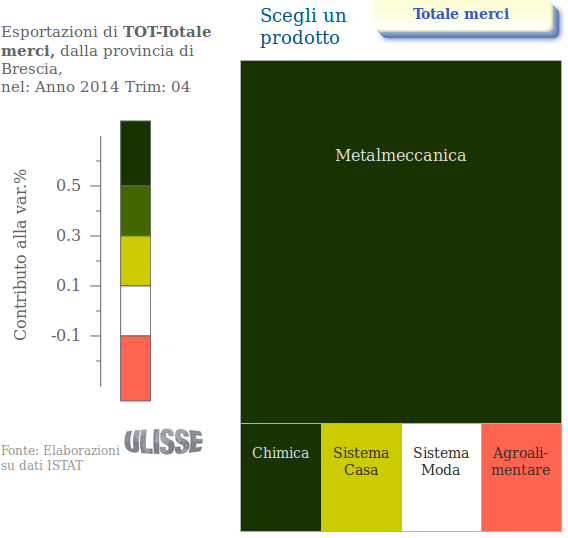 Dal punto di vista merceologico, nel quarto trimestre del 2014 Metalmeccanica e, a seguire Chimica ,risultano i macro-settori trainanti le esportazioni della provincia di Brescia.
Contributi positivi alla crescita dell'export provinciale derivano, in particolare, – all'interno del macro-settore Metalmeccanica dai settori Valvole, pompe ed altra meccanica varia, Macchine non utensili, Metalli non ferrosi, Acciaio, Macchine utensili, Attrezzature e macchine varie.
Chimica di base e Servizi locali sono, invece, i settori che nel quarto trimestre 2014 hanno segnalato maggiori contributi alla variazione delle esportazioni della provincia di Brescia nel macro-settore Chimica.
Si segnala, tuttavia, il forte peggioramento del macro-settore Agroalimentare , che ha comportato complessivamente una variazione negativa di quasi 9 punti percentuali in euro rispetto al corrispondente trimestre 2013. Variazioni di segno negativo hanno caratterizzato, in modo particolare, i settori Formaggi e altri prodotti del latte , Bevande , Pasta, biscotti e altri prodotti da forno , Conserve e succhi di ortaggi e frutta , Carta e cartone .