Log in to use the pretty print function and embed function.
Aren't you signed up yet? signup!
Il nuovo indicatore "Dalla Grande Recessione ad oggi" disponibile sul portale Exportpedia.it è in grado di fornire una panoramica della capacità delle province e regioni italiane di far fronte alla Grande Recessione, manifestata dal 2008.
Per ogni provincia italiana, l'indicatore mette a confronto i valori dell'export realizzati nel 2008 (rivalutati in base all'indice dei prezzi pubblicato da Istat) con quelli del 2015. La differenza così ottenuta, riportata in valori percentuali, consente di capire se un territorio ha recuperato i livelli di esportazione pre-crisi oppure se, a distanza di sette anni, i livelli di export risultano ancora inferiori rispetto al benchmark precedente.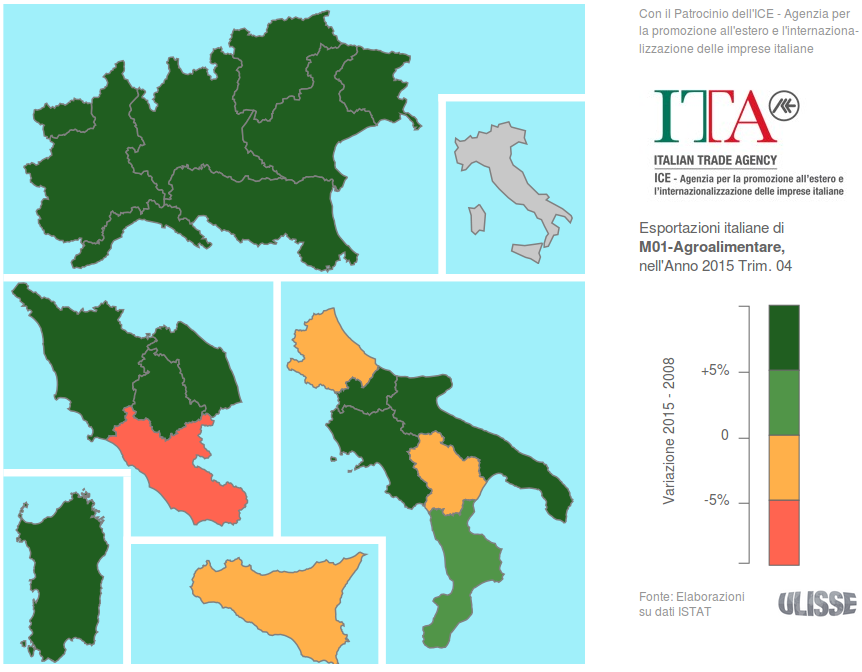 Il settore Agroalimentare ha saputo nel complesso più che recuperare i livelli di esportazione pre-crisi. Un trend decisamente positivo ha contraddistinto, in modo particolare, le regioni Friuli-Venezia-Giulia , Trentino , Veneto , Emilia-Romagna , Liguria , Valle d'Aosta e Umbria , le cui esportazioni di Agroalimentare hanno registrato a consuntivo 2015 livelli significativamente superiori (oltre il +5%) rispetto a quelli del 2008.
Di seguito la graduatoria delle top dieci province che hanno saputo maggiore accrescere i livelli delle proprie esportazioni di Agroalimentare dalla Grande Recessione ad oggi.
Provincia              Variazione % 2008-2015                         Differenza in milioni di euro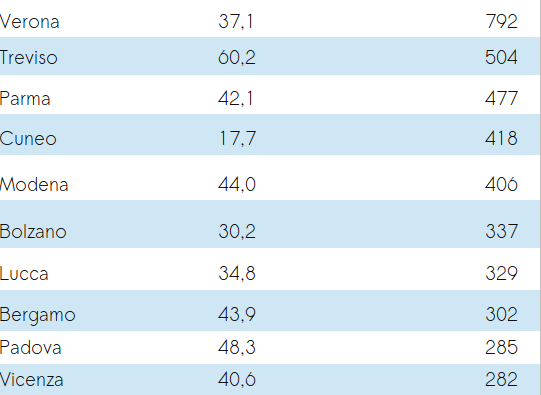 La provincia di Verona figura al primo posto, con un incremento nel periodo 2008-2015 di quasi 800 milioni di euro (+37.1%) nelle esportazioni di Agroalimentare. Al secondo posto si posiziona la provincia di Treviso , con un aumento dalla Grande Recessione ad oggi di oltre 500 milioni di euro (+60.2%) nelle esportazioni di Agroalimentare. Da segnalare, inoltre, le performance delle province di Parma , Cuneo e Modena , con aumenti tutti superiori ai 400 milioni di euro.
Gli effetti negativi della Grande Recessione sull'export italiano di Agroalimentare hanno, invece, colpito la regione Lazio e nello specifico le province di Roma (-38.1% in euro tra il 2008 e il 2015) e Latina (-18.2%).
Nel Nord d'Italia eccezioni negative sono inoltre rappresentate dalle province di Pavia (-24.2% in euro nell'export di Agroalimentare dalla Grande Recessione ad oggi), Vercelli (-8.2%) e Milano (-11.4%) che mostrano ancora difficoltà nel recuperare i valori pre-crisi.
A livello di mercati di destinazione, il trend di crescita delle esportazioni italiane di Agroalimentare ha riguardato principalmente i mercati extra-europei : in particolare, i mercati nord americani ( Stati Uniti +46.2% in euro e Canada +36.3%) e l'Asia-Oceania (in particolare, Giappone +38.9% e Australia +40.2% ).
Nell'area UEM Olanda (+18.8%), Belgio (+15.7%) e Austria sono i merc ati che spiccano maggiormente fra quelli con livelli delle esportazioni italiane di Agroalimentare nel 2015 superiori a quelli pre-crisi .
Si segnalano, tuttavia, ancora al di sotto dei livelli pre-crisi , invece, le esportazioni italiane di Agroalimentare rivolte a Germania e Francia , i principali partner commerciali delle province italiane per il macrosettore Agroalimentare.