Log in to use the pretty print function and embed function.
Aren't you signed up yet? signup!
Grazie alla netta vittoria nelle elezioni del fine settimana scorso, il premier giapponese Shinzo Abe controlla ora, assieme ai partiti alleati, anche i due terzi della Camera Alta. Abe ha quindi i numeri per accelerare dal lato delle riforme e degli stimoli all'economia. I mercati finanziari hanno valutato positivamente questo successo portando ad un netto aumento della borsa giapponese. Viceversa, il tasso di cambio dello
Yen
si è fortemente indebolito (verso l'euro è ritornato a valori prossimi a 118 yen), annullando tutto l'apprezzamento che aveva accumulato in corrispondenza del Brexit e del deprezzamento della Sterlina. La dinamica dello Yen sembra debba essere letta più in relazione a quella della
Sterlina
, ritornata ad apprezzarsi negli ultimi giorni, piuttosto che in relazione alle vicende politiche giapponesi. Anzi è probabile che il deprezzamento dello yen sia uno dei fattori di sostegno della crescita della Borsa giapponese.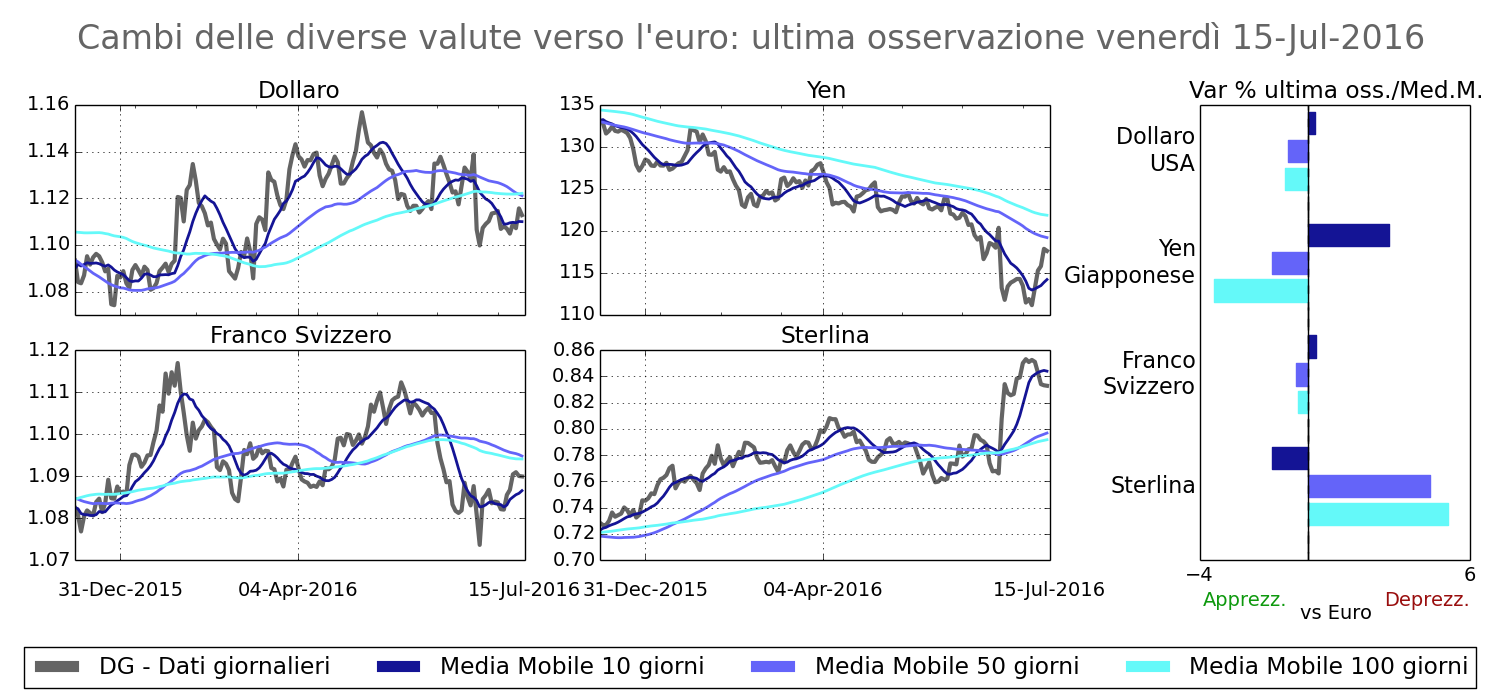 L'apprezzamento della Sterlina si è accompagnato ad un leggero indebolimento del Dollaro e anche del Franco svizzero. Sul fronte delle altre valute asiatiche, la scorsa settimana è proseguito il rafforzamento dello
Won
sud coreano e del
Ringgit
malese e, in misura minore, del
Bath
tailandese.  Lo Won  e il Ringgit nell'arco di un mese si sono apprezzati di oltre il 4% rispetto all'Euro; il Bath del 2%.  Viceversa continua il lento indebolimento dello
Yuan
cinese. Tra le valute europee, da segnalare una tendenza all'indebolimento del Leu rumeno, che in cinque giorni ha perso l'1% verso l'Euro. Tra le valute del resto del mondo si registrano ulteriori apprezzamenti per il
Rublo
e il
Real
brasiliano: il primo si è avvicinato ai 70 rubli per euro; il secondo a 3.6 real per euro.