Il rublo cambia direzione - V sett. luglio
Published by Luigi Bidoia. .
Exchange rates
Log in to use the pretty print function and embed function.
Aren't you signed up yet? signup!
Fino alla settimana scorsa il rublo aveva accumulato dall'inizio del 2016 un forte apprezzamento verso l'euro, passando da valori che si erano spinti ad oltre 90 rubli per euro nel mese di gennaio a valori inferiori a 70 rubli, registrati tra il 18 e il 20 luglio. Nel corso di questa settimana il
rublo
ha cambiato in modo repentino la propria direzione, ritornando su valori vicini a 75 rubli per euro. Dietro a questo inversione di rotta c'è l'intervento del presidente Putin che ha richiamato l'attenzione dei responsabili dell'economia russa sugli effetti non positivi che può avere sull'economia del paese la prosecuzione di una fase di apprezzamento della valuta. Molti investitori hanno quindi deciso di chiudere le loro posizioni, aperte nel corso dell'anno per guadagnare sui maggiori rendimenti dei titoli denominati in rubli, prevedendo una riduzione a breve del tasso di riferimento della Banca Centrale. Diversamente ieri la Banca Centrale ha mantenuto invariato al 10,5 per cento il tasso di riferimento. L'effetto è stato immediato sul rublo, ritornato nel corso della giornata su valori inferiori a 74.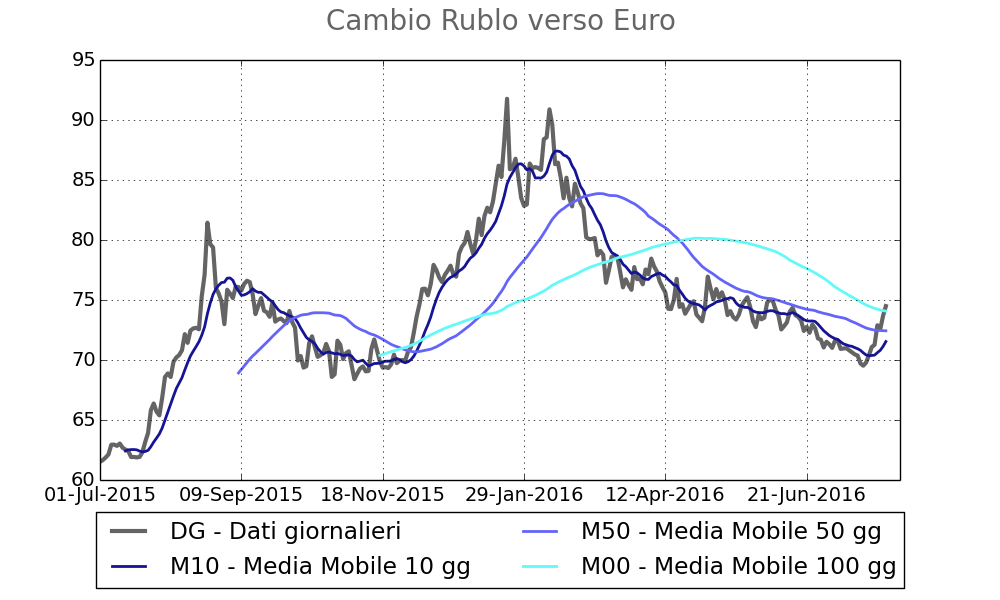 Una maggiore stabilità ha caratterizzato i rapporti di cambio tra le prime cinque valute mondiali. Dopo la
deviazione
registrata tra fine giugno e inizio luglio, lo
Yen
ha ripreso il suo percorso di lento, ma costante, apprezzamento.
Dollaro
e
Franco
svizzero si sono mossi in modo opposto (in deprezzamento il primo, in apprezzamento il secondo), ma rimanendo all'interno dei range che li caratterizza da alcuni mesi.  La sterlina non si è mossa da valori prossimi a 0.84 pounds per euro.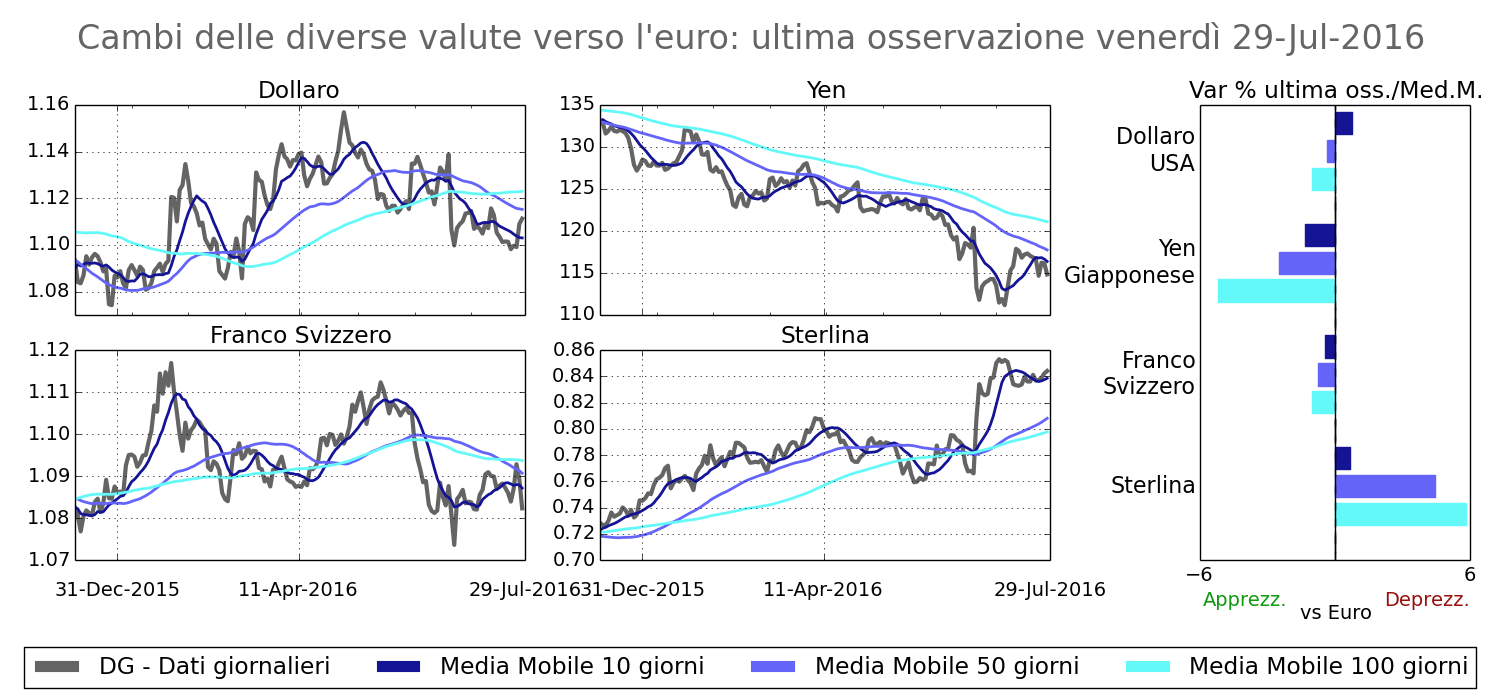 Tra le altre valute mondiali, da segnalare la relativa forza dell'euro verso tutte le valute asiatiche (con l'esclusione dello
Won
sud coreano, che per l'ennesima settimana si è apprezzato verso l'euro), verso tutte le valute del continente americano, verso quelle dei paesi mediterranei e verso le
valute scandinave
, che continuano nella loro fase di progressiva debolezza.