Log in to use the pretty print function and embed function.
Aren't you signed up yet? signup!
Nel secondo trimestre 2016 si segnala un recupero della domanda mondiale denominata in euro di Calzature, dopo il calo evidenziato nei primi tre mesi dell'anno.
In base alle pre-stime formulate da StudiaBo, nell'ambito del Sistema Informativo Ulisse, nel periodo aprile-giugno di quest'anno le im portazioni mondiali 1 di Calzature 2 hanno evidenziato un incremento del +2.8% nei valori destagionalizzati in euro rispetto al trimestre precedente. Questo risultato fa seguito alla riduzione registrata nel periodo gennaio-marzo di quest'anno (pari al -2.2% nei valori destagionalizzati in euro).
[caption id="attachment_6913" align="aligncenter" width="469"]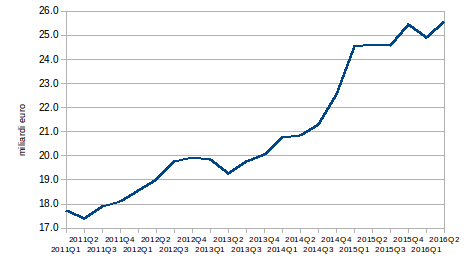 Calzature: livelli trimestrali della domanda mondiale in euro (valori destagionalizzati; fonte: Sistema Informativo Ulisse)[/caption]
Pur su livelli storicamente di massimo 3 , si confermano, peraltro, dinamiche del commercio mondiale settoriale nei valori in euro decisamente meno accelerate rispetto all'esperienza dell'anno scorso, quando – in media d'anno – la domanda mondiale di Calzature aveva registrato in euro un incremento prossimo al +16% (grazie essenzialmente alla svalutazione della Moneta Unica europea).
In un simile contesto, si accentua la necessità per le PMI esportatrici del settore di misurare i propri risultati in rapporto ai cambiamenti dell'ambiente esterno e comprendere, il prima possibile, come questi cambiamenti stiano modificando le proprie potenzialità di vendita sui diversi mercati di vendita.
1 Il campione congiunturale Ulisse è composto dalle principali economie mondiali. Le loro importazioni ed esportazioni superano l'80% dei flussi totali di commercio mondiale. Il campione può quindi essere considerato rappresentativo del totale degli scambi internazionali.
2 Il codice Ulisse considerato in questa analisi è il seguente: E2.22. Per una descrizione dei prodotti in esso ricompresi si veda: http://docs.ulisse.studiabo.it/ulisse/it/E2.22.pdf .
3 In base alle prestime formulate da StudiaBo, nella media del primo semestre 2016 il commercio mondiale di Calzature denominato in euro è risultato di oltre il 40% superiore ai livelli di inizio decennio.