Log in to use the pretty print function and embed function.
Aren't you signed up yet? signup!
Da inizio anno alcune valute delle principali economie emergenti hanno registrato un significativa tendenza ad apprezzarsi. Tra queste valute, analizzate nell'articolo Il rafforzamento di Real Brasiliano, Rublo e Rand Sudafricano, quella che mostra una particolare sensibilità verso le turbolenze di politica interna è il Real Brasiliano. Questa valuta, dopo una fase di significativo apprezzamento, nell'ultima settimana si è significativamente indebolita a seguito dello scandalo in cui è coinvolto il Presidente Temer e per il quale il Tribunale Supremo Federale ha formalmente deciso di incriminarlo per corruzione.
Osservando la dinamica del Real rispetto al dollaro nel grafico seguente è evidente il recente deprezzamento della valuta brasiliana, passata da 3.09 Real per dollaro a poco meno di 3.33, nonostante la situazione di progressivo miglioramento che caratterizza l'economia brasiliana.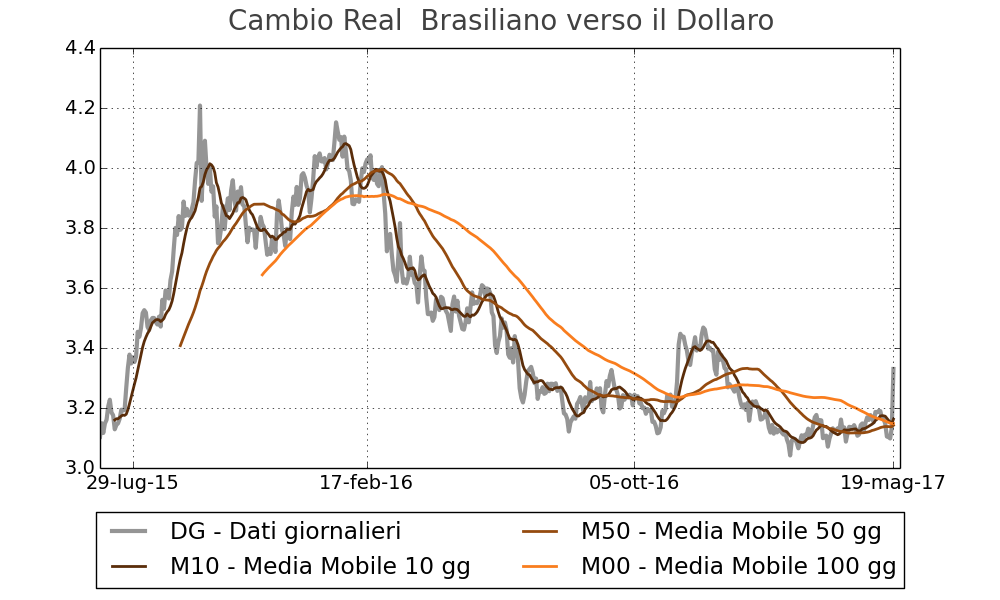 Come il Real Brasiliano, anche il dollaro risente delle turbolenze politiche legate a Russiagate. Nel rapporto di cambio verso l'euro, l'indebolimento del dollaro è ulteriormente influenzato dalle parole di M. Draghi che considera la crisi dell'Eurozona ormai superata. La moneta unica chiude la settimana a 0.89 euro per dollaro (1.119 dollari per euro), un valore che non si registrava dalla prima settimana di Ottobre 2016.
Franco Svizzero e Yen seguono la scia dell'euro, rafforzandosi significativamente nei confronti del dollaro. Approfitta della debolezza della valuta statunitense la Sterlina, anche se in maniera più contenuta.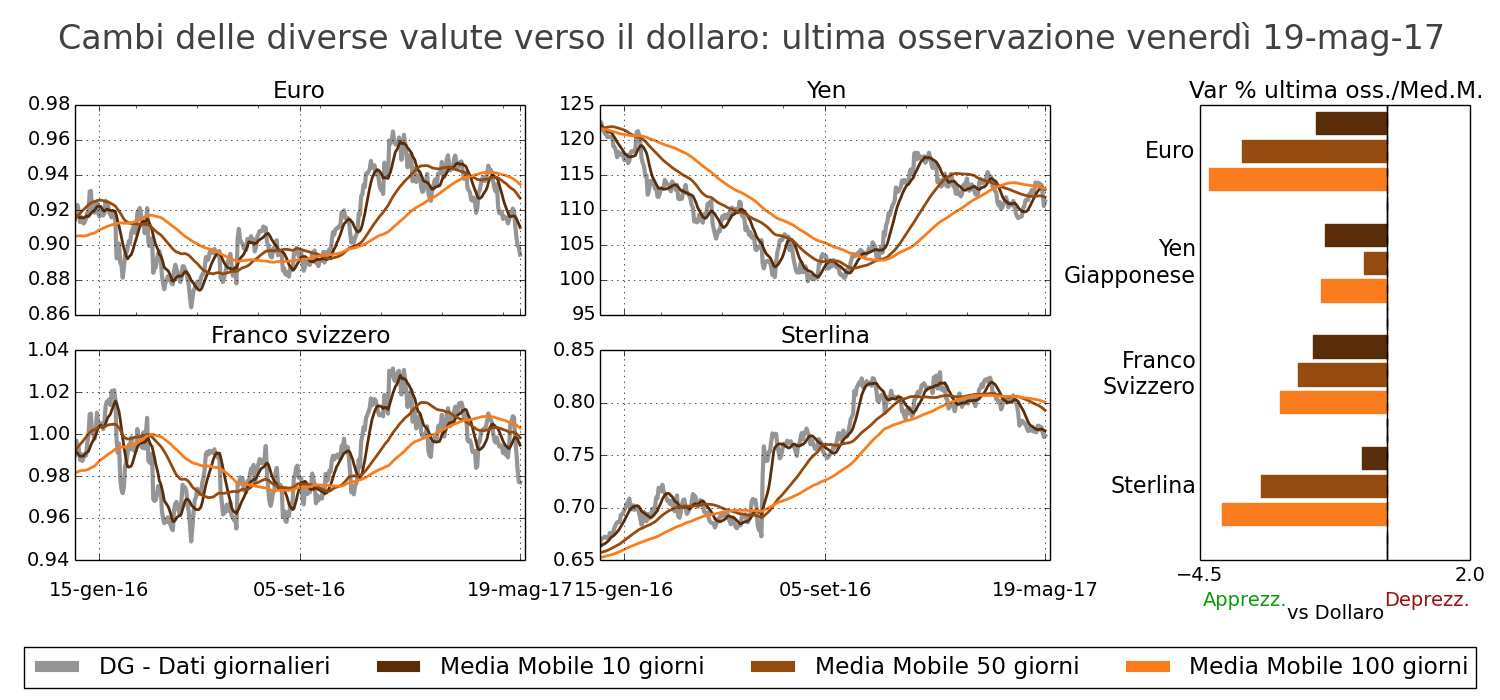 Contrariamente alla dinamica presentata dalla maggior parte delle valute dei paesi non europei, la Rupia Indiana registra una debolezza nei confronti del dollaro, dopo la decisione di politica nucleare per la costruzione di 10 nuovi reattori approvata dal governo di Narendra Modi, che ha acuito le tensioni esistenti con Pakistan e Cina.