Log in to use the pretty print function and embed function.
Aren't you signed up yet? signup!
Sui media mondiali e tra gli analisti politici sta prevalendo l'opinione che, nonostante la comunicazione aggressiva di Donald Trump, l'attuale amministrazione americana stia seguendo una posizione spiccatamente pragmatica. Questa opinione sta portando i mercati finanziari a considerare sempre più come improbabili alcune delle azioni politiche annunciate dall'attuale presidente in campagna elettorale.
L'esempio più eclatante sono le maxi-misure protezionistiche minacciate in campagna elettorale verso il Messico. Queste minacce, nella seconda metà del 2016 avevo indebolito il cambio del Peso messicano, da valori prossimi a 18 Peso per dollaro, fino ad un massimo di 22 Peso, registrato il 20 gennaio 2017, giorno di insediamento della presidenza Trump. I giorni successivi il cambio del Peso era ritornato velocemente verso quotazioni di 21 Peso per dollaro, riflettendo le prese di profitto da parte degli operatori più speculativi.
Nessuno tuttavia, immaginava che il recupero del Peso messicano sarebbe proseguito anche nei giorni e mesi successivi, fino ad annullare nei giorni scorsi quasi tutte le perdite accumulate nel corso della scorsa campagna elettorale americana. E' evidente che i mercati finanziari sembrano credere sempre meno alla possibile introduzione di maxi-misure protezionistiche contro il Messico.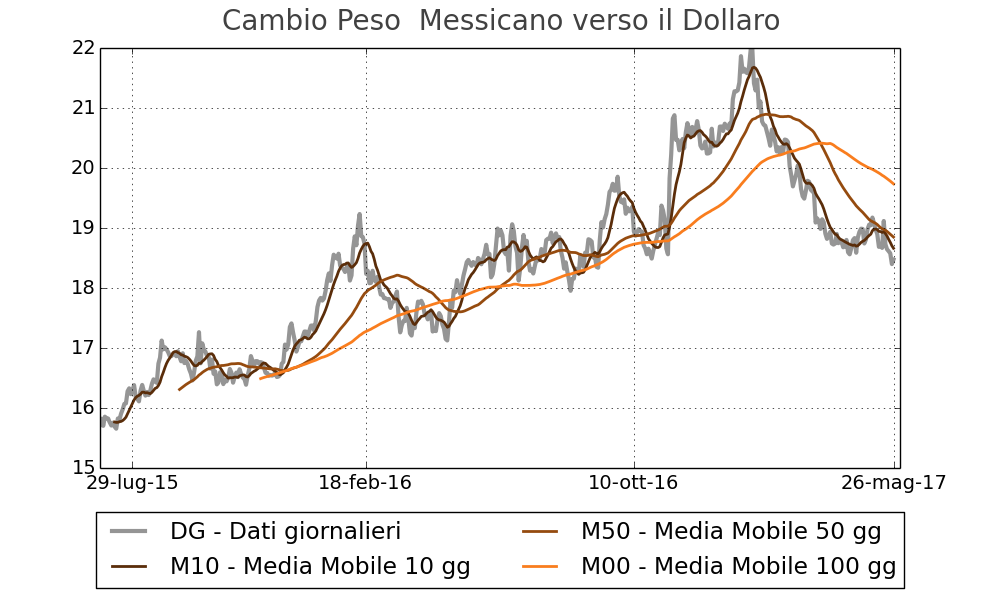 Rispetto alla settimana scorsa, l'euro continua la sua fase di rafforzamento nei confronti del dollaro nonostante le parole di Mario Draghi che nella giornata di Giovedì ha confermato una stabilità dei tassi di interesse fino alla scadenza del QE. Yen e Franco Svizzero seguono l'euro, apprezzandosi nei confronti della valuta statunitense mentre la Sterlina risente degli eventi accaduti a Manchester e chiude la settimana con una debolezza nei confronti del dollaro.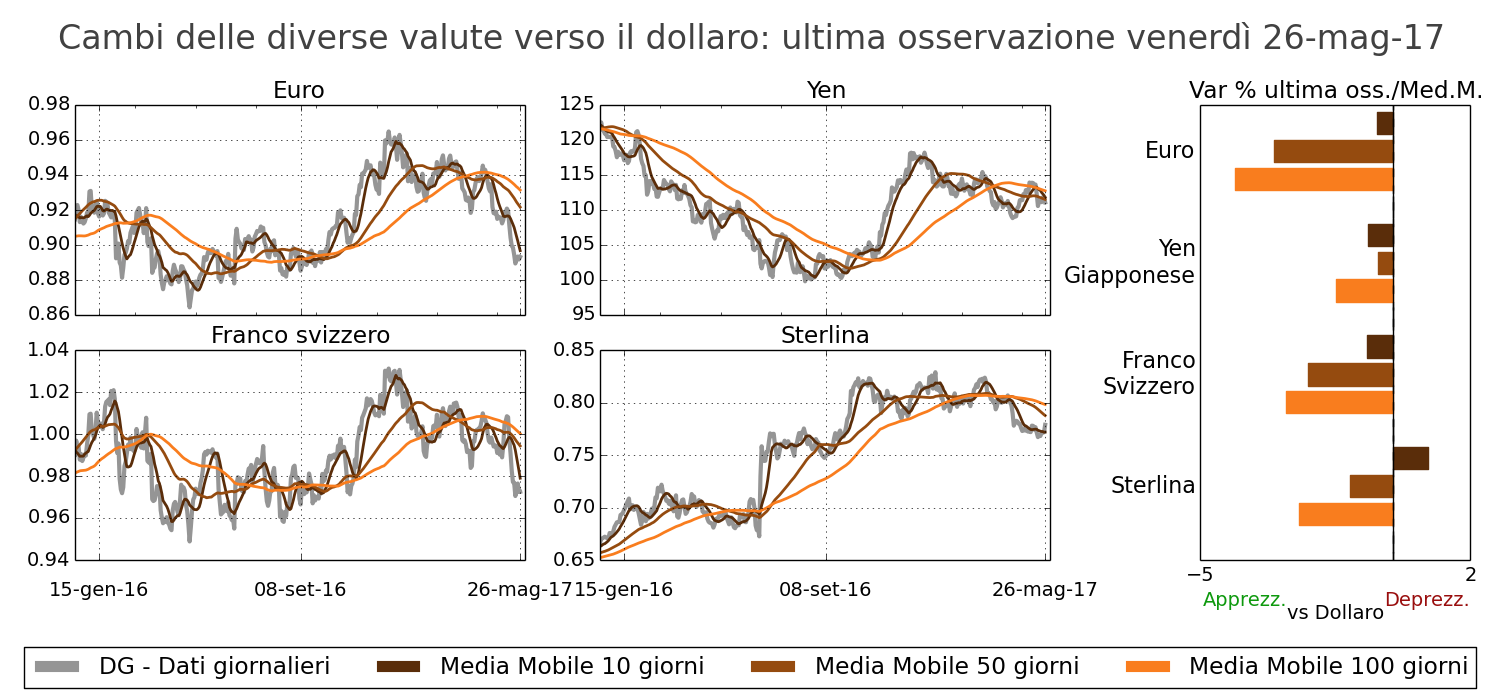 Tra le valute delle principali economie emergenti è evidente come le tensioni politiche in Brasile continuano ad influenzare la dinamica del Real Brasiliano.
La netta debolezza del dollaro è testimoniata dal fatto che, tra le valute asiatiche, solo Dollaro di Hong Kong registra un cambio che si deprezza verso il dollaro.
Nel 2016, i fondamentali economici della Regione Amministrativa Speciale della Cina sono i seguenti: il PIL è aumentato del 5.1%, il saldo delle partite correnti è positivo (pari al 5.1% del PIL), il debito pubblico è inferiore al 35% del PIL, l'inflazione si attesta al 2% ed il tasso di interesse applicato dalla Hong Kong Monetary Authority è pari all'1.25%.
Nonostante il quadro macroeconomico indicato, la valuta hongkonghese risente delle vicende di politica interna iniziate ad Ottobre, con la protesta dei neo-deputati democratici contro il governo di Pechino nel giorno di insediamento nel nuovo Parlamento, e proseguite a Dicembre, in cui il Presidente del consiglio locale attualmente in carica, Leug Chun-Ying, annunciava che non si sarebbe ricandidato per la guida del consiglio al termine del suo mandato.