Log in to use the pretty print function and embed function.
Aren't you signed up yet? signup!
La settimana appena conclusa si caratterizza da una sostanziale diminuzione del prezzo del petrolio. Tale diminuzione ha avuto effetti sul mercato dei cambi, in particolare sul Rublo Russo.
La valuta russa, seconda Nazione per produzione di greggio, ha subito un notevole indebolimento passando da un valore pari a 110.27 a 105.92 (tasso di cambio effettivo) in poco più di una settimana.
Le ultime news indeboliscono ulteriormente la fiducia degli agenti economici nei confronti della Repubblica presieduta da Vladimir Putin.
Sul fronte Siria aumentano le tensioni tra le due potenze mondiali (Russia e America) che complicano una situazione già di per sé difficile. Negli ultimi giorni, infatti, dopo l'abbattimento di un aereo Siriano, alleato di Mosca, da parte degli americani, ci sono state ripetute provocazioni nei cieli del mar Baltico tra aerei Russi e della Nato.
Sul fronte Ucraina, l'Unione Europea e l'America prolungano di sei mesi le sanzioni contro la Russia per la mancata attuazione degli accordi di Minsk.
Tale situazione guidata da una sostanziale incertezza, non può che riflettersi sui mercati dei cambi e, in questo caso, sul Rublo Russo che, come si può osservare dai tassi di cambio effettivi riportati nel grafico sottostante, ha perso in pochissimo tempo il 3.94% del suo valore.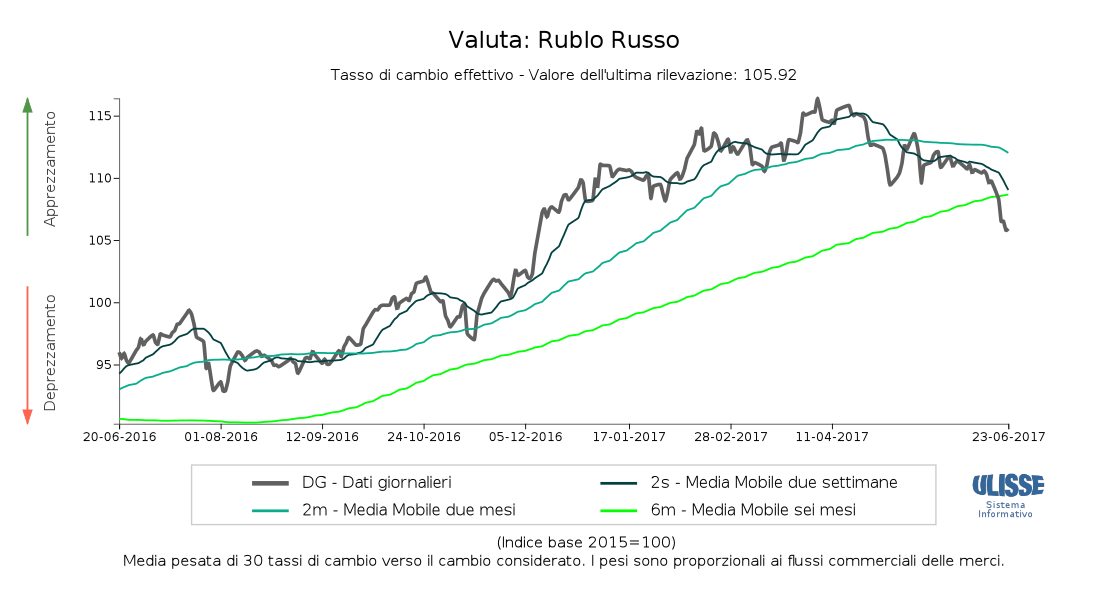 Un'altra valuta che sembra aver intrapreso un percorso di indebolimento è il Won sudcoreano. In questo caso le cause che giustificano questa fase di deprezzamento, iniziata a metà maggio, sono da ricondurre alle tensioni con la Corea del Nord che da tempo preoccupano l'intero continente.
Il recente invio di due bombardieri B-1B americani in Corea del Sud, volto a rafforzare le esercitazioni di difesa di quest'ultima nazione, peggiora la situazione.
Tali eventi influenzano molto le aspettative degli agenti di mercato al punto da avere effetti negativi sulla valuta locale, nonostante il tasso di crescita del PIL sudcoreano cresce oltre le aspettative ad un tasso pari al 1.1% sul trimestre precedente e nonostante i buoni propositi del presidente Moon Jae-in nell'abbandonare il nucleare a favore di nuove energie rinnovabili, cosa molto gradita dalla popolazione sudcoreana.
Come si può osservare dal grafico, il tasso di cambio effettivo del Won sudcoreano chiude la settimana a 102.75, attestando un deprezzamento pari al 2.49% in poco più di un mese.
Infine, da citare la Sterlina e il Leu Rumeno che nel corso della settimana sono state soggette a tensioni sui mercati valutari per motivi diversi.
Per quanto riguarda la Sterlina, la settimana appena conclusa apre ufficialmente i negoziati sulla Brexit tra Gran Bretagna e Unione Europea. Gli effetti di tale trattativa solleva numerosi interrogativi sull'economia del Regno Unito e sulla fiducia degli agenti economici che, dopo le parole del governatore della "Bank of England" Mark Carney (che ha lasciato invariati i tassi d'interesse), hanno rivisto al ribasso le loro aspettative sulla valuta inglese. La Sterlina, infatti, chiude la settimana con un tasso di cambio effettivo pari a 84.211, attestando un deprezzamento del 1.31% in soli due settimane.

Il Leu Rumeno, invece, dopo aver perso in pochi giorni circa lo 0.68% del suo valore a causa della caduta del governo socialdemocratico sfiduciato dalla stessa maggioranza, ha riacquistato terreno chiudendo la settimana con un tasso di cambio effettivo pari al 99.629.