Log in to use the pretty print function and embed function.
Aren't you signed up yet? signup!
Le due settimane centrali di agosto si sono caratterizzate per un aggiustamento del rapporto di cambio del dollaro verso l'euro. Questo, dopo aver registrato venerdì 4 agosto un picco di 1.19 dollari per euro, è sceso a 1.17 venerdì scorso, a fronte delle prese di profitto sulle operazioni aperte, nella primavera di quest'anno, con valori del cambio spesso inferiori a 1.10. Il grafico qui riportato mette in evidenza come queste prese di profitto si siano tradotte anche nel rafforzamento verso l'euro sia del Franco svizzero che dello Yen giapponese. Viceversa, la Sterlina ha continuato a risentire della prevalenza di fattori di debolezza interna.
La dinamica delle ultime due settimane non inducano, tuttavia, a ritenere modificati i fondamentali: essi continuano a suggerire una tendenza di fondo di indebolimento del dollaro verso l'euro (si veda l'articolo Tasso di cambio euro dollaro)
Tassi di cambio delle principali valute verso l'euro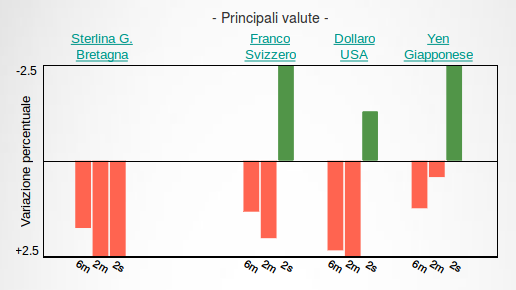 Tra le valute che registrano in questa estate novità importanti, ci sembra utile segnalare la fase di deprezzamento che sta ora caratterizzando lo Shekel israeliano. Dopo essersi costantemente apprezzato in tutto il 2016 e nella prima metà del 2017 (si veda l'articolo La crescente fiducia dei mercati finanziari sull'economia israeliana.), con luglio lo Shekel si è avviato lungo un sentiero di deprezzamento che è proseguito anche nel mese di agosto.
Questo repentino cambiamento è stato determinato da un tasso di inflazione che è inaspettatamente crollato dal +0.8% di maggio 2017 al -0.2% registrato a giugno. A luglio i prezzi hanno registrato un tendenziale ancora più negativo, riducendo ulteriormente l'inflazione al -0.7%. I dati sull'inflazione negativa hanno portato alcuni analisti a valutare di difficile attuazione un aumento dei tassi di interesse nel 2017 e forse anche nel 2018, spostando al 2019 eventuali aumenti rispetto all'attuale basso tasso di riferimento, pari allo 0.1%. Da queste valutazioni è derivata l'opinione, espressa già all'inizio di luglio da alcuni analisti, che la fase di apprezzamento dello Shekel avesse terminato la sua corsa inducendo molti operatori a realizzare i guadagni di cambio accumulati. E' probabile, infatti, che l'apprezzamento costante dello Shekel degli anni scorsi, avvenuto con una volatilità relativamente contenuta, e sostenuto da fondamentali buoni per l'economia israeliana e da un saldo delle partite correnti della bilancia dei pagamenti significativamente positivo, abbiano attratto con poche operazioni strettamente speculative.
Nel corso dell'estate, inoltre, gli scontri tra palestinesi e forze dell'ordine israeliane a causa dei metal detector installati nella Spianata delle Moschee a Gerusalemme e la prosecuzione delle indagini sul premier Benjamin Netanyahu per frode, violazione della fiducia e corruzione, hanno parzialmente offuscato l'immagine positiva del paese, costruita sui successi economici e tecnologici.