Log in to use the pretty print function and embed function.
Aren't you signed up yet? signup!
I numerosi dati macroeconomici pubblicati in questa settimana aumentano la volatilità nei mercati FOREX ed in particolare del tasso di cambio euro-dollaro.
A rafforzare il dollaro, dopo una lunga fase di indebolimento, sono stati i dati incoraggianti sul PIL americano pubblicati dall'istituto BEA (Bureau of Economic Analysis) ad inizio settimana. Nel secondo trimestre dell'anno, infatti, il tasso di crescita del PIL americano si attesta al 3%, ben oltre il 2.7% stimato dagli analisti.
La crescita dell'economia americana, dall'1.4% del primo trimestre al 3% del secondo trimestre, e i crescenti timori degli analisti in vista della riunione della BCE del prossimo 7 settembre (durante la quale Mario Draghi potrebbe astenersi nel prendere decisioni di Politica Monetaria "tapering" visto il recente rafforzamento dell'euro), rafforzano in un primo momento il biglietto verde che ad inizio settimana recupera l'1.8% del suo valore nei confronti della valuta unica.
D'altro canto, i dati deludenti sull'occupazione USA (tasso di disoccupazione mensile del 4.4% oltre le aspettative, indice Nonfarm Payrolls sotto le attese) frenano il recupero del dollaro a favore dell'euro, che si avvicina nuovamente alla soglia 1.20 chiudendo la settimana con un valore pari a 1.192 dollari per euro.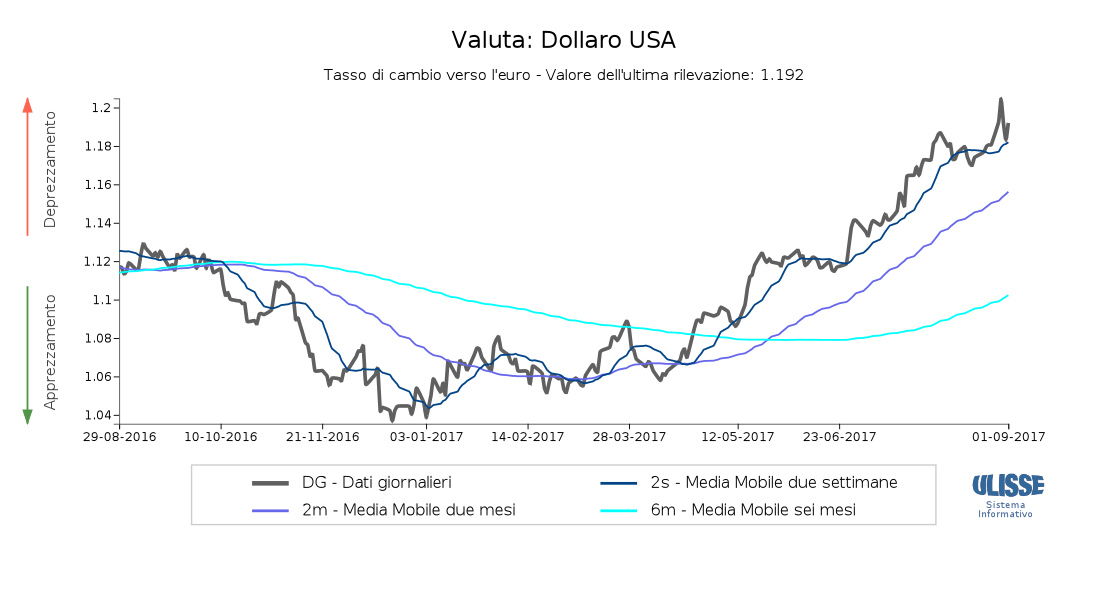 Torna a crescere il Rand sudafricano, dopo che la mozione di sfiducia contro il presidente Jacob Zuma è stata respinta dal parlamento sudafricano.
Tale mozione di sfiducia era stata richiesta dall'opposizione ma appoggiata anche da alcuni parlamentari dello stesso partito del presidente (Congresso Nazionale Africano) in quanto, oltre ai numerosi scandali di corruzione e frode che coinvolgono Zuma, il presidente non è stato in grado di affrontare e risollevare l'economia sudafricana, che sta attraversando un periodo di profonda crisi (tasso di crescita del PIL trimestrale: -0.7%, tasso di disoccupazione: 27.7%).
Come si può osservare dal grafico sottostante, la valuta sudafricana, dall'8 agosto in poi (data in cui la mozione di sfiducia è stata bocciata), ha recuperato il 4% del suo valore nei confronti del dollaro (2.5% nei confronti dell'euro), chiudendo la settimana con un valore pari a 12.935 Rand per dollari (15.418 Rand per euro).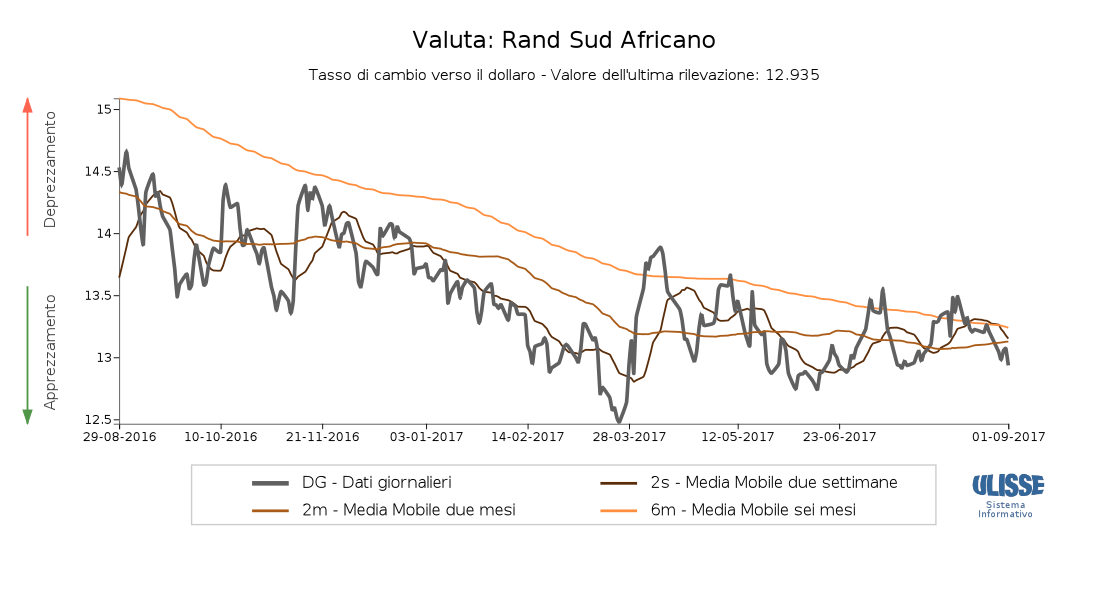 Infine, da segnalare l'indebolimento del Fiorino ungherese, dopo l'incontro tra il presidente ungherese Orban e il presidente russo Vladimir Putin avvenuto il 28 agosto a Budapest.
Durante l'incontro, il principale argomento discusso dai due vertici è stato in merito ad un progetto condiviso che prevede l'ampliamento della centrale nucleare di Paks e il finanziamento, di parte di essa, da Mosca.
Il rafforzamento del legame tra Russia e Ungheria e la provocazione di quest'ultima nei confronti dell'Europa (con la recente richiesta di risarcimento di parte del muro, costruito per sorvegliare le frontiere ungheresi da migranti e rifugiati politici) indeboliscono il Fiorino ungherese sia nei confronti del dollaro che dell'euro.
Infatti, come si può osservare dal grafico sottostante, il Fiorino ungherese, nella prima metà della settimana, ha perso il 2.3% del suo valore nei confronti del dollaro e lo 0.86% nei confronti dell'euro, per poi chiudere la settimana con un valore pari a 255.948 Fiorini per dollari e 305.09 Fiorini per euro.