Log in to use the pretty print function and embed function.
Aren't you signed up yet? signup!
La settimana appena conclusa si caratterizza da un sostanziale indebolimento della Sterlina inglese, interrompendo di fatto la significativa fase di apprezzamento registrata nel mese di settembre.
La valuta inglese, infatti, si è rafforzata in poco più di tre settimane del 5,8% nei confronti dell'euro e del 5,4% nei confronti del dollaro, raggiungendo un tasso di cambio pari a 0.876 Sterline per euro e 0.736 Sterline per Dollaro.
Questo rafforzamento è giustificato dal buon andamento dell'economia inglese (tasso d'inflazione mensile 2.9%, tasso di disoccupazione in diminuzione al 4.3%, tasso di crescita del PIL annuale prossimo al 2%) e dall'intenzione, da parte della Bank of England, di ridurre gli stimoli di politica monetaria già nei prossimi mesi.
Tale situazione è però avvolta da un elevato grado d'incertezza causata dalle tensioni politiche che vedono protagonista Theresa May e il suo futuro come primo ministro. Dopo le deludenti elezioni dello scorso giugno, che vedono il governo May significativamente ridimensionato, sono in molti a dubitare dell'operato del premier britannico anche all'interno del suo stesso partito (partito dei Tory).
Infatti, pochi giorni fa, il Ministro degli Esteri, Boris Johnson, ha espresso il suo totale dissenso nei confronti della May, peggiorando una situazione già complicata.
A fare le spese, in un contesto così incerto, è la Sterlina che da inizio mese ha perso circa il 2% del suo valore nei confronti dell'euro (2.4% nei confronti del dollaro), chiudendo la settimana con un valore pari a 0.895 Sterline per euro (0.765 Sterline per dollaro).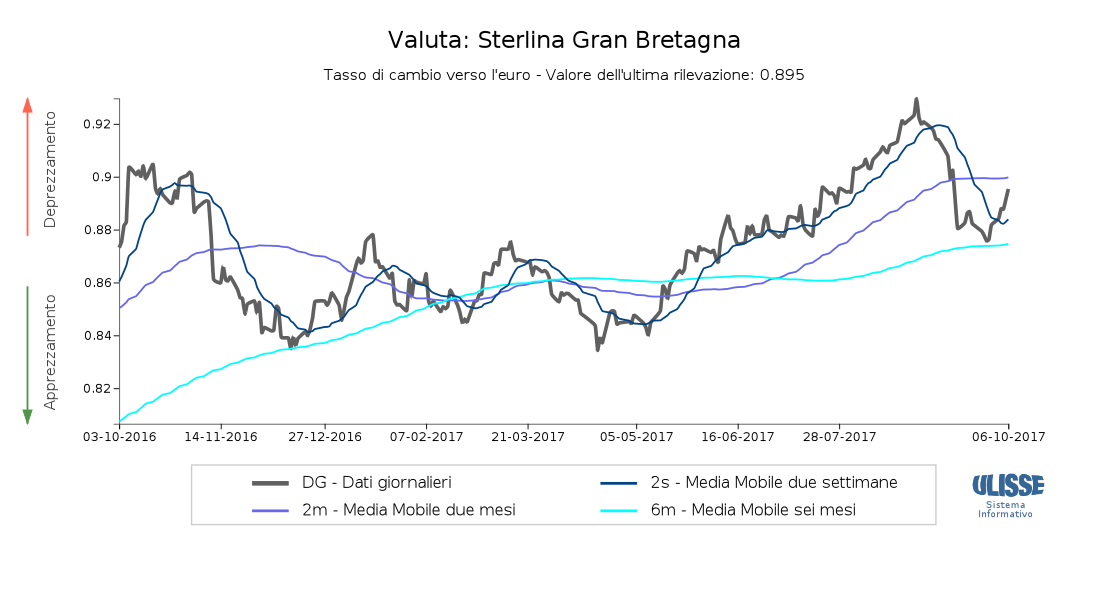 Una valuta che sta attraversando una fase di significativo rafforzamento è la Corona ceca. Dopo la decisione della Czech National Bank (CNB) di eliminare il peg con l'euro, inserito nel 2015 per impedire che un eccessivo rialzo della propria moneta inasprisse la deflazione, la valuta ceca ha intrapreso una dinamica di rafforzamento guadagnando il 4.5% nei confronti dell'euro e il 13.2% nei confronti del dollaro.
Tale dinamica è giustificata dall'ottimo quadro macroeconomico della Repubblica Ceca che registra un tasso di crescita del PIL nel 2017 prossimo al 3%, un tasso di disoccupazione del 4% e un tasso d'inflazione annuo del 2.5%.
Alla luce di ciò, nel mese di agosto la CNB, dopo 9 anni dall'ultimo rialzo, ha aumentato i tassi d'interesse portandoli dallo 0.05% allo 0.25%.
Le elezioni parlamentari, in programma il 20 e 21 ottobre, non sembrano incidere sulla Corona ceca che, da inizio settimana, si è rafforzata dello 0.68% nei confronti dell'euro (0.4% nei confronti del dollaro), attestandosi su valori pari a 25.816 Corone per euro (22.052 Corone per dollaro).
Infine, da citare il significativo deprezzamento del Dollaro neozelandese. Esso, infatti, dopo le elezioni politiche avvenute lo scorso 23 settembre, sembra aver intrapreso una dinamica di deprezzamento sia nei confronti del dollaro che dell'euro.
L'esito delle elezioni, che al momento vedono vincitore il centro destra guidato da Bill English senza la maggioranza dei seggi, verrà accertato sabato 7 ottobre con il conteggio dei voti speciali (special votes) che consentono di votare ai cittadini non residenti nel Paese.
Tale contesto ha sollevato numerosi interrogativi sulle future coalizioni di governo, innervosendo i mercati Forex e portando ad un deprezzamento della valuta neozelandese.
Il dollaro neozelandese sembra inoltre risentire della dinamica dell'indice GDT (Global Dairy Trade prices index) relativo ai prezzi, a livello mondiale, dei prodotti caseari, di cui la Nuova Zelanda è tra i principali paesi esportatori. Quest'indice sta accusando una flessione tendenziale del 2.4% con conseguente diminuzione della domanda di dollari neozelandesi, contribuendo ad indebolire la valuta. Da metà settembre, il Dollaro neozelandese si è indebolito del 4% nei confronti del dollaro, chiudendo la settimana con un valore pari a 1.41 Dollari neozelandesi per dollaro USA.