Log in to use the pretty print function and embed function.
Aren't you signed up yet? signup!
In base alle pre-stime formulate da StudiaBo sulla base dei dati US Census Bureau relativi all e dichiarazioni doganali delle imprese USA, nel 3° trimestre del 2017 le importazioni dal mondo del mercato statunitense di Macchine alimentari 1 hanno segnato un nuovo incremento (+7.4% nei valori tendenziali in euro e +12.9% in dollari), confermando la dinamica di forte crescita registrata dal mercato dall'inizio del decennio in corso e raggiungendo un punto di massimo assoluto nei valori trimestrali in euro, pari a 560 milioni. Si tratta di livelli più che doppi rispetto al 2011, che corrispondono ad oltre 2.1 miliardi di euro nei valori medi annui.
Fonte:SIUlisse
La graduatoria dei paesi partner delle importazioni statunitensi di Macchine alimentari nel 2017 conferma la leadership delle vendite della Germania , con un valore cumulato nei primi 9 mesi dell'anno pari a 350 milioni di euro (pari al 21.9% del totale).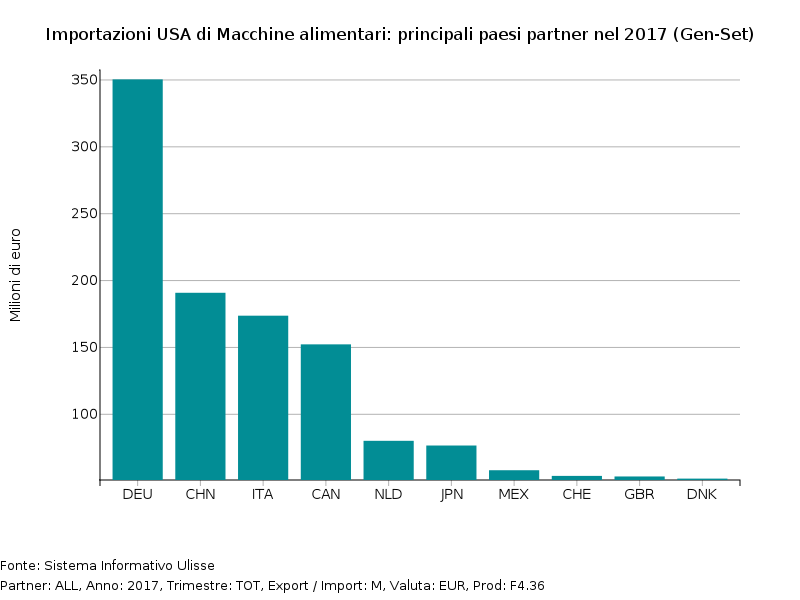 Fonte:SIUlisse
Alle sue spalle, si contendono la seconda posizione – nell'ordine – Cina (con una quota nei primi tre trimestri 2017 dell'11.9%), Italia (10.8%) e Canada (9.5%). Il competitore più aggressivo è, soprattutto, la Cina che – insieme alla Thailandia – sta evidenziando sul mercato statunitense di Macchine alimentari i maggiori guadagni di quote da inizio decennio: 3 punti in più per le vendite cinesi; 2.2 punti per quelle thailandesi. Di converso, le importazioni dal Canada mostrano le maggiori perdite di quote, con riduzioni di quasi 4 punti dal 2011 ad oggi.
Esportazioni italiane
Per quanto riguarda, invece, l'Italia, i nostri esportatori di Macchine alimentari sono riuscite negli anni a salvaguardare le proprie quote e a "capitalizzare" la forte crescita di questo mercato, con un valore medio annuo del venduto che è arrivato nell'ultimo trimestre a superare i 220 milioni di euro, a fronte dei poco meno di 120 milioni di euro del 2011. Le maggiori vendite italiane di prodotti del settore sul mercato USA sono riconducibili ai segmenti panificazione, pasticceria e biscotteria industriali, agli apparecchi professionali per cottura, alle macchine per caffè e alle apparecchiature per torrefazione, sterilizzazione, pastorizzazione, stufatura, evaporazione, vaporizzazione, condensazione e raffreddamento.

1 Si veda per una descrizione del settore: Scheda Prodotto F4.36: Macchine Alimentari .