Log in to use the pretty print function and embed function.
Aren't you signed up yet? signup!
In base alle pre-stime formulate da StudiaBo (utilizzando le dichiarazioni di importazione delle imprese americane, raccolte dall' U.S. Census Bureau), nel terzo trimestre del 2017 le importazioni dall'Italia del mercato statunitense di Prodotti finiti per la Casa 1 ha evidenziato un significativo aumento (+13.4% nei valori in euro e +19.3% in dollari rispetto al corrispondente trimestre 2016), toccando un punto di massimo nei valori trimestrali denominati in euro. In termini cumulati, nei primi tre trimestri dell'anno le vendite sul mercato USA di prodotti finiti per la Casa dall'Italia hanno superato il miliardo di euro, quasi 7 punti percentuali in più rispetto ai primi nove mesi del 2016.

Nei primi tre trimestri del 2017 i maggiori contributi alla crescita delle vendite italiane di Prodotti finiti per la casa rivolte al mercato statunitense sono derivati da Elettrodomestici per la casa (+36 milioni di euro rispetto al corrispondente periodo 2016, pari ad un incremento di ben 16 punti percentuali), Pentole e tegami (+15 milioni di euro in termini tendenziali, corrispondenti ad una crescita di quasi il 46 per cento rispetto all'anno scorso) e Lampadari e apparecchi di illuminazione (+12.1 milioni di euro, pari al +15.6%).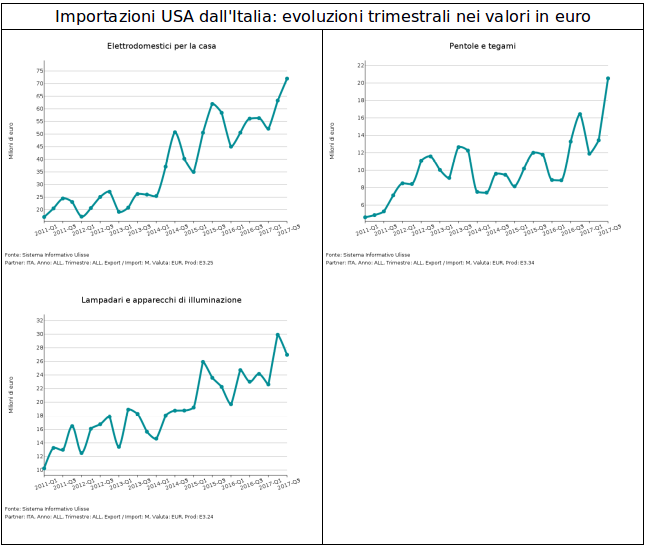 Risultano, inoltre, in crescita nei valori cumulati tendenziali – anche se con contributi più contenuti - le vendite italiane di Mobili, materassi ed elementi d'arredo per la casa (+4.9 milioni di euro rispetto al corrispondente periodo 2016) e di Bicchieri e stoviglie (+2.5 milioni di euro), Tappeti, arazzi e carta da parati (+1.5 milioni di euro), Coltelleria e posateria (+1.4 milioni di euro) e di Tessile casa (+1.2 milioni di euro).
1 Si veda qui la descrizione del settore considerato:
Scheda settore E3: Sistema Casa