Log in to use the pretty print function and embed function.
Aren't you signed up yet? Log in!
Il presidente del Sudafrica, Jacob Zuma, lo scorso mercoledì ha rassegnato le sue dimissioni in un discorso tenutosi in diretta nazionale.
Dopo nove anni di governo, il comitato esecutivo del suo stesso partito, l'African National Congress -Anc- (partito di Nelson Mandela), ha di fatto obbligato Zuma alle dimissioni, accusandolo di essere l'artefice della grave crisi economica che sta caratterizzando il paese.
Infatti, il quadro macroeconomico del paese rimane molto delicato: la crescita dell'economia sudafricana si attesta nel 2017 allo 0.8%, il tasso d'inflazione al 4.7% e il tasso di disoccupazione, ai massimi dal 2003, al 28%.
Tuttavia, le sorti di Zuma erano già state segnate; l'Anc aveva, infatti, già presentato una mozione di sfiducia in parlamento che sarebbe stata votata sia dalla maggioranza che dall'opposizione.
A sostituire Zuma (accusato di corruzione, truffa ed evasione fiscale), l'attuale vice presidente del Sudafrica, Cyril Ramaphosa, ex-sindacalista e noto imprenditore sudafricano, eletto segretario dell'Anc lo scorso dicembre.
Immediata la reazione dei mercati che festeggiano la caduta di Zuma. Il Rand sudafricano, che da dicembre scorso aveva assunto una dinamica di apprezzamento sia nei confronti del dollaro che nei confronti dell'euro, si è apprezzato ulteriormente guadagnando il 3.8% del suo valore nei confronti del biglietto verde e l'1.7% nei confronti della moneta unica, chiudendo la settimana con un valore rispettivamente pari a 11.66 Rand per dollaro, 14.53 Rand per euro.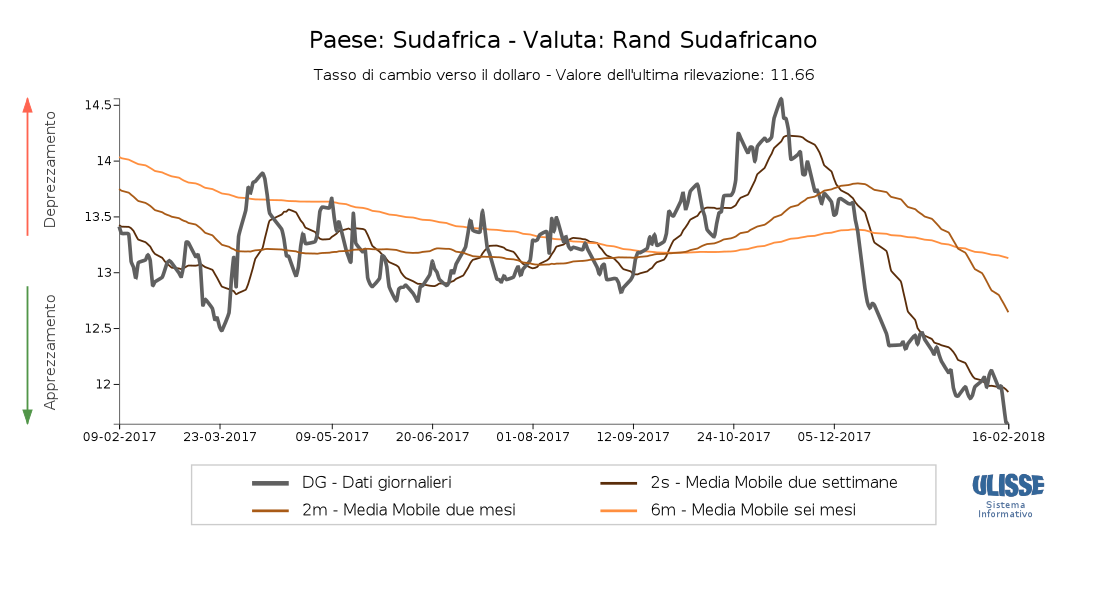 Un'altra valuta che questa settimana è tornata a rafforzarsi è l'Euro. Subito dopo la pubblicazione del dato sull'inflazione americana degli ultimi giorni, il tasso di cambio dollaro per euro ha superato nuovamente quota 1.25 per poi rallentare e chiudere la settimana con un valore pari a 1.246 dollari per euro.
Il tasso d'inflazione USA (2.1%) ha superato le aspettative degli analisti rendendo più concreto lo scenario di una Fed più aggressiva in chiave tassi d'interesse. In condizioni normali tale situazione avrebbe dovuto spingere il dollaro all'apprezzamento ma, la maggiore volatilità riscontrata nell'ultimo mese nei mercati azionari, il ritorno delle pressioni inflazionistiche e l'incertezza sulle future mosse delle Fed, sono tutti fattori che sollevano molta incertezza e offuscano l'interesse degli agenti di mercato nei confronti del biglietto verde.
Tornando a parlare dell'euro, esso si è apprezzato non solo nei confronti del dollaro ma anche nei confronti delle principali valute mondiali. Infatti, dal grafico sotto riportato, che mostra la dinamica del tasso di cambio di 121 valute rispetto all'euro, si può osservare che, tra le valute più importanti, solo il Rand sudafricano, il Franco Svizzero e lo Yen giapponese hanno assunto una dinamica di apprezzamento nei confronti della moneta unica (paesi colorati in verde).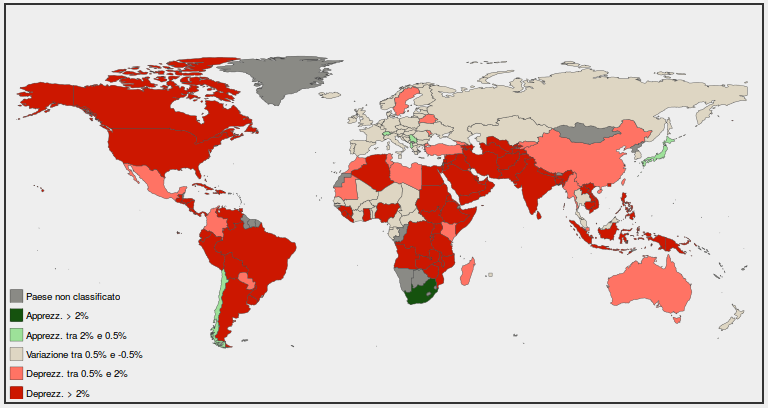 Infine, da segnalare l'indebolimento dello Shekel israeliano che da inizio febbraio sembra aver invertito il trend di apprezzamento nei confronti del dollaro iniziato nel 2015.
La valuta israeliana, infatti, in un solo mese si è indebolita del 4.4%, attestandosi su un valore pari a 3.55 Shekel per dollaro. Oltre alle recenti accuse per corruzione, frode e abuso di potere della polizia israeliana nei confronti del premier Benjamin Netanyahu, sempre più contestato dagli stessi israeliani, ad incidere negativamente sullo Shekel si pensa ci sia l'intervento della Bank of Israel.