Log in to use the pretty print function and embed function.
Aren't you signed up yet? Log in!
Una valuta che negli ultimi mesi si è deprezzata in modo significativo è la Rupia indonesiana.
Nel grafico sotto riportato si può osservare la serie storica del tasso di cambio effettivo della Rupia negli ultimi otto anni.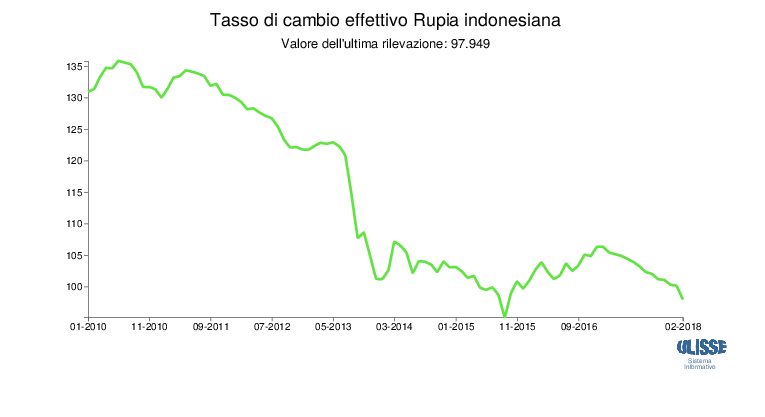 Si possono distinguere tre diverse fasi:

- Dal 2010 fino al 2015 si osserva una fase di deprezzamento della Rupia causata principalmente da un peggioramento significativo del conto delle partite correnti che in un solo anno è passato da un surplus di bilancio di 1.7 miliardi di dollari (registrato nel 2011) ad un deficit di 24.4 miliardi nel 2012. Ad incidere negativamente sulla bilancia dei pagamenti è sicuramente da citare la crisi dei prezzi petroliferi - tra i principali beni esportati del Paese- iniziata nel 2014.
Inoltre, in tale fase la Rupia si è indebolita in modo particolare nei confronti del dollaro (68%) che in quel periodo era particolarmente forte.

- Nel 2016, invece, la Rupia sembra aver invertito rotta rafforzandosi del 11.5% nei confronti delle valute dei suoi partner commerciali grazie ad un quadro macroeconomico del Paese in netto miglioramento (l'apprezzamento della Rupia nei confronti dell'euro e del dollaro è stato rispettivamente pari a: 11.8% e 6.9%).
L'economia indonesiana, infatti, nel 2016 è cresciuta del 5%, il tasso d'inflazione è sceso dal 6.4% al 3.5% (raggiungendo l'obiettivo della banca centrale) e il tasso di disoccupazione è sceso al 5.6%. Inoltre, ad incrementare la fiducia degli agenti di mercato nei confronti del Paese sono state le agenzie di rating che hanno aumentato lo score creditizio dell'Indonesia.

- Infine, dal 2017 il tasso di cambio effettivo della Rupia ha intrapreso un trend di deprezzamento nei confronti delle principali valute mondiali, perdendo più del 7% del suo valore. In quest'ultima fase, la Bank Indonesia ha intrapreso una politica valutaria volta a indebolire la Rupia.

Nel grafico sotto riportato, infatti, si osserva che le riserve ufficiali (totale riserve escluso l'oro) dell'istituto centrale indonesiano, dal novembre 2015, sono aumentate fino ad arrivare a 128.5 miliardi di dollari.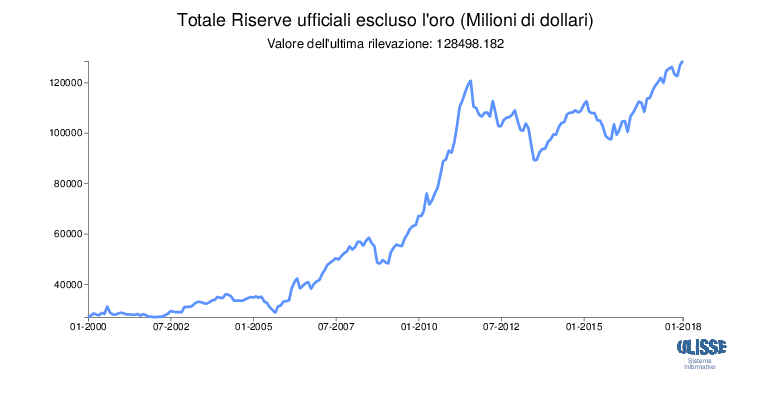 Negli ultimi due mesi, il deprezzamento della Rupia sembra essersi accentuato richiamando l'attenzione della Bank Indonesia. Questa settimana, infatti, l'istituto centrale indonesiano ha affermato di avere a disposizione riserve a sufficienza per stabilizzare la valuta indonesiana.