Log in to use the pretty print function and embed function.
Aren't you signed up yet? signup!
I dati ISTAT del commercio estero dei territori italiani, disponibili nel sito Exportpedia, documentano la prosecuzione nel quarto trimestre 2017 della fase di diffusa crescita dell'export: nel periodo ottobre-dicembre il 76% delle province italiane ha, infatti, registrato incrementi tendenziali nei valori in euro delle proprie esportazioni (circa la stessa quota del trimestre precedente).
In particolare, ancora una volta la dinamicità dell'export appare caratteristica comune ai territori del Nord–Est (con il 95% delle province con export in crescita nell'ultimo trimestre) e del Nord-Ovest (83%). In miglioramento la quota di province con export in aumento al Centro (75%), mentre "fanalino di coda" rimane il Sud (anche se con una maggioranza - 67% - di province in crescita).
Esportazioni delle province italiane: variazioni tendenziali 4° trimestre 2017 (euro correnti)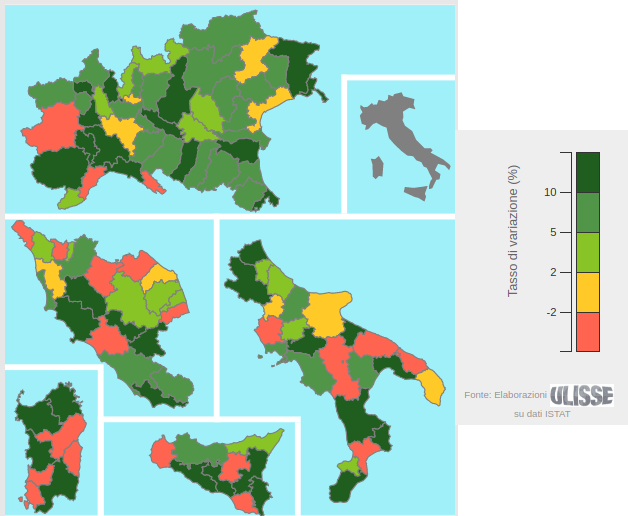 Fonte Exportpedia Vai a exportpedia
Nel quarto trimestre 2017 si è confermata la significativa maggioranza (76%) delle province italiane con crescite tendenziali delle proprie esportazioni in valore.
Nord Italia
La quota delle province in crescita risulta più rilevante con riferimento ai territori del Nord Italia, dove solo 5 province (La Spezia, Torino, Savona, Monza e Pavia) su 46 hanno evidenziato risultati negativi.
In modo particolare, nel periodo ottobre-dicembre 2017 si rileva un incremento tendenziale dell'export nei valori in euro generalizzato a tutte le province del Nord Est. Nel trimestre esaminato si segnalano i contributi particolarmente positivi delle vendite all'estero della provincia di Gorizia (+757 milioni di euro, peraltro dovuti al risultato "eccezionale" della cantieristica navale di Monfalcone), e le conferme di Reggio Emilia (+295 milioni di euro rispetto al corrispondente trimestre 2016), Vicenza (+274 milioni di euro), Bologna (+243 milioni di euro) e Parma, oltre che – nel Triveneto – le eccellenti performance di Treviso, Verona, Trieste e Udine.
Anche nel Nord Ovest le performance di crescita delle esportazioni nel quarto trimestre dell'anno scorso appaiono ampiamente generalizzate (83% dei casi). Milano si conferma, in particolare, la provincia di gran lunga trainante, con un incremento tendenziale del proprio export nel periodo ottobre-dicembre 2017 di ben 832 milioni di euro, seguita da Brescia (+243 milioni di euro), Bergamo (+327 milioni), Genova (+274 milioni) e Varese (+273 milioni). Da segnalare, inoltre, le buone performance di crescita messe a segno dall'export delle province di Alessandria (trainata dalla gioielleria di Valenza) e Cuneo (bene in questo caso l'Agroalimentare, guidato dal settore cioccolato e dolciumi, ma anche la Metalmeccanica, con particolare riferimento alla filiera automotive).
Centro Italia
Al Centro, nel quarto trimestre 2017 si è ampliato il novero di territori in crescita nelle esportazioni (75%), con le province di Latina (+537 milioni di euro di aumento tendenziale, grazie ai forti aumenti delle vendite all'estero del settore farmaceutico), Firenze (+185 milioni di euro), Roma e Frosinone (entrambe +113 milioni) ad offrire i contributi più rilevanti.
Sud Italia
Al Sud, infine, pur in numero maggioritario (67%), appare in leggero calo rispetto a tre mesi prima la quota di province con andamenti positivi dell'export.
In un quadro che continua ad essere più in chiaro-scuro in confronto ai risultati delle altre aree del paese, i maggiori contributi alla crescita provengono dalle vendite all'estero delle province di Teramo (+643 milioni di euro di incremento tendenziale, trainato anche in questo caso dalle esportazioni di farmaci), Siracusa e Cagliari (in entrambi i casi grazie alla ripresa dei valori denominati in euro di prodotti petroliferi).
Da segnalare, infine, la favorevole performance delle vendite all'estero della provincia di Avellino, che appare merceologicamente più articolata: Agroalimentare in primis – grazie a pasta e prodotti da forno, conserve, frutta e spezie - ma anche Metalmeccanica (con incrementi diffusi, dai metalli non ferrosi ai segmenti bulloni, pentole e altri prodotti in metallo fino al comparto aeronautico) .