Crescente incertezza sul mercato dei cambi
Dollaro forte a meno di 1.15 verso l'euro; crollo della lira turca e del rublo russo; dubbio recupero del rial iraniano.
Published by Luigi Bidoia. .
Dollar
Russian rouble
Turkish lira
Exchange rates
Log in to use the pretty print function and embed function.
Aren't you signed up yet? Log in!
Dollaro sopra tutto
Negli ultimi giorni, il dollaro si è apprezzato contro tutte le valute, ad eccezione del Franco svizzero e dello Yen giapponese, a conferma che, in questa fase di forti incertezze, solo le valute rifugio riescono a tenere il passo con la forza del dollaro. Particolarmente significativo l'apprezzamento del dollaro verso l'euro, che ha accusato l'esposizione di alcune banche europee alla crisi valutaria della Turchia.
I mercati finanziari ergono una barriera alla deriva autoritaria di Erdogan
Il debito estero della Turchia e le sue scarse riserve valutarie impongono al paese piani e azioni che trovino il consenso dei mercati finanziari. La politica di Erdogan nei confronti dei dissidenti e la più recente decisione di nominare suo genero Berat Albayrak ministro dell'Economia e delle Finanze non sono andate in questa direzione. Dal colpo di stato del luglio 2016 all'inizio di questa settimana la lira turca aveva perso quasi il 40% in termini di cambio effettivo. A questa, si aggiunge la perdita di questa settimana superiore al 10%, scatenata dalla decisione americana di raddoppiare le tariffe applicate su acciaio e alluminio importati dalla Turchia. La debolezza del cambio impone l'aumento dei tassi di interesse sui titoli di stato, il cui rendimento è ormai superiore al 20%. Allo stesso tempo aumenta l'inflazione, cresciuta al 15%, con conseguenti tensioni sociali.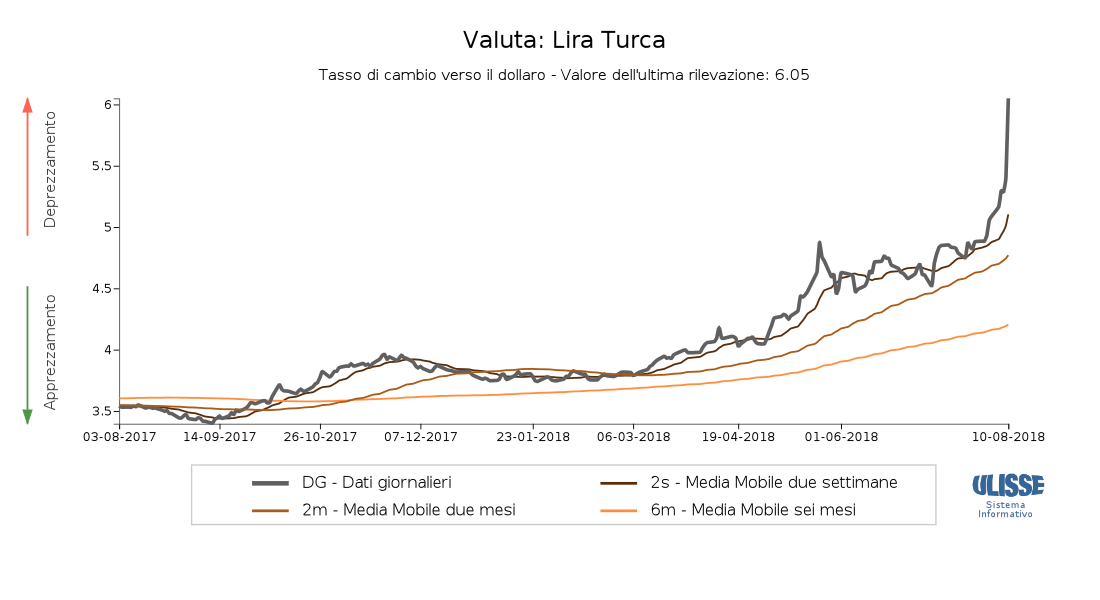 La situazione è peggiorata in modo tale da suggerire un cambiamento nella narrazione delle autorità di governo: dopo aver denunciato più volte oscuri complotti per affossare la crescita turca, negli ultimi giorni si è passati ad una comunicazione finalizzata a rassicurare i mercati, senza peraltro riuscirvi.
Nuovo crollo del rublo russo
Oggi il rublo sul mercato forex è stato scambiato ad oltre 67 rubli per dollaro. Se si considera che venerdì scorso il cambio era di poco superiore a 63, è evidente la perdita subita nel corso di questa settimana. Si è ripetuto, in sostanza, lo scenario della seconda settimana di aprile, quando il cambio del rublo è crollato da 58 a 63 rubli per dollaro.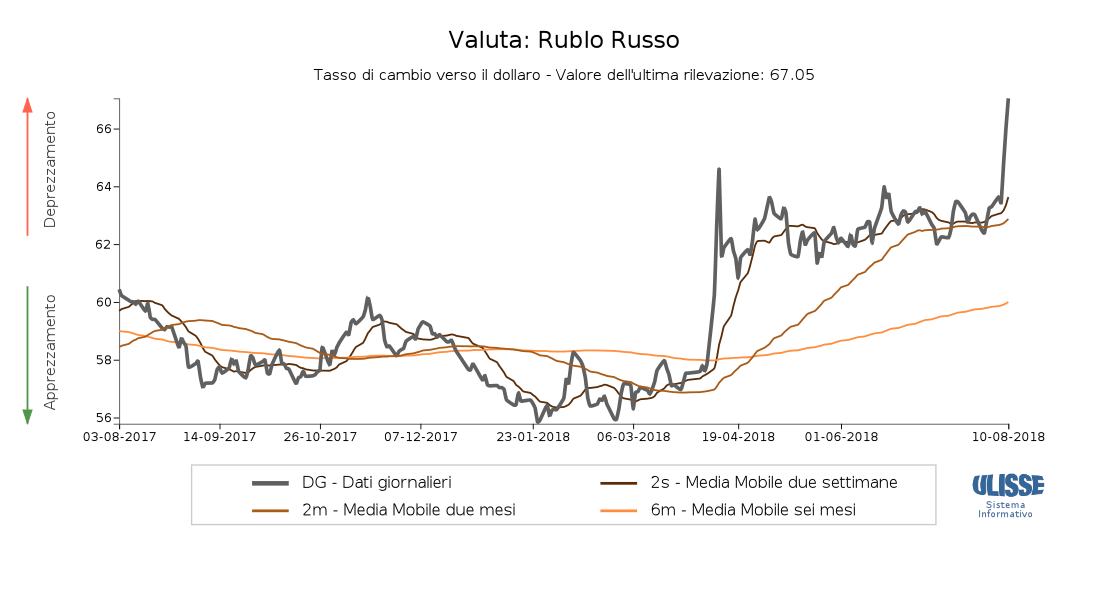 I fattori alla base della debolezza del rublo sono gli stessi di aprile, descritti nell'articolo Il crollo del rublo russo, a cui si rimanda. Il fattore scatenante sono sempre sanzioni imposte alla Russia dall'amministrazione americana, ad aprile per le malign activities nel mondo e, questa settimana, per aver avvelenato una sua ex spia in Gran Bretagna.
Dubbio recupero del rial iraniano
L'8 agosto il rial iraniano ha aperto la giornata a 44 mila rial per dollaro per poi scendere in poche ore a 42 mila. Il movimento non è rilevante. Ciò che rileva è invece la direzione. Tutti i fattori spingono infatti verso un deprezzamento del rial (come descritto in Sanzioni sull'Iran e pressioni sul Rial). Il cambio a 42 mila trova giustificazione solo in un forte intervento da parte della banca centrale. Esso potrà essere confermato nei prossimi giorni solo con ulteriori interventi, anche di natura amministrativa.