Log in to use the pretty print function and embed function.
Aren't you signed up yet? signup!
This week, the analysis of currency dynamics focuses on the slight appreciation of the 3 safe haven currencies par excellence: Japanese yen, US dollar and Swiss Franc. These dynamics indicate that there might be an increase in their demand on forex market, because of investors moving away from riskier assets.
Starting from the Yen, after a phase of depreciation that began in early 2019, and some fluctuations between March and April, in the last week the currency showed a slight strengthening in terms of effective exchange rate (+1%).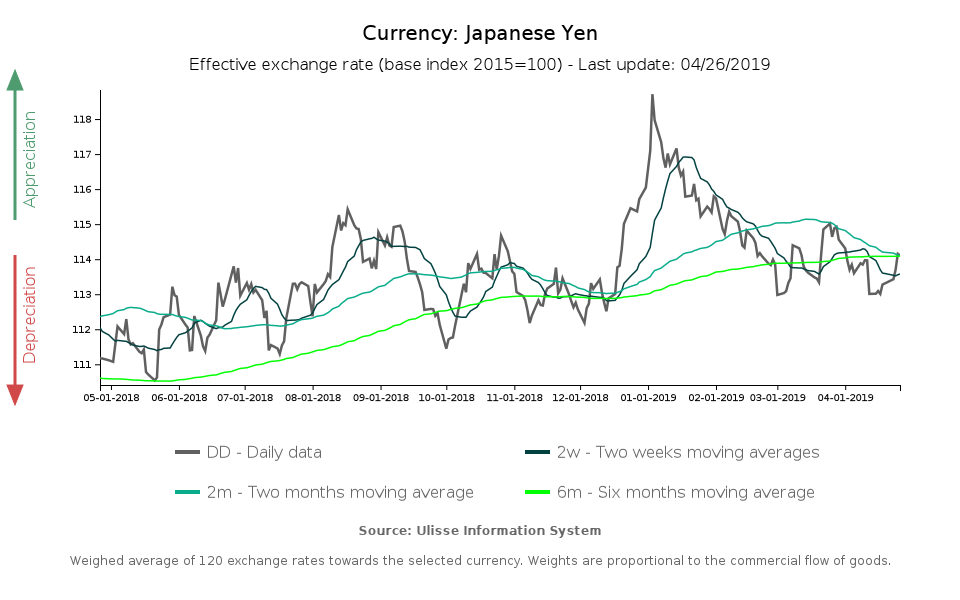 The dollar has shown some fluctuations since the beginning of 2019, but it remained basically constant over the medium term. In the last week, the currency accelerated: like the Yen, the greenback appreciated by almost 1% in terms of effective exchange rate.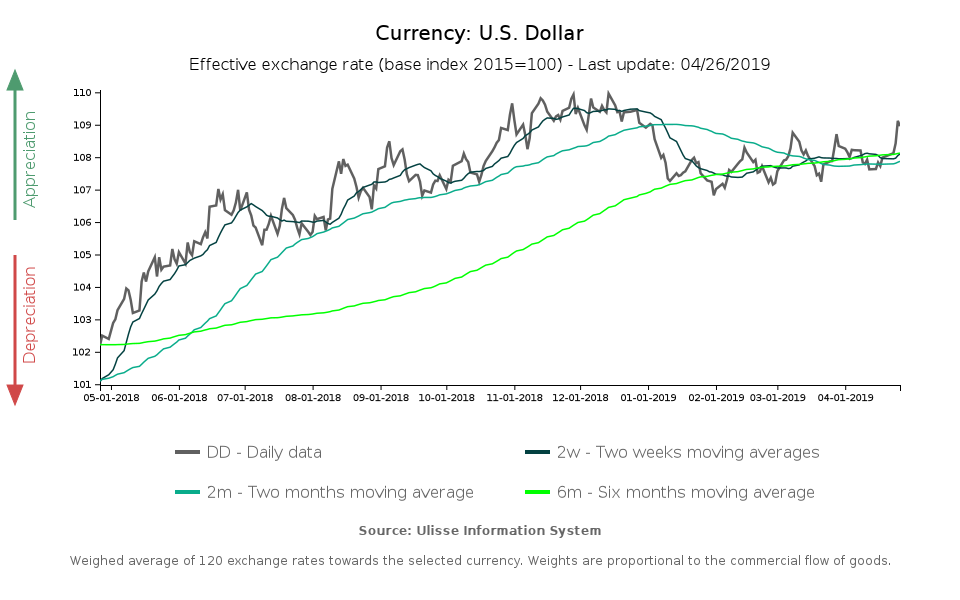 In the last 3 days, Swiss franc appreciated, as well. As you can see from the chart below, the currency went through a phase of weakening from the end of March to a few days ago, losing 2.4% of its value in terms of effective exchange rate. However, in the last three days, there has been a slight recovery, close to 0.7%.
The 3 safe-haven currencies therefore show a common trend.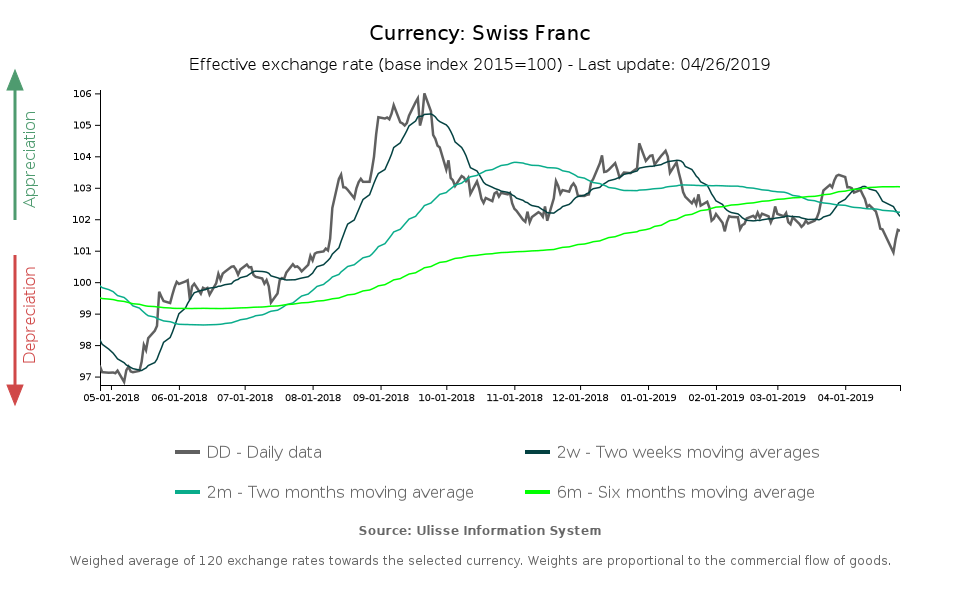 World trade is slowing down
A potential explanation to increased demand for safe-haven currencies are general concerns about global growth and trade slowdown, that lead investors to rush to safe-haven currencies.
On Wednesday, the CPB (Netherlands Bureau for Economic Policy Analysis) released the latest World Trade Monitor data, that show a slowdown in world trade. In December 2018 and February 2019, world trade volumes decreased by 1.5% and 1.1% (year-on-year) respectively, the sharpest drops since the 2009 crisis. On the contrary, in January the growth in world trade volumes was close to 0.
Considering advanced and emerging economies separately, advanced economies have suffered a y-o-y contraction greater than 2% in December 2018, while in February 2019 their trade volumes (measured in terms of exports) grew by 1.4%; positive growth in January, as well (+0.5%).
On the contrary, emerging economies recorded a -4.9% variation in world trade volumes in February 2019, compared to the same period of the previous year. The situation worsened compared to January (-2.3%) and December (-0.5%).
Thus, emerging markets appear to be at the forefront of world trade slowdown; forex markets movements towards safe-haven currencies seem to reflect this trend.