Log in to use the pretty print function and embed function.
Aren't you signed up yet? signup!
The author is Expert in Market Entry Strategies at InterExprt Solutions.
Introduction
This article describes, in some detail, the key planning and subsequent actions implemented by a small European manufacturer of instrumentation in the laboratory testing market to start developing sales of their products in the high-potential - but also challenging - US Healthcare market1.
Background Information
The company had already developed contacts with various US potential distributors over the course of several years and kept looking for new contacts. Despite years of work during shows and exhibitions, beside a few occasional interested parties, there were no sales results from the US market.
Preliminary work: Company's Assessment and SWOT Analysis
It was decided to start a preliminary assessment on company's information such as product specifications, marketing material and pricing in order to better understand their product line, how it would fit in the current laboratory practices and how it would be positioned in the US market and compared with competitors.
This assessment work allowed the company to define which products should have been launched first onto the US market, based on the selected target market segment.
In particular, during this initial analysis it became clear why distributors were not interested in marketing the company's products as presented. The original company strategy was designed based on their experiences in other countries, not considering the key issues related to the US market. Some critical changes in strategy and product line were identified to meet end-user requirements, not necessarily distributors only.

Defining the Entry-Model on the US Market
According to Company's Assessment results and a related SWOT analysis, different options of Entry-Strategy were taken into consideration, highlighting Pros and Cons of each of them in terms of:
Company Proposition
Distributors Response
Customer Expectations
Partner Selection
It became clear, at this point, the necessity of finding a local partner fitting the Entry-Model2 and able to manage and develop the program.
A local partner was selected: essentially, the company agreed the partner to act on their behalf as their own local commercial office. This included the possibility to form a new fully-owned entity for the purpose of managing their business as generated by our commercial activities.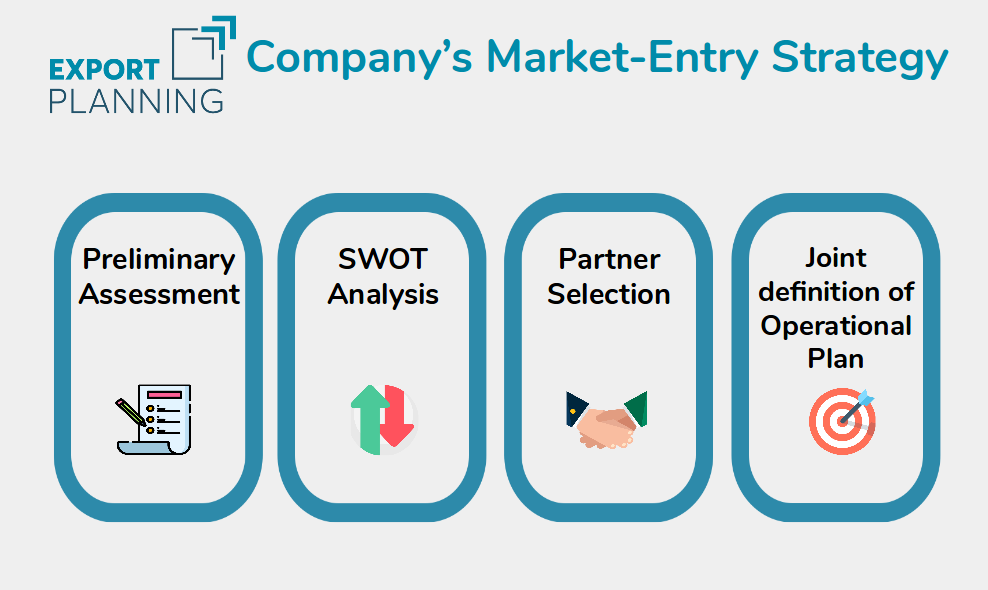 Action Plan
Together with the local partner, a detailed work plan was set up. Time was of the essence as several key milestones had to be achieved before launching the new product line. The immediate goals in order of importance were:
Present a uniform congruent product and services to address a specific market segment
Generate marketing material to support the new value proposition
Validate US market and distributors interest vis à vis the new image and product proposition interest
Set up logistics, initial inventory and finance reporting
Selling plan
Start selling process
Last but not least, together with the local partner, a sales forecast with agreed upon assumptions was developed to set sales projections, worst/best case scenarios in unit sold and dollars.
This included sales of instruments as well as related consumables and service revenues complete with costs, retail and distributor price lists, expenses, payment terms so to develop a full proforma P&L and cash-flow projections in a long-term scenario (over three fiscal years of activities after the launch of the product).
Execution: IT Tools supporting the Plan
Two important IT tools were developed to support an efficient and effective execution of the company's plan (thus making a significant difference from their competitors). One IT tool was to create a "Remote Diagnostics" feature which gave the possibility to troubleshoot instrument complaints without travelling to the customer's site. It was not a new technology but the company was probably the first one in this market segment claiming this feature. This was a big advantage and a selling feature.
The other equally important IT tool was a quotation system based on customer-testing volume. The system graphically showed the actual instrument running costs by comparing the account testing-volume with prices/insurance reimbursement values and the actual amount of supplies needed to run the instrument3.
Ready for Selling in the US market
After a quite extensive planning phase, company was ready to enter the US Healthcare market [...]
See the results of the execution of the company's Market-Entry Strategy in a follow-up article coming soon on ExportPlanning Magazine.
---
1) For a detailed documentation of the Case Study, you can contact the author at: bb [at] interexprt.com.
2) The key role of developing strategic partnership in High-Tech sectors was documented in a previous article of ExportPlanning Magazine.
3) With this tool customers could rapidly visualize how long it would take to amortize their purchase over time and made their decision-making process much faster. It also took away pressure on the instrument's price because the return was more greatly influenced by the customer testing-volume rather than the price of the instrument itself. It gave the information the company needed to forecast their sales, hence to schedule their production.