Log in to use the pretty print function and embed function.
Aren't you signed up yet? signup!
To start with the topic of the marketing mix for different companies, we should take a look at the main differences between B2B and B2C businesses.
The primary customer of B2B companies is another business, B2C business involves consumers as primary customers. Consumers make buying decisions based on status, security, comfort and quality, business buyers make buying decisions based on increasing profitability, reducing costs and enhancing productivity. So, B2B and B2C marketing mix strategies have some similarities but there are also many differences between them two.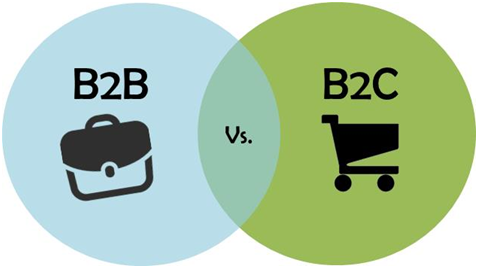 Below you can see main differences in the marketing mix for B2B and B2C businesses for marketing mix pillars.

PRODUCT

Branding:

While B2B firms are focused more on long-term relationship building and lead generation, B2C aims at increasing brand recognition in order to sell more products.

PRICE
The goal of B2B and B2C marketing is to
maximize
the value of the relationship through marketing efforts that educate the target audience on the value provided, but with few differences as follow:
Creating value:

In B2B companies one of the best ways to create and maximize customers engagement is mass customization.
Customizing offering permits to efficiently serving customers uniquely, differentiating offerings from any competition and locking customers in. An integrated part of the mass customization process is the intangible service of helping customers figure out what they need. In this case, marketing should target the decision maker within a business and then help them find solutions to their problems and challenges. In B2C companies providing customer experience means to create a memorable event. This aim can be pursued using entertainment, educational activities, aesthetic and escapism.

PROMOTION
The way B2B and B2C firms communicate their offer could be profoundly different. In B2B marketing, there is little room for personal emotions. Indeed, the purchasing decision is logic-driven, mainly based on the product and its essential features. A proper communication strategy should therefore clearly explain why a given product may save time and money. On the other hand, marketing for B2C should include emotions to attract potential customers.
Target audience:

Whereas the goal of B2C is to get attention from potential customers who could influence others,B2B firms target distinct groups of people in professional offices. That makes B2B marketing a bit more complicated, as marketing needs to be tailored to a few decision makers. B2B businesses usually work in a niche market, B2C in a large-scale market.


Content marketing creation:

B2C is based on catching consumer's attention favouring in-depth promotion and potential customers' needs. The message should be simple to read and try to get customer attention. On the other hand for B2B companies is more complicated. They might put more attention on how the business will profit from choosing their product.
Businesses do not work with emotions, but they have a logic approach. The main point of interest is money, time, and resources. How can we save time? How can we make a profit with each other? What resources could be saved in the process? B2B marketing is taking much more time and effort to complete than the B2C process.
B2B is more complicated due to a more structured target group and that it has more to do with logic.

PLACEMENT

There are few differences in B2B and B2C Placement. There is usually a longer sales cycle due to a multi-step buying process in B2B relationships. Also, a B2B company tends to choose a selective or exclusive distribution.


HAY – Marketing mix of B2B and B2C business.
As we already know, B2B and B2C have some differences but it does not mean they can't work together. HAY, a company based in Denmark, was a B2B company that has learnt to be both a B2B and B2C enterprise. As a company selling well-designed furniture, it was a great idea to go in both B2B and a B2C approach. They had previous connections with retail shops which were selling their products but their most income was coming from B2B marketing. After half a year of work on B2C marketing, they have created good ideas for the company.

Here are a couple of characteristics of Hay's good marketing in both B2B and B2C marketing:


B2B marketing:

Hay as a furniture company has come out with an idea of customizable products. It is very helpful for companies and customers due to the variety of choices. Businesses can now choose the design they like and also customize a bit of the product they are interested in. The choice given to them can attract a majority of businesses to choose their company.

On the well-designed website, they have created two different price choices. For a company that is buying more than one product, it is very important to have different pricing on the product. On Hay's website, it is one click and you can buy furniture at a cheaper price due to wholesale price choice or change to the retail price.

A company can always check and view all orders and invoices which keeps track of delivery. It saves lots of time and makes it easier for a company that is collaborating with Hay. The tracking system is well prepared and easy to understand plus has tracking to every single purchase you have done.


B2C marketing:

In the B2C marketing approach, we know already that the emotions are taking over. Well-designed products, easy and good-looking website and great customer service attract customers and can assure you with a long-term relationship with them.

Pricing in HAY was not an advantage, but because of well-designed products and good-looking brands, it was understanding that the furniture is not going to be cheap. Their pricing is expensive but with a single price, you get a great product with a good connection between you and the company just in case something would happen.