Log in to use the pretty print function and embed function.
Aren't you signed up yet? signup!
Il primo trimestre dell'anno ha confermato per il settore degli elettrodomestici i segnali di accresciuta competitività sui mercati extra-UE già emersi nel corso del 2013. In particolare, sul mercato statunitense gli acquisti di prodotti italiani di elettrodomestici per la casa hanno registrato incrementi tendenziali molto positivi, confermando il trend dello scorso anno.
Le vendite di elettrodomestici italiani negli Stati Uniti stanno continuando a registrare dinamiche di crescita molto positive, decisamente superiori alla media dei concorrenti presenti sul mercato.
Dopo un 2013 che aveva evidenziato un incremento delle importazioni USA dall'Italia di Elettrodomestici per la casa pari al +9.1% in euro (a fronte di un andamento complessivo delle importazioni del mercato in crescita di soli 2.4 punti percentuali), nel primo trimestre 2014 gli acquisti statunitensi di Elettrodomestici per la casa dall'Italia hanno registrato un tasso di crescita tendenziale in euro superiore al +40%, decisamente più dinamico della media dei concorrenti (+4.4% in euro in termini tendenziali nello stesso periodo dell'anno).
Le importazioni degli Stati Uniti di Elettrodomestici per la casa :
Importazioni I Trimestre 2014 (milioni €, prezzi CIF)

Tassi di variazione (€ correnti, prezzi CIF)

2013

I Trim 2014

Da Italia

34.5

+9.1

+43.4

Totale Concorrenti

3 660.5

+2.4

+4.4

Fonte: Sistema Informativo Ulisse (DW USATrade)
Nel primo trimestre dell'anno, l' Italia è risultato il paese partner che ha offerto, dopo il Messico e insieme alla Svizzera (e, in misura minore, a Hong Kong , Malesia e Canada ) , i contributi più rilevanti alla crescita delle importazioni statunitensi di Elettrodomestici per la casa. Si rilevano, di converso, i contributi di segno negativo da parte degli acquisti provenienti da Cina , Sud Corea e, in misura minore, Germania , Belgio , Polonia e Svezia .
[caption id="attachment_3127" align="aligncenter" width="606" caption="Importazioni USA di Elettrodomestici per la casa: i paesi partner con i maggiori contributi positivi/negativi alla crescita tendenziale I Trimestre 2014 (euro correnti a prezzi CIF, fonte: Sistema Informativo Ulisse - DWUSATrade) "]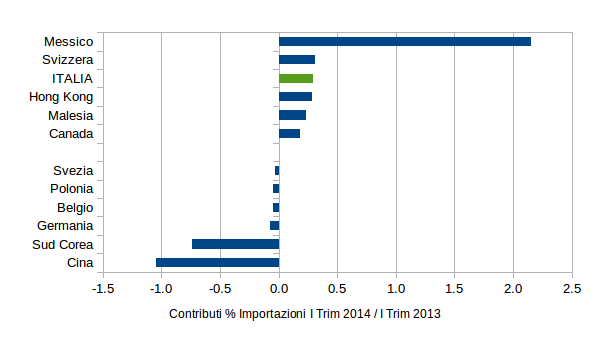 [/caption]
I risultati di vendita dell'Italia, benché relativi solamente al primo trimestre dell'anno (e quindi opportunamente da verificare nei prossimi trimestri) e dai valori complessivamente contenuti (35 milioni di euro, a fronte dei 3.7 miliardi di euro di importazioni complessive del mercato), documentano una crescente capacità delle imprese di intercettare con successo opportunità di domanda che si stanno formando Oltre Oceano, in misura anche più accelerata dei competitori presenti sul mercato. La consapevolezza della debolezza che ancora sta caratterizzando i consumi europei di beni durevoli sembra, infatti, aver spinto gli operatori italiani del settore ad orientare la propria azione commerciale anche al di fuori dei tradizionali mercati comunitari.