Log in to use the pretty print function and embed function.
Aren't you signed up yet? Log in!
La raccolta delle informazioni sul commercio con l'estero di fonte US Bureau Statistics, raccolte ed organizzate da StudiaBo nel Datawarehouse DWUsatrade, hanno consentito di analizzare e comparare con la media dei concorrenti la performance realizzata dalle imprese italiane sul mercato statunitense nel corso del primo trimestre 2014.
Complessivamente, nonostante le difficoltà delle imprese italiane legate al recente nuovo apprezzamento dell'euro, gli acquisti Usa dall'Italia hanno registrato nel corso del primo trimestre 2014 un incremento pari a 2.6 punti percentuali in euro correnti , a fronte di una performance media negativa del totale dei concorrenti pari a -1.6% in euro. Le imprese italiane sono dunque riuscite a guadagnare quote sul mercato statunitense confermando nel primo trimestre dell'anno le capacità di competere evidenziate anche a chiusura 2013: l'anno scorso il mercato Usa aveva dimostrato, infatti, di apprezzare il made in Italy, incrementando i propri acquisti dall'Italia del 5% in euro, a fronte di un calo del -3.4% dell'insieme degli acquisti del mercato.

La scomposizione delle importazioni Usa per industrie Ulisse consente di mappare la performance realizzata dai prodotti delle imprese italiane rispetto ai propri concorrenti nel corso del primo trimestre dell'anno in corso. In particolare, è possibile distinguere i seguenti cluster:
Vincenti rispetto ai concorrenti;

I n linea con la performance dei concorrent i ;

Perdenti rispetto ai concorrenti;
Il cluster "Vincenti" è costituito da 12 industrie . In otto di queste industrie, le imprese italiane hanno visto crescere i propri acquisti dal mercato Usa con tassi di variazione nettamente superiori rispetto ai propri concorrenti realizzando uno scarto superiore ai 10 punti percentuali . Tra queste industrie sono presenti i Mezzi di trasporto e per l'agricoltura , i Beni intermedi in carta ed in legno , Beni alimentari intermedi e finali non confezionati , Beni intermedi chimici , Macchine e impianti per i processi industriali , Componenti per i mezzi di trasporto , Elettrotecnica , Beni intermedi in materie tessili e pelli ed infine i Beni intermedi in minerali non metalliferi .
Le altre industrie in cui gli acquisti di prodotti italiani hanno evidenziato variazioni tendenziali positive ma con scarti rispetto ai concorrenti compresi tra +5% e 10% sono in ordine: Prodotti finiti per la casa , Strumenti e attrezzature per l'industria e Beni e prodotti per le costruzioni .
Il cluster "In linea con la performance dei concorrenti" presenta 2 sole industrie : Componenti meccaniche ed ottiche ed i Prodotti finiti per la persona . Si tenga, peraltro, presente che in queste due industrie i tassi di crescita degli acquisti di prodotti italiani sono stati mediamente superiori a quelli dei prodotti dei paesi concorrenti. I differenziali di crescita sono stati tuttavia relativamente contenuti, con scarti pari a poco più di tre punti percentuali.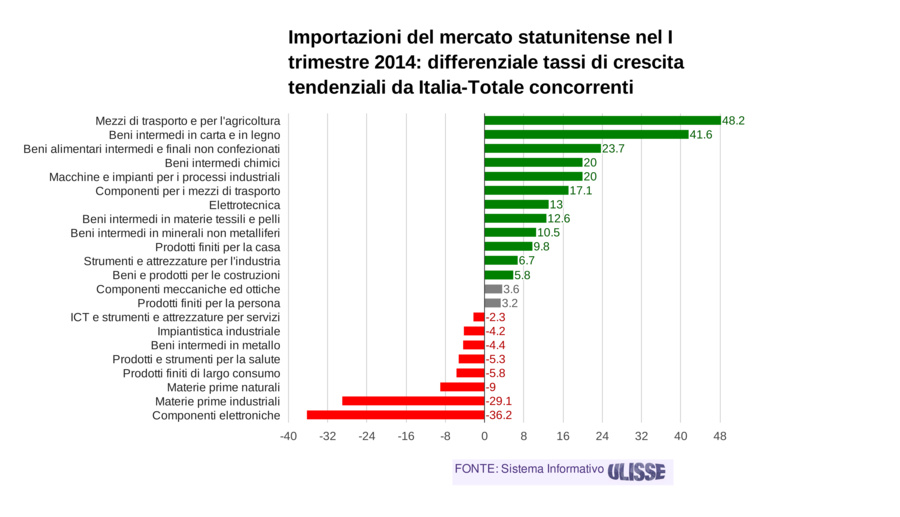 Le imprese italiane hanno registrato performance di crescita inferiori rispetto alle imprese concorrenti in 7 industrie che costituisce il cluster "Perdenti" . Tra di esse, due in particolare ( Componenti elettroniche e Materie prime industriali ) hanno sperimentato nel corso del I trimestre 2014 differenziali di crescita rispetto ai concorrenti particolarmente negativi.
All'interno di questo gruppo figurano, inoltre, con differenziali negativi più contenuti, le seguenti industrie: Materie prime naturali , Prodotti finiti di largo consumo , Prodotti e strumenti per la salute , Beni intermedi in metallo , Impiantistica industriale ed infine ICT e strumenti e attrezzature per servizi .
Complessivamente dai dati relativi alle importazioni statunitensi nel I trimestre 2014 si scorgono segnali positivi per i prodotti italiani. L'Italia ha dimostrato, infatti, di saper complessivamente intercettare le opportunità offerte dal mercato Usa riuscendo in molti casi a guadagnare quote di mercato e a confermare i segnali di competitività emersi l'anno scorso su questo mercato.