Log in to use the pretty print function and embed function.
Aren't you signed up yet? signup!
Nel secondo trimestre dell'anno Reggio Emilia si è confermata tra le province trainanti l'export italiano: tra aprile e giugno 2014 le vendite all'estero delle imprese reggiane hanno registrato un aumento tendenziale in euro del +4.9%, che conferma la buona dinamica di crescita dei primi tre mesi dell'anno (+5.2%).
I dati visualizzabili nella nuova versione di Exportpedia ( www.exportpedia.it ) consentono di cogliere in maniera immediata quali sono sia i mercati che i settori che hanno determinato tale performance.
[caption id="attachment_4109" align="alignnone" width="1338" caption="2° Trimestre 2014: Contributi dei diversi mercati di destinazione e settori alla variazione delle esportazioni della provincia di Reggio Emilia"]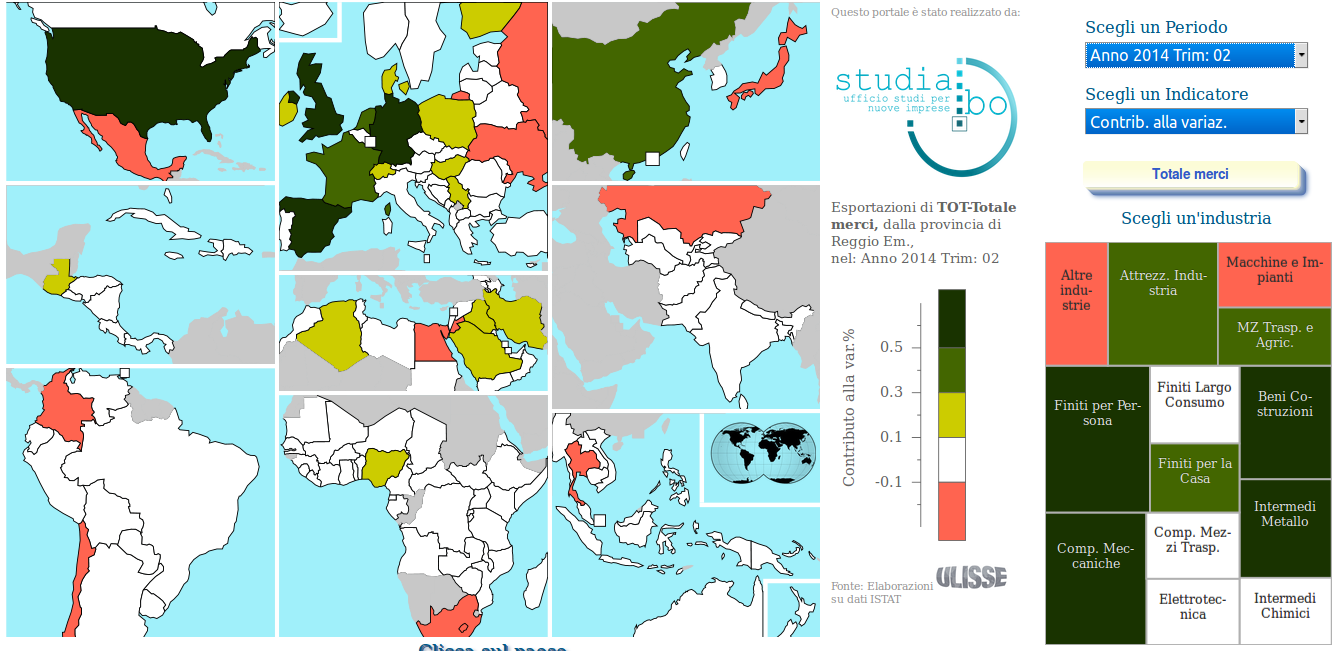 [/caption]
Germania e Stati Uniti

si caratterizzano come i

principali mercati trainanti l'export della provincia di Reggio Emilia. Nel primo semestre dell'anno le vendite delle imprese reggiane rivolte a questi due mercati hanno assicurato complessivamente un contributo di quasi 3 punti percentuali alla crescita totale dei fatturati all'estero della provincia.
Regno Unito , Spagna e, in misura minore, Francia , Polonia , Danimarca , Olanda e Cina sono, nell'ordine, gli altri mercati più rilevanti in termini di contributi alla crescita.
Di converso, Sud Africa , Russia , Egitto , Messico , Ucraina risultano, nell'ordine, i principali mercati frenanti dell'export provinciale. In peggioramento rispetto al primo trimestre dell'anno appaiono, inoltre, nel periodo aprile-giugno 2014 i mercati di Brasile, Colombia, Cile, Giappone, Kazakistan, Thailandia .
Dal punto di vista merceologico, nei primi sei mesi del 2014 Intermedi in metallo , Beni per le Costruzioni (in particolare Piastrelle e laterizi ), Componenti Meccaniche ed ottiche , Prodotti Finiti per la Persona (in particolare Abbigliamento e Maglieria ) risultano, nell'ordine, i settori trainanti le esportazioni della provincia di Reggio Emilia.
Contributi positivi alla crescita dell'export provinciale derivano anche da Strumenti e attrezzature per l'industria ( Strumenti di misura e Utensileria , in modo particolare) e Prodotti finiti per la casa ( Elettrodomestici in primis). In miglioramento nel trimestre più recente risultano, inoltre, le esportazioni di Mezzi di Trasporto e per l'Agricoltura ( Macchine Agricole ) .
Si segnala, tuttavia, il peggioramento nel periodo più recente del settore Macchine e Impianti per l'industria (risultato in crescita nel primo trimestre), che ha comportato complessivamente un contributo negativo di quasi mezzo punto percentuale alla crescita dell'export provinciale nel primo semestre dell'anno.