Log in to use the pretty print function and embed function.
Aren't you signed up yet? signup!
Il mercato statunitense di elettrodomestici evidenzia segnali di rinnovata dinamicità, confermandosi tra i principali mercati trainanti la domanda mondiale del settore.
In base alle pre-stime formulate da StudiaBo nell'ambito del Sistema Informativo Ulisse, nel periodo ottobre-dicembre 2014 le importazioni totali degli Stati Uniti di Elettrodomestici per la casa hanno sperimentato una crescita tendenziale del 9.7% in euro rispetto al corrispondente periodo 2013, recuperando il cammino di crescita tendenziale in atto dal 2012 (e interrotto solo nel terzo trimestre 2014). Se è pur vero che la svalutazione dell'euro nei confronti del dollaro (prossima agli 8 punti percentuali nel quarto trimestre 2014 rispetto al corrispondente periodo 2013) ha senz'altro favorito la crescita dei valori in euro, si tratta del 10° trimestre di crescita delle importazioni del mercato negli ultimi 12 trimestri.
[caption id="attachment_5170" align="alignnone" width="763" caption="Elettrodomestici per la casa: Importazioni degli Stati Uniti (variazioni tendenziali in euro, fonte: SI Ulisse)"]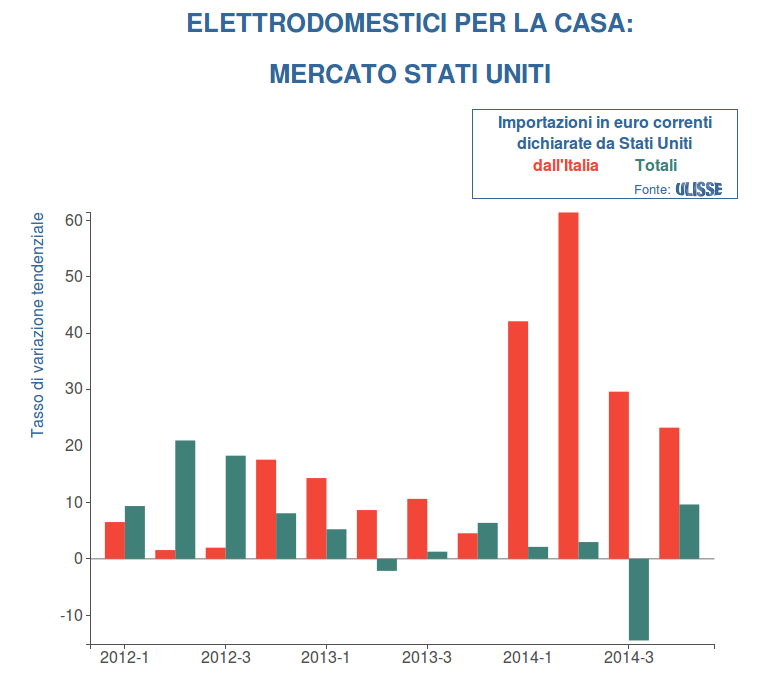 [/caption]
Nel trimestre più recente le importazioni statunitensi di Elettrodomestici per la casa nei valori in euro, stimate pari a 4.3 miliardi di euro, sono risultate su livelli nell'ordine del 26% superiori ai quelli del quarto trimestre 2011.
In questo contesto, nel quarto trimestre 2014 le importazioni USA di Elettrodomestici per la casa dall'Italia hanno evidenziato una nuova crescita "record": si stima, infatti, un incremento del 23.3% in euro rispetto al corrispondente trimestre 2013, in aumento tendenziale da ben 12 trimestri consecutivi, attestandosi nel trimestre più recente su valori (stimati pari a 41 milioni di euro) di oltre il 50% superiori a quelli del corrispondente trimestre 2011. Pur trattandosi di valori ancora relativamente contenuti, il contributo alla crescita 2012-2014 delle importazioni statunitensi di Elettrodomestici per la casa fornito dagli acquisti dall'Italia risulta tra i più positivi tra i paesi partner del mercato, al quinto posto assoluto - dopo Cina, Messico, Malesia e Thailandia - e primo tra i paesi dell'area UE.