Log in to use the pretty print function and embed function.
Aren't you signed up yet? Log in!
Blog Ulisse si rinnova graficamente diventando una piattaforma tecnicamente all'avanguardia con l'obiettivo di incrementare ancor più i contenuti di qualità che da sempre la caratterizzano.
Il Blog si avvicina sempre più ad un vero e proprio Magazine dell'internazionalizzazione , con l'obiettivo di contribuire alla conoscenza delle opportunità offerte alle Piccole e Medie Imprese italiane dal commercio estero, sia dal lato dei mercati di vendita che dal lato delle fonti di approvvigionamento .
Per fornire alle imprese italiane una bussola per navigare i mercati internazionali , sono state introdotte all'interno di blogulisse.it le seguenti aree tematiche di approfondimento:
Attualità e Congiuntura : per una misurazione sempre più " in tempo reale " e offrire una chiave di lettura delle dinamiche del commercio internazionale , a livello merceologico (industrie/settori/prodotti) e di territori (paesi, province e regioni italiane).

Analisi Mercati Esteri : per un supporto alla conoscenza delle caratteristiche e delle potenzialità dei mercati a livello internazionale, in termini di dimensioni, dinamiche, opportunità di premium-price, scenari previsivi;

Percorsi di Internazionalizzazione : per suggerire strumenti e best practice per sviluppare un approccio strutturato al percorso di internazionalizzazione d'impresa, affinché questo possa risultare vincente e sostenibile ;

Prezzi Commodity : per offrire dei " benchmark " oggettivi alla valutazione dei costi d'acquisto di materie prime, semilavorati e beni intermedi .
[caption id="attachment_5825" align="alignnone" width="1000"]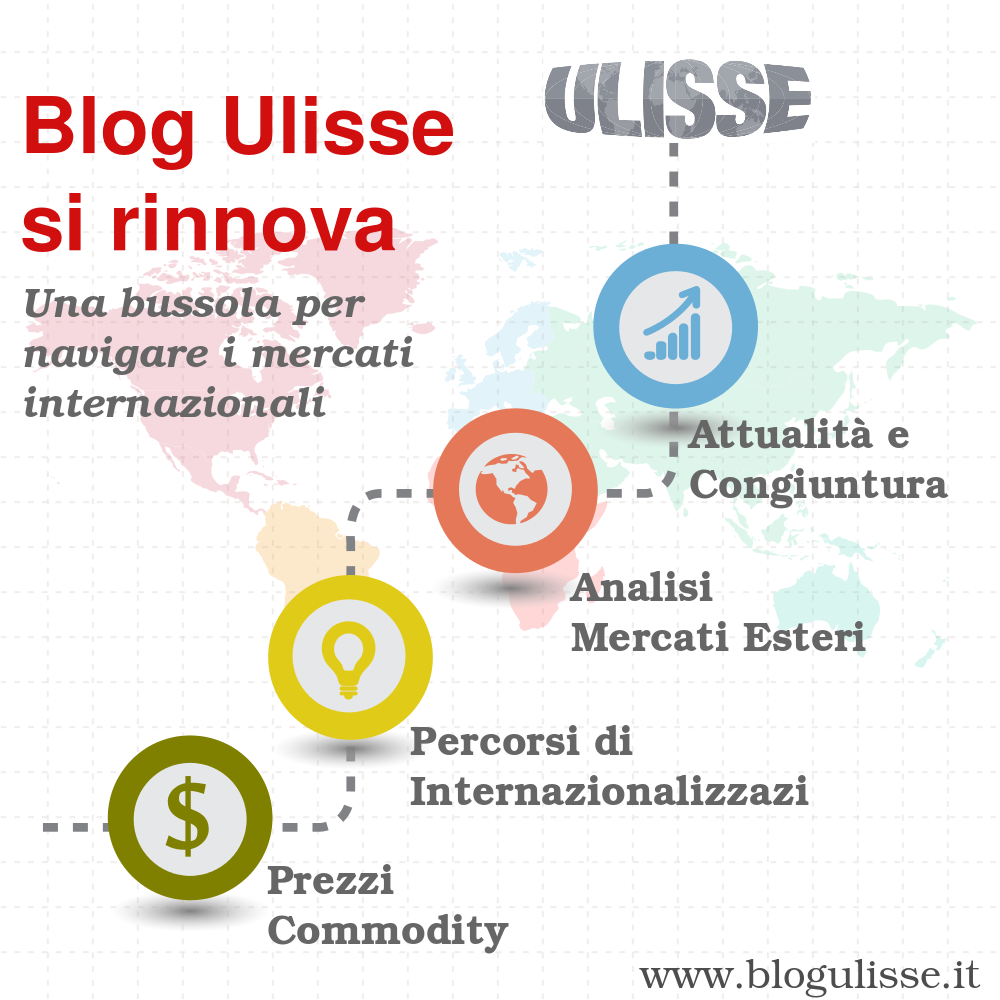 Infografica aree tematiche di Blog Ulisse[/caption]
Grazie a blogulisse.it ci auguriamo che la conoscenza delle opportunità offerte dal commercio internazionale diventi sempre più accessibile a tutti.