Log in to use the pretty print function and embed function.
Aren't you signed up yet? signup!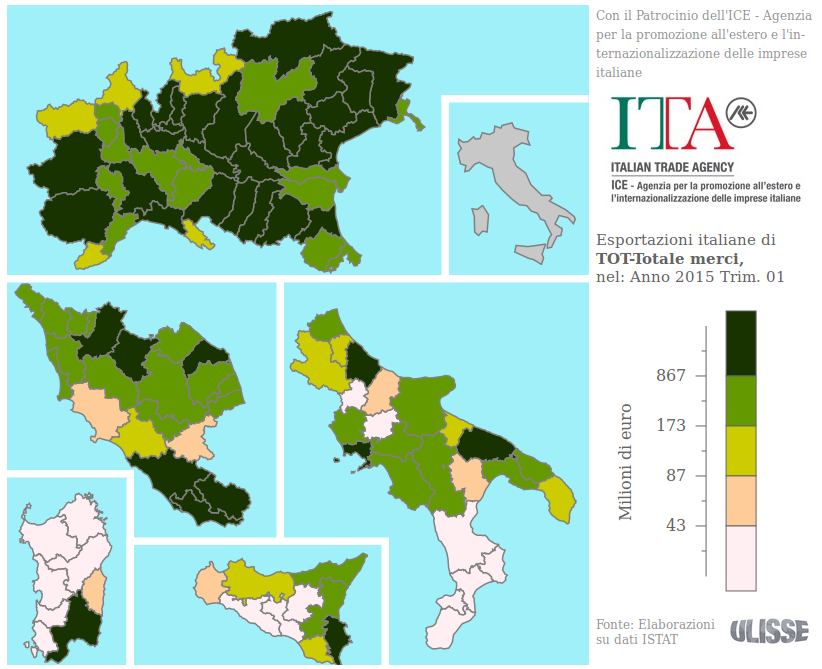 Nel I Trimestre 2015 la provincia di Brescia si è confermata tra le realtà protagoniste dell'export italiano. In particolare, le performance commerciali vedono Brescia collocarsi al secondo posto tra le province lombarde per valori assoluti realizzati dall'export. La provincia ha, infatti, registrato nei primi tre mesi dell'anno un valore complessivo dell'export pari a 3,6 miliardi di euro, in lieve calo rispetto al IV Trimestre 2014 ( -1,5% ) , ma in aumento rispetto al I Trimestre dell'anno precedente ( +3,5% ).
I dati visualizzabili sul portale Exportpedia (www.exportpedia.it) consentono di cogliere in maniera immediata quali sono sia i mercati che i macro-settori che hanno determinato tale performance.
Per quanto riguarda l'export complessivo della provincia, esso è rivolto principalmente verso l'area Euro, ma nell'ultimo Trimestre tale area si rivela poco dinamica, presentando tassi di variazione tendenziali negativi per quasi tutti i partner principali ( Francia, Olanda , Belgio e Austria ), con le uniche eccezioni della Spagna , che nell'ultimo Trimestre vede crescere le importazioni provenienti dalla provincia di Brescia, e della Germania , che rimane stabile ed allineata ai valori del I Trimestre 2014. Per quanto riguarda i mercati del resto d'Europa, nel primo trimestre di quest'anno si registrano le buone performance delle vendite provinciali rivolte a Regno Unito , Repubblica Ceca , Svezia , Turchia e Romania , mentre Svizzera e Russia evidenziano un calo rispetto al I Trimestre 2014. Uno sguardo al commercio extra-europeo rivela una crescita complessiva nei valori di merci esportate dalla realtà bresciana, in particolare verso Cina , Stati Uniti e Algeria . In negativa controtendenza appare, invece, il Brasile (-31% il tasso di variazione tendenziale nel primo trimestre dell'anno dell'export bresciano).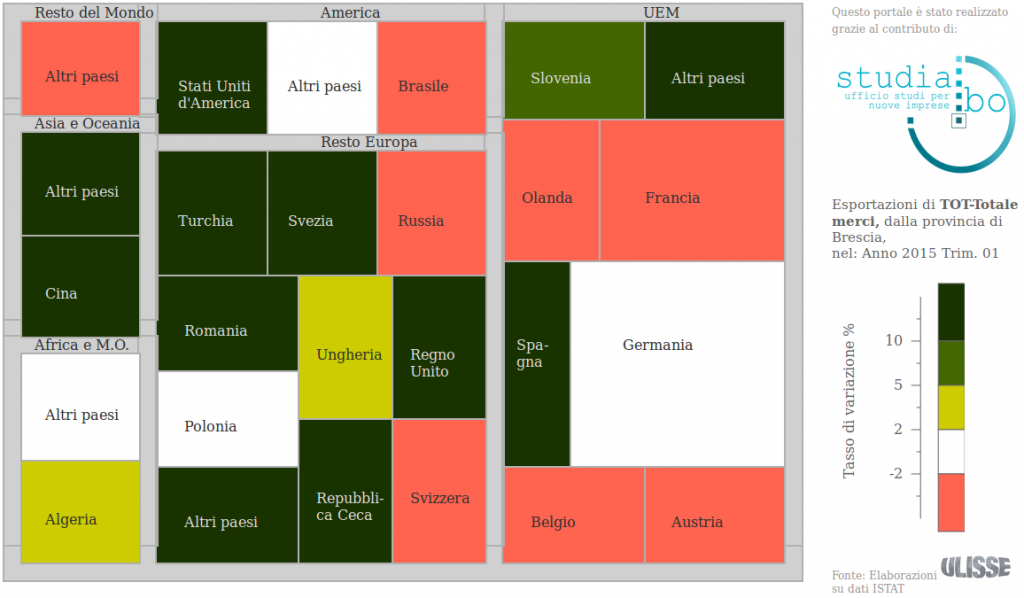 Per inquadrare meglio il fenomeno in oggetto, occorre specificare che l'export provinciale bresciano è composto principalmente dal comparto "Metalmeccanico", che rappresenta oltre il 78% delle esportazioni bresciane complessive, seguito a distanza dai comparti "Sistema Casa" (7,8%), "Sistema Moda" (5,7%), dal comparto della "Chimica" (4,0%) e dal comparto "Agroalimentare" (4,4%).
Il I Trimestre 2015, in termini di variazioni tendenziali (ovvero rapportato al I Trimestre 2014), mostra dei trend differenziati per i singoli comparti presentati. Con l'eccezione dell'" Agroalimentare ", che evidenzia in euro una flessione superiore ai 2 punti percentuali rispetto al I Trimestre 2014, gli altri comparti rimangono stabili (" Sistema Casa " e " Sistema Moda ") o crescono, come nel caso del " Metalmeccanico " (+4,1% in euro), e della " Chimica " (+13,5% in euro).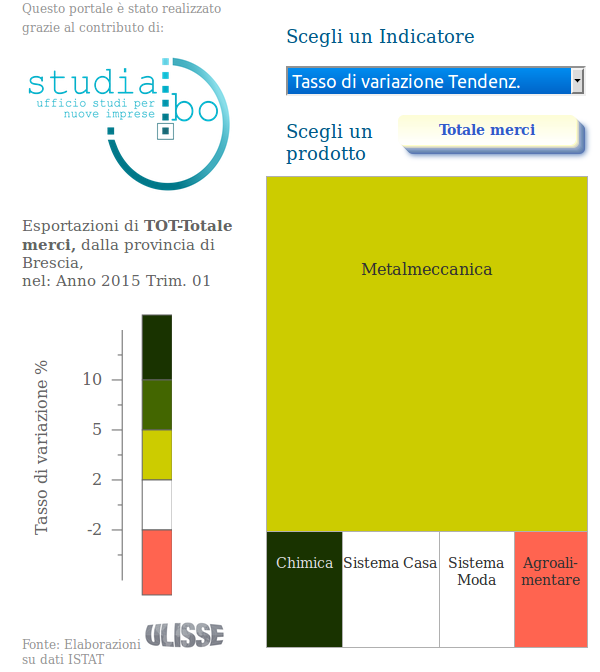 Entrando nel merito del comparto della Metalmeccanica , vanno segnalate le buone performance in termini tendenziali dei settori delle " Macchine utensili " (+36,6%), degli " Altri prodotti metalmeccanici " (+16,6%), della " Meccanica varia " (+12,8% sull'omologo Trimestre del 2014) e del settore " Automobilistico " (+11,3% rispetto al I Trimestre 2014). Meno positivi risultano, invece, gli andamenti dell'export provinciale per settori quali " Acciaio " e " Prodotti in metallo ", entrambi in calo nel I Trimestre 2015 rispetto allo stesso Trimestre dell'anno precedente.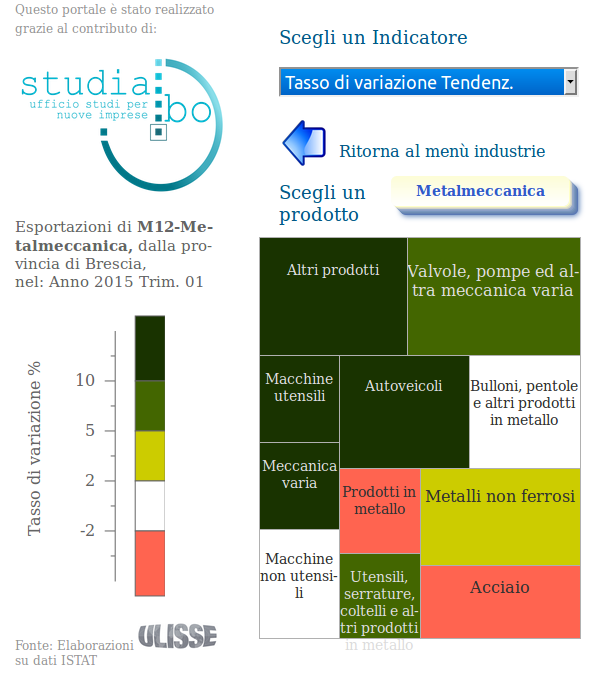 Nel I Trimestre 2015 i principali Paesi di destinazione dei prodotti metalmeccanici della provincia di Brescia risultano essere quelli dell'Unione Europea, vero "zoccolo duro" dell'export bresciano, che in alcuni casi mostrano anche tassi di crescita positivi rispetto al I Trimestre 2014 (nello specifico Spagna e Regno Unito risultano entrambe in territorio positivo). La stessa cosa non si può dire per Francia e Germania , che nonostante siano i due principali partner commerciali della provincia di Brescia nel comparto "Metalmeccanico", nell'ultimo Trimestre a disposizione registrano variazioni negative e pari a, rispettivamente, -5% e -2%.
Tuttavia un occhio di riguardo va riservato alle esportazioni oltre i confini continentali, che registrano tassi di variazione tendenziali decisamente interessanti. Tra i partner principali, per quanto riguarda le esportazioni Extra-UE, vanno annoverati gli Stati Uniti (circa 180 milioni di euro esportati nel I Trimestre, in crescita del 16% rispetto al I Trimestre 2014), l' Algeria , storico partner commerciale che, con 142 milioni di euro di esportazioni metalmeccaniche, rappresenta oltre il 17% delle intere esportazioni metalmeccaniche italiane; la Turchia , che importa manufatti metalmeccanici bresciani per circa 80 milioni di euro, in crescita rispetto al I Trimestre 2014 di oltre il 40%; e la Cina (74 milioni di euro di export, + 12% rispetto all'omologo Trimestre 2014). Da monitorare l'apporto in termini di import dell' Arabia Saudita , che nel I Trimestre 2015, con circa 35 milioni di euro di importazioni metalmeccaniche provenienti dalla provincia bresciana, registra un tasso di crescita tendenziale pari al 121%.