Log in to use the pretty print function and embed function.
Aren't you signed up yet? signup!
A consuntivo 2015 meno del 70% delle province italiane ha recuperato i livelli delle esportazioni pre-crisi. Questa quota sale ad oltre l'80% per il Nord Italia, arriva a poco più del 50% per il Sud.
I risultati di consuntivo 2015 delle esportazioni italiane, pur registrando complessivamente livelli ormai di oltre il 10% superiori a quelli del 2008, evidenziano un quadro ancora variegato in termini di capacità di recupero dei diversi territori. Al termine dell'anno scorso le esportazioni di oltre il 30% delle province italiane non avevano infatti ancora recuperato i livelli della media del 2008.
[caption id="attachment_6385" align="alignnone" width="690"]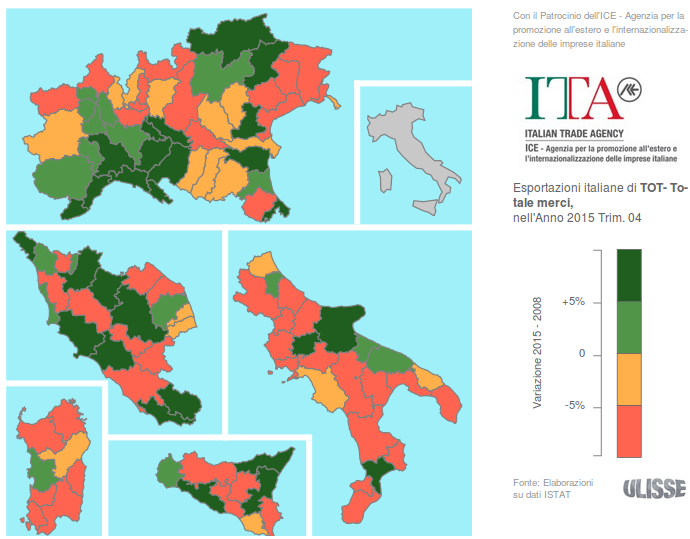 Esportazioni delle province italiane: Dall'inizio della Grande Recessione ad oggi
(variazioni % 2008-2015, prezzi costanti; fonte: Exportpedia)[/caption]
A livello geografico le maggiori capacità di "resilienza" sono state evidenziate dai territori del Nord Italia: in particolare, si rileva una significativa prevalenza di territori con livelli dell'export superiori a quelli pre-crisi nel Nord Ovest (83%) e nel Nord Est (82%). In Emilia-Romagna , Liguria e Trentino-Alto Adige si registra l' en-plein di province co n livelli delle esportazioni 2015 superiori a quelli 2008. Quote particolarmente elevate anche in Piemonte (88% delle province con livelli dell'export 2015 superiori a quelli 2008), Veneto (86%) e Lombardia (82%).
Al Centro Italia, la quota di province con livelli delle esportazioni 2015 superiori a quelle del 2008 scende al 71%. Il Lazio (4 province su 5 con livelli dell'export 2015 superiori a quelli pre-crisi) si segnala come la regione con performance più diffusamente positive.
Al Sud, infine, si registra una percentuale di appena il 50% di province che l'anno scorso hanno evidenziato livelli almeno pari a quelli del 2008. La quota appare particolarmente deficitaria in Sardegna , dove l'anno scorso solo 3 province su 8 hanno mostrato livelli di esportazione superiori a quelli pre-crisi, Puglia e Calabria (in entrambi i casi solo 2 province su 5 hanno mostrato livelli di export almeno pari a quelli 2008).
Tra le province maggiormente " frenate " dalla Grande Recessione vanno sottolineati i casi di Siracusa (con esportazioni 2015 addirittura in calo di quasi 2 miliardi di euro rispetto alla media 2008) e, in misura minore, di Udine e Cagliari , con cali compresi tra 0.5 e 1 miliardo di euro.
Dall'inizio della Grande Recessione ad oggi, le province " trainanti " l'export italiano sono state, nell'ordine, quelle di Torino , Latina , Arezzo , Firenze , Frosinone e Vicenza : le esportazioni di ciascuno di questi territori hanno registrato tra il 2008 e il 2015 un incremento di oltre 2 miliardi di euro. Nel caso delle esportazioni della provincia di Torino , i livelli 2015 sono risultati di circa il 20% superiori a quelli 2008; quelli di Firenze di quasi il 40% più elevati; quelli di Latina , Frosinone e Arezzo superiori addirittura del 90, 86 e 78 per cento, rispettivamente.