Log in to use the pretty print function and embed function.
Aren't you signed up yet? signup!
Tassi di crescita del commercio mondiale meno favorevoli che in passato. La fase di rallentamento del commercio mondiale di manufatti denominato in euro appare piuttosto generalizzata a livello merceologico. Sempre più necessarie per le PMI italiane strategie mirate di selezione mercati esteri .
La disponibilità delle dichiarazioni doganali più recenti ha consentito a StudiaBo di documentare l'andamento del commercio mondiale nel secondo trimestre del 2016, nell'ambito del Sistema Informativo Ulisse .
[caption id="attachment_6875" align="alignnone" width="605"]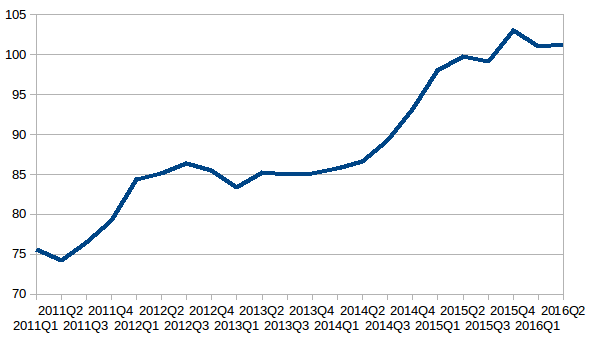 Evoluzione delle importazioni mondiali di manufatti in euro
(indice valori destagionalizzati, 2012=100; fonte: Sistema Informativo Ulisse)[/caption]
Complice anche la fine della fase di deprezzamento dell'euro 1 , n el periodo a prile – g iugno 2016 , in base al campione congiunturale di paesi Ulisse , il commercio mondiale di m anufatti (al netto, quindi, delle materie prime) ha confermato una significativa debolezza nei valori destagionalizzati in euro .
[caption id="attachment_6878" align="alignnone" width="605"]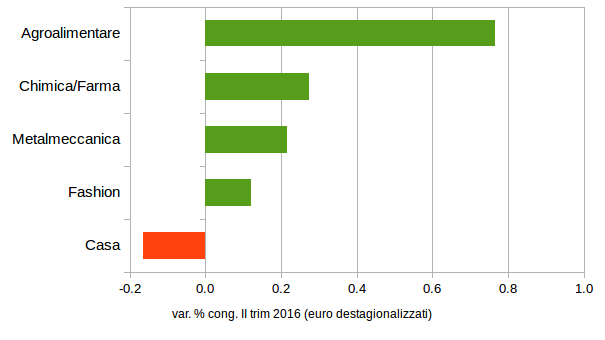 Comparti trainanti e frenanti commercio mondiale nel 2° trimestre 2016
(Variazioni importazioni mondiali rispetto al corrispondente trimestre 2015, valori destagionalizzati; fonte: Sistema Informativo Ulisse)[/caption]
L'analisi 2 dell'evoluzione congiunturale del commercio mondiale a livello settoriale evidenzia, in particolare , le seguenti dinamiche:
Agroalimentare : Olio, condimenti e spezie e Tè e caffè confezionato i principali settori " trainanti " , insieme a Frutta fresca e Ortaggi e legumi, freschi e conservati ;

Chimica Farmaceutica : Siringhe, protesi e altri prodotti per la salute , insieme a Strumenti e attrezzature medico e dentistici , Farmaci e Oli essenziali, adesivi e colle , i principali settori in crescita ;

Metalmeccanica : particolarmente positivi gli andamenti per Automobili, autobus e roulotte , Motori ed altre componenti per aerei , Parti ed accessori non elettrici per autoveicoli , Navi e imbarcazioni da diporto ;

Fashion : Calzature il principale settore trainante, precedendo per crescite a livello mondiale Gioielleria, orologi e bigiotteria , Biancheria intima e calzetteria e Libri ed altri prodotti di attività creative ;

Sistema Casa : Rubinetti e valvole principale settore "frenante", a fronte invece di dinamiche relativamente favorevoli per Lavori e prodotti in amianto, asfalto e graffite .
Il trimestre scorso ha quindi fornito una conferma di come il 2016 stia rappresentando un anno non facile per le opportunità di crescita all'estero dei fatturati delle Piccole e Medie Imprese italiane, dopo che nel 2015 queste avevano potuto beneficiare della svalutazione dell'euro. In un contesto ambientale "selettivo", risulta pertanto ancora più rilevante per una PMI saper misurare tempestivamente i cambiamenti in atto sui mercati esteri e focalizzare prioritariamente le proprie strategie di marketing internazionale su quelli a maggiore potenziale.
1 Nella media del secondo trimestre 2016 l'euro è rimasto sostanzialmente stabile rispetto al dollaro, su quotazioni nell'ordine del 15% più apprezzate rispetto alla media 2014. Si rimanda per approfondimenti in merito alla rubrica " Cambio dell'euro ".
2 Si rimanda, per dettagli, ai relativi Datamart Congiuntura Mondiale del Sistema Informativo Ulisse. I datamart fino al livello UL20 della classificazione prodotti Ulisse sono liberamente disponibili nel sito www.siulisse.it nella sezione Free Trial .
Il campione di paesi della Congiuntura Mondiale Ulisse può essere considerato particolarmente rappresentativo del totale degli scambi internazionali. Esso è composto, infatti, dalle principali economie mondiali: le loro esportazioni e importazioni superano l'80% dei flussi totali di commercio mondiale.