Log in to use the pretty print function and embed function.
Aren't you signed up yet? signup!
In base alle informazioni disponibili nel Sistema Informativo Ulisse 1 , nel primo semestre 2016 la domanda mondiale di Prodotti finiti per la Casa 2 – misurata in termini di importazioni - ha sostanzialmente confermato i valori in euro del corrispondente periodo 2015.
[caption id="attachment_6967" align="aligncenter" width="605"]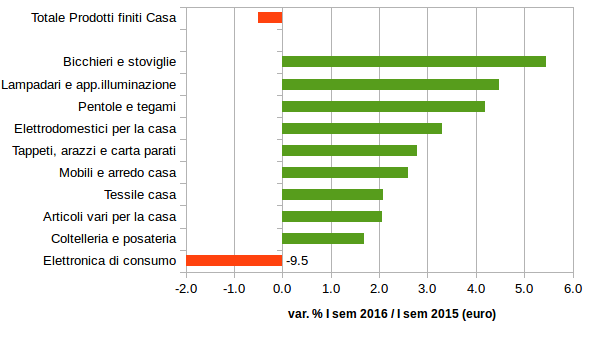 Tassi di variazione tendenziali importazioni mondiali nel I semestre 2016
(valori in euro; fonte: Sistema Informativo Ulisse)[/caption]
La performance complessiva riflette, tuttavia, andamenti anche significativamente differenti a livello di settori. In particolare, a fronte del rilevante calo (-9.5% nei valori in euro rispetto al primo semestre 2016) delle importazioni mondiali di Elettronica di consumo (segmento che da solo rappresenta oltre il 25% del commercio mondiale di Prodotti finiti per la Casa), nella prima parte del 2016 si evidenziano crescite delle importazioni mondiali soprattutto nei settori di Bicchieri e stoviglie (+5.5% in euro rispetto al corrispondente periodo 2015), Lampadari e apparecchi di illuminazione (+4.5%), Pentole e tegami (+4.2%), Elettrodomestici per la casa (+3.3%), Tappeti, arazzi e carta da parati (+2.8), Mobili e arredo casa (+2.6%).
Evidenziano, inoltre, una positiva evoluzione nei valori tendenziali in euro anche le importazioni mondiali di Tessile casa e di Articoli vari per la casa (+2.1% rispetto al primo semestre 2015) e di Coltelleria e posateria (+1.7%).
1 Il campione congiunturale Ulisse è composto dalle principali economie mondiali. Le loro importazioni superano l'80% del flussi totali di commercio mondiale. Il campione può quindi essere considerato rappresentativo del totale degli scambi internazionali.