Log in to use the pretty print function and embed function.
Aren't you signed up yet? signup!
In base alle informazioni disponibili nel Sistema Informativo Ulisse 1 , nel primo semestre 201 6 la domanda mondiale di Impianti e Macchine per i processi industriali 2 – misurata in termini di importazioni - ha registrato un calo nei valori in euro del 4.5 % ( - 4 . 4 % in dollari ) rispetto al primo semestre 2015.
[caption id="attachment_6959" align="aligncenter" width="605"]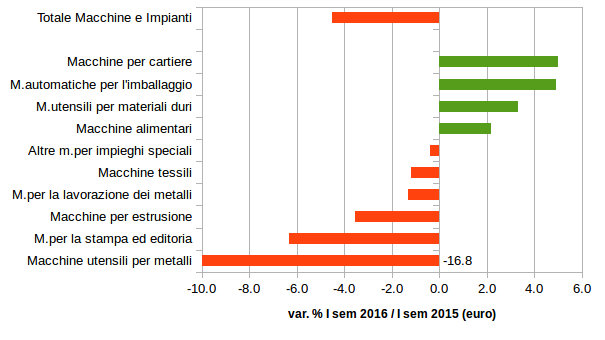 Tassi di variazione tendenziali importazioni mondiali nel I semestre 2016
(valori in euro; fonte: Sistema Informativo Ulisse)[/caption]
Nel primo semestre dell'anno Macchine utensili per metalli (-16.8% in euro in termini di importazioni mondiali rispetto al corrispondente periodo 2015), Macchine per la stampa ed editoria (-6.3% in euro) e Macchine per estrusione (-3.5% in euro) risultano i principali settori penalizzati dalla frenata della domanda mondiale di meccanica strumentale. Da segnalare, anche, le riduzioni tendenziali nei valori in euro delle importazioni mondiali di Macchine per la lavorazione dei metalli (-1.3%) e di Macchine tessili (-1.2%).
In positiva controtendenza , invece, si segnalano soprattutto le importazioni mondiali di Macchine per cartiere e Macchine automatiche per il confezionamento e l'imballaggio , che nel primo semestre 2016 hanno registrato incrementi tendenziali prossimi al 5% in euro. In crescita nei valori tendenziali in euro anche le importazioni mondiali di Macchine utensili per materiali duri (+3.3% rispetto al corrispondente periodo 2015) e di Macchine alimentari (+2.2%).
1 Il campione congiunturale Ulisse è composto dalle principali economie mondiali. Le loro importazioni superano l'80% del flussi totali di commercio mondiale. Il campione può quindi essere considerato rappresentativo del totale degli scambi internazionali.