Log in to use the pretty print function and embed function.
Aren't you signed up yet? signup!
I dati rilasciati da Istat attestano una sostanziale stabilità nel secondo trimestre dell'anno delle vendite all'estero dell a provincia di Trento (+0.4% in euro rispetto allo stesso trimestre dell'anno scorso). In termini cumulati, la variazione tendenziale annua delle vendite oltreconfine delle imprese trentine è ancora leggermente negativa (-1.3% rispetto all'anno scorso, corrispondenti a circa 22 milioni di euro in meno), stante la flessione registratasi nel primo trimestre.
[caption id="attachment_7145" align="alignnone" width="1261"]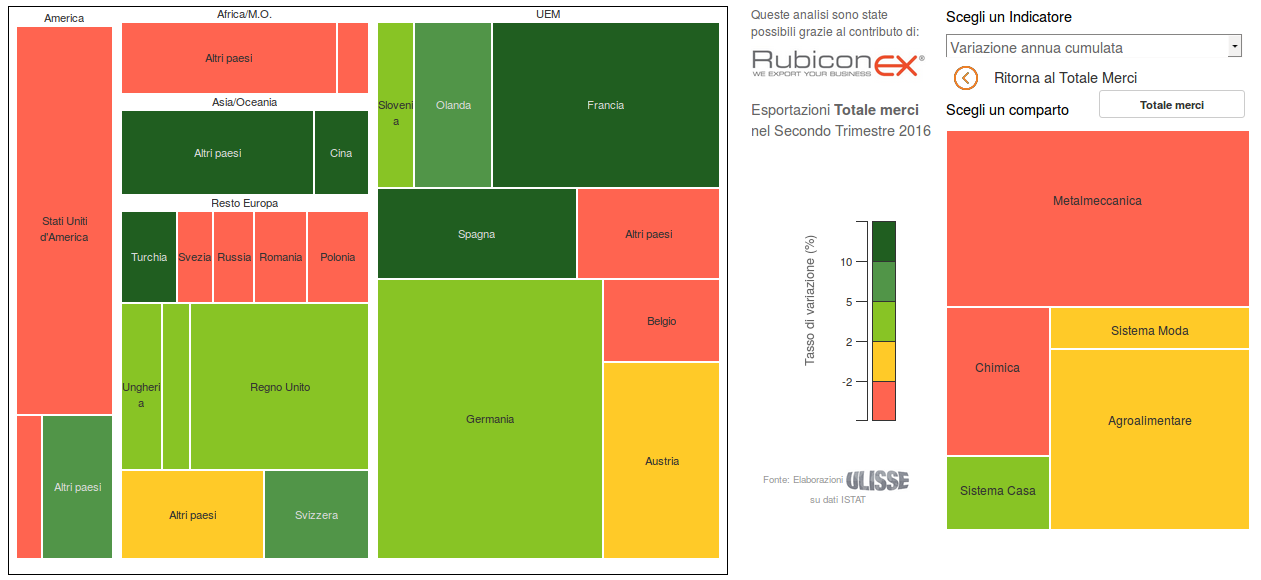 Esportazioni provincia di Trento
: Variazioni % tendenziali cumulate 2 Trim. 2016 (fonte: Exportpedia)[/caption]
Nel la prima parte del 2016 i maggiori contributi alla crescita delle vendite all'estero della provincia sono derivati da Sistema Casa (+5 milioni di euro rispetto al corrispondente periodo 2015), Sistema Moda (+2 milioni di euro) e, soprattutto, da Agroalimentare (+11 milioni di euro). In aumento risultano soprattutto le vendite delle imprese agroalimentari trentine rivolte ai mercati di Spagna (+7.4 milioni di euro), Messico (+6.6 milioni di euro), Germania (+6.1 milioni di euro) e Turchia (+5.8 milioni di euro).
Viceversa, di segno negativo risultano le performance 2016 per l'export provinciale di Chimica (-14 milioni di euro rispetto al 2015) e, soprattutto, di Metalmeccanica (-25 milioni di euro). Nel comparto chimico, i risultati più negativi hanno interessato Prodotti chimici di base, fertilizzanti e composti azotati, materie plastiche e gomma sintetica in forme primarie e di Fibre sintetiche e artificiali . Nell'ambito metalmeccanico, invece, i contributi meno favorevoli sono sinora derivati dalle vendite all'estero di Motori, generatori e trasformatori elettrici; apparecchiature per la distribuzione e il controllo dell'elettricit à , Macchine per la formatura dei metalli e altre macchine utensili , Parti ed accessori per autoveicoli e loro motori , Altre macchine per impieghi speciali . Vanno comunque segnalate - in controtendenza rispetto ai risultati del comparto - le performance particolarmente positive di Aeromobili, veicoli spaziali e relativi dispositivi (+18.4 milioni di euro rispetto al 2015), grazie ai forti incrementi avutisi sul mercato britannico .