Log in to use the pretty print function and embed function.
Aren't you signed up yet? signup!
La vittoria di Trump a presidente degli Stati Uniti d'America è stata inizialmente valutata in modo negativo dai mercati finanziari. Nel suo primo intervento da presidente, tuttavia, Donald Trump ha fornito un'immagine di sé completamente diversa da quella presentata in campagna elettorale, facendo appello all'unità del paese e prospettando una politica economica basata su investimenti pubblici e attenta ai meno fortunati. Questo intervento ha ribaltato il giudizio dei mercati finanziari, che si è manifestato immediatamente in un cambio di rotta del dollaro. Dopo essersi deprezzato nelle prime ore di mercoledì fino a 1.13 verso l'euro, il cambio del dollaro è ritornato già nel pomeriggio su valori prossimi a 1.09, per poi proseguire la fase di apprezzamento, fino a chiudere la settimana su quotazioni inferiori a questa soglia. Alcuni analisti prospettano in tempi brevi una parità del dollaro verso l'euro.
Senza dubbio il cambio che ha risentito di più dell'elezione del nuovo presidente è quello del Peso messicano. Il Messico esporta circa l'80% di quello che produce negli Stati Uniti; importanti sono pure gli investimenti che arrivano dall'America, senza contare le rimesse degli emigranti che vivono negli Usa. Con l'elezione di Trump si teme la cancellazione del trattato di libero scambio dell'area Nord americana (il Nafta), e il rimpatrio di almeno due milioni di messicani. A fronte dell'elezione di Donald Trump, il cambio del Peso messicano verso l'euro è passato da valori di poco superiori a 20 pesos per euro di martedì 8 novembre, ai quasi 23 con cui si è chiusa la settimana.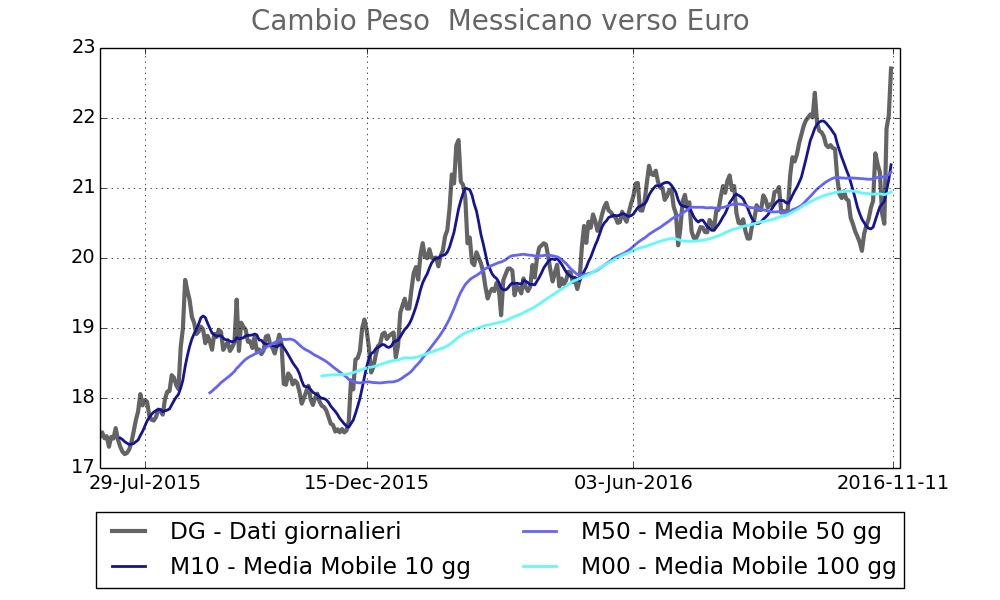 L'apprezzamento del dollaro è stato seguito dalla Sterlina inglese e dal Franco svizzero. La prima è ritornata su valori prossimi a 0.86 pound per euro; il secondo si è avvicinato alla soglia di 1.07 franchi per euro. Il cambio dello Yen, invece non ha seguito l'apprezzamento del dollaro, rimanendo su valori prossimi a 115 yen per euro. Anzi, in fine settimana è risultato leggermente deprezzato vero l'euro e, a maggior ragione, verso il dollaro.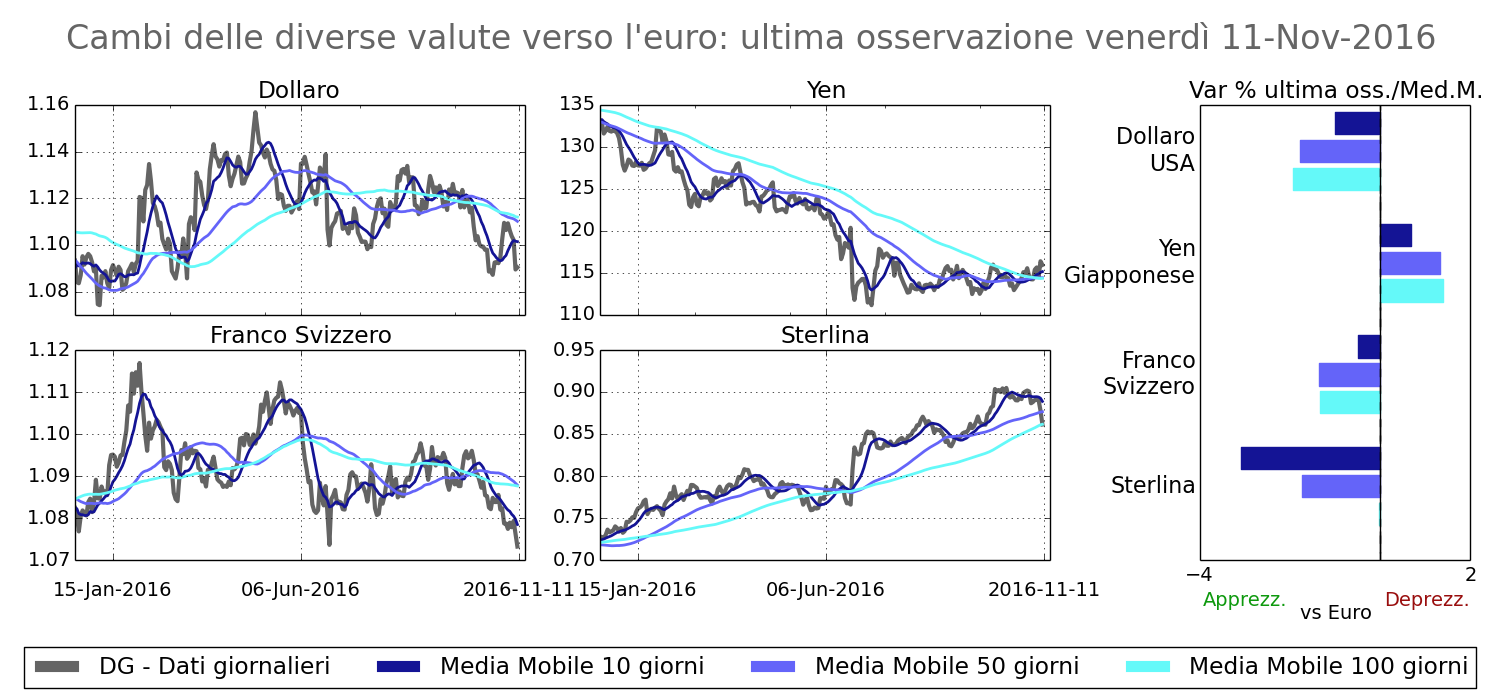 Come lo Yen, anche molte altre valute asiatiche non hanno seguito l'apprezzamento del dollaro. Questo è vero per il dollaro di Singapore, il Won coreano, la Rupia indonesiana e soprattutto il Ringgit malese. A fine settimana questa valuta ha registrato valori superiori a 4.07 ringgit per euro. Tra le valute dei paesi in via di sviluppo, da segnalare un possibile effetto Trump anche sul Real brasiliano, che venerdì è ritornato su quotazioni superiori a 3.7 real per euro.