Log in to use the pretty print function and embed function.
Aren't you signed up yet? signup!
Il rafforzamento delle aspettative di un aumento dei tassi americani a dicembre sta portando i mercati finanziari a privilegiare gli investimenti in dollari, con un progressivo rafforzamento del dollaro. Venerdì esso è sceso sotto la soglia di 1.06 dollari per euro.
La moneta che sembra maggiormente soffrire di questo rafforzamento del dollaro è la Lira turca, arrivata venerdì a superare il valore di 3.6 lire per euro. Dal fallito colpo di stato del 15 luglio, la Lira turca si è deprezzata verso l'euro del 10%. Agli effetti dovuti al clima di forte incertezza politico-istituzionale, si stanno sommando quelli di un dollaro forte che tende a drenare capitali dalla Turchia e complica la vita alle aziende del posto che spesso si indebitano in dollari piuttosto che in valuta locale. In quest'ottica l'economia di Ankara, molto dipendente dagli investimenti esteri e con una bilancia dei pagamenti in forte deficit, è quindi costretta a fare i conti con forze al di fuori del suo controllo.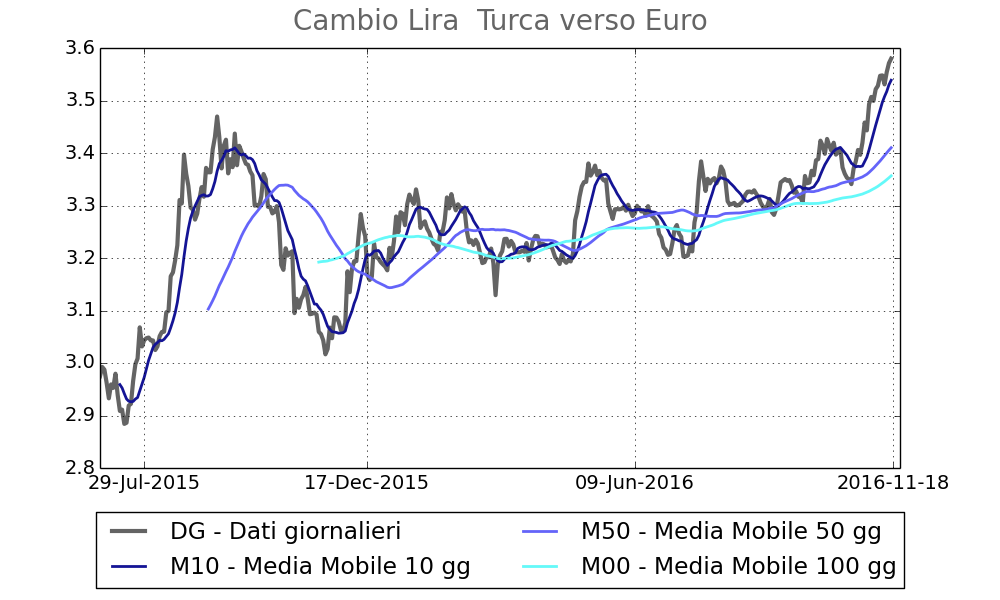 Il rafforzamento del dollaro è stato accompagnato da un parallelo rafforzamento del Franco svizzero, sceso a 1.07 verso l'euro. Anche la Sterlina si è apprezzata ritornando sui valori che avevano caratterizzato la prima fase successiva alla vittoria del Brexit. Il rafforzamento è dovuto alla sentenza dell'Alta Corte inglese, che ha rimandato la decisione sul Brexit al Parlamento inglese togliendola di fatto al governo. La maggioranza del parlamento è contraria al Brexit e questo potrebbe tradursi, se non in una permanenza del Regno Unito nell'Unione Europea, in una uscita "leggera" con il mantenimento di forti legami con l'Europa.
Continua invece la fase di indebolimento dello Yen, iniziata a fine ottobre, non solo verso il dollaro, ma anche verso l'euro.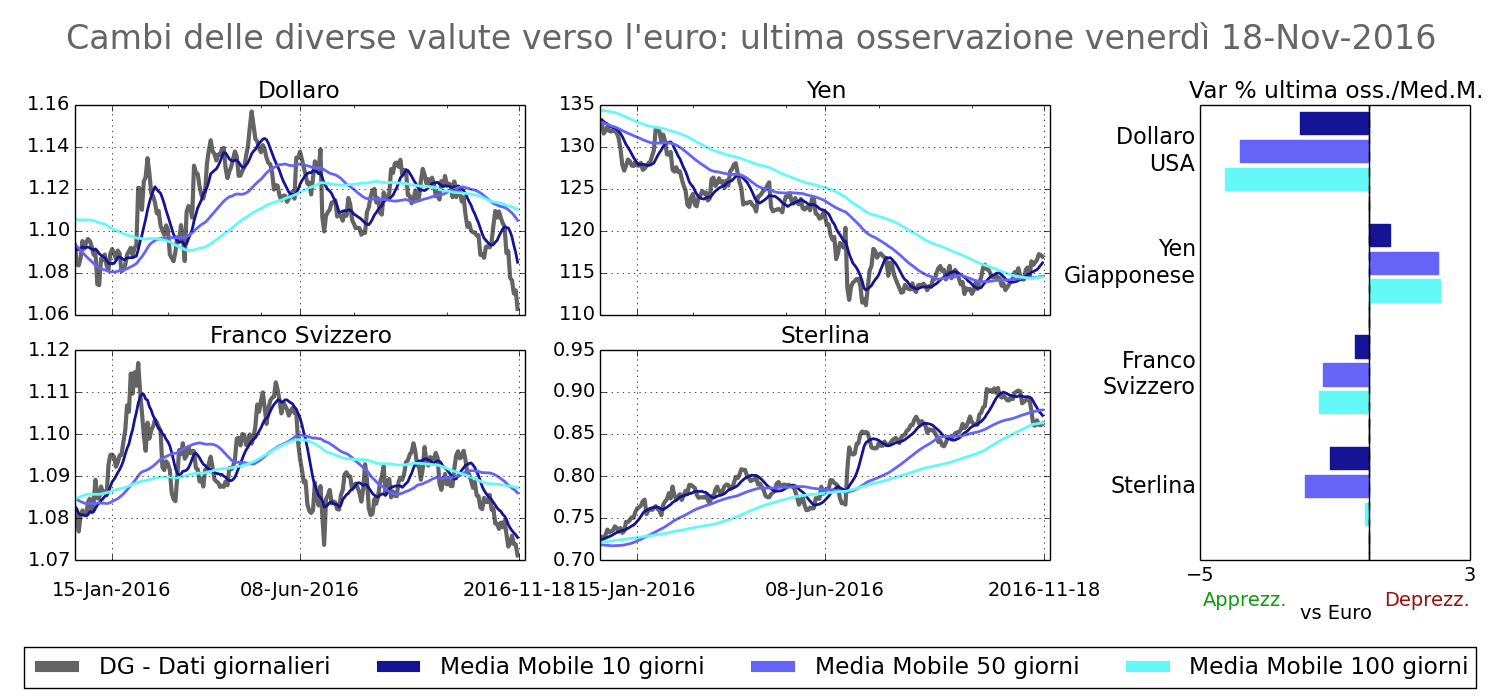 Nel corso della settimana, tutte le altre valute asiatiche si sono apprezzate verso l'euro, sulla scia dei guadagni del dollaro, ad esclusione del Ringgit malese che accusa una sua debolezza intrinseca. Sul fronte europeo, da segnalare la fase di debolezza dello Zloty polacco.