Log in to use the pretty print function and embed function.
Aren't you signed up yet? signup!
Nel corso di questa settimana, l'apprezzamento del dollaro e del Franco svizzero verso l'euro sono proseguiti fermandosi infine rispettivamente sulle soglie di 1.06 e 1.07. All'opposto è continuato il deprezzamento dello Yen, quotato ieri vicino a 120 yen per euro. La convinzione che a dicembre i tassi di interesse USA aumenteranno mentre rimarranno stabili quelli sulla valuta giapponese sta portando molti operatori da un lato a spostare la liquidità dallo yen al dollaro e, dall'altro, ad investire nella Borsa di Tokyo nella convinzione che la debolezza della moneta sosterrà le esportazioni giapponesi. In realtà, se è vero che, valutato nel breve periodo, il deprezzamento dello Yen è significativo (di oltre 5% in un mese), è altrettanto vero che, nella media di quest'anno, lo Yen continua a risultare apprezzato di oltre il 10% rispetto alla media del corrispondente periodo del 2015. Quindi più che di sostegno alle esportazioni giapponesi si dovrebbe parlare di una riduzione dell'effetto negativo sulla competitività nei prodotti e servizi giapponesi dovuti alla dinamica registrata dallo Yen negli ultimi due anni.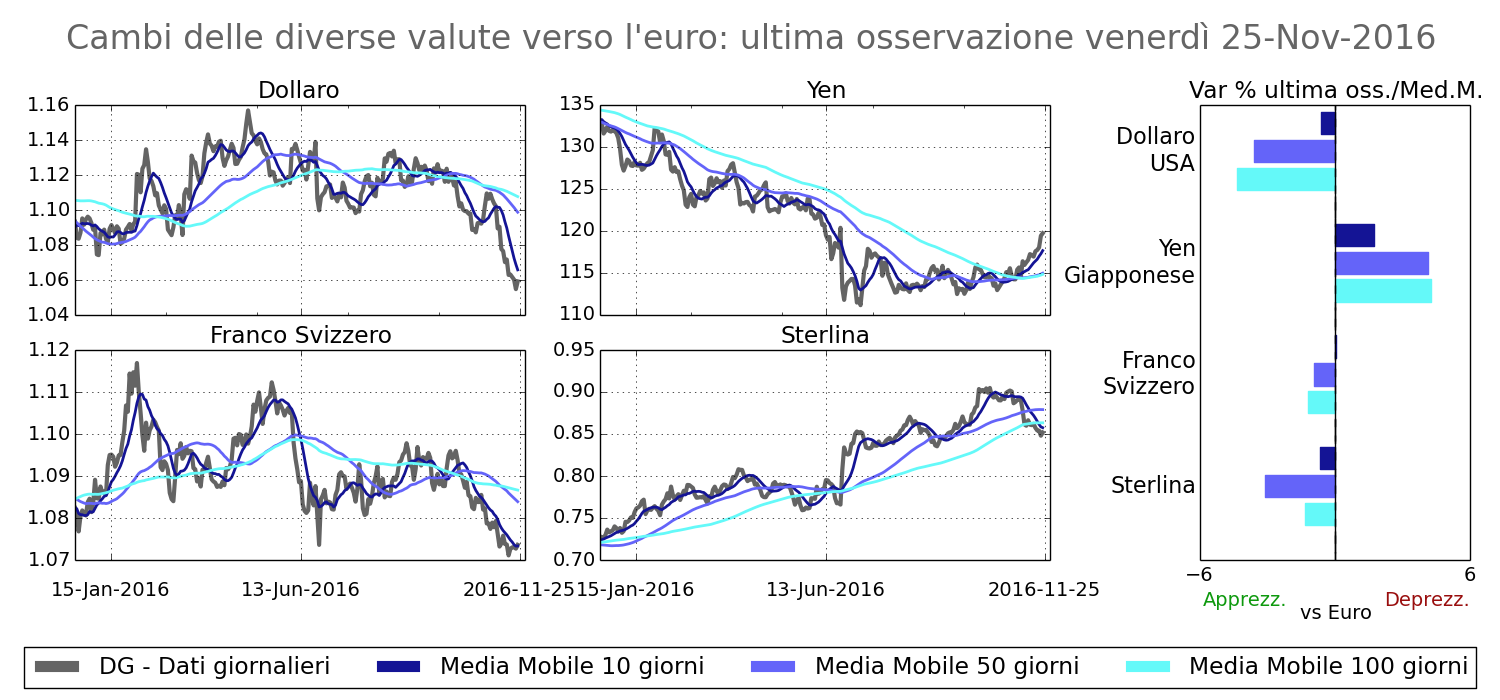 Dal lato delle valute dei paesi in via di sviluppo, continuano nella loro fase di deprezzamento il Ringgit malese e soprattutto la Lira turca, avvicinatasi ieri a 3.7 lire per euro. Quasi tutte le altre valute hanno seguito la dinamica del dollaro, apprezzandosi nei confronti dell'euro.