Log in to use the pretty print function and embed function.
Aren't you signed up yet? signup!
Il 24 novembre la banca centrale turca ha aumentato i tassi di interesse di riferimento dal 7.5% all'8% con l'obiettivo di contrastare il deprezzamento in atto della Lira turca. La scorsa settimana il presidente turco Recep Tayyip Erdogan ha rivolto un appello alla popolazione e alle istituzioni del paese chiedendo di sostenere la moneta locale. All'appello ha risposto immediatamente la Borsa di Istanbul che ha deciso di convertire in lire turche tutte le sue attività liquide. Nessuna di queste azioni è riuscita tuttavia ad invertire la dinamica della lira turca che nell'ultima settimana ha accusato un deprezzamento rispetto all'euro del 3.3%, portando al 13.5% il deprezzamento cumulato da inizio anno. Dal fallito golpe di luglio, il Paese sta subendo un deflusso di capitali. La disponibilità di valuta estera da parte dei residenti è inoltre fortemente diminuita a causa del crollo dei proventi del turismo: nel terzo trimestre 2016 questi sono diminuiti del 32,7% rispetto allo stesso periodo del 2015. Per ora il governo sembra voler contrastare questa fase di deprezzamento della lira solo attraverso politiche di moral suasion, chiedendo, ad esempio, alla popolazione di convertire i risparmi in valuta estera in lire turche o oro.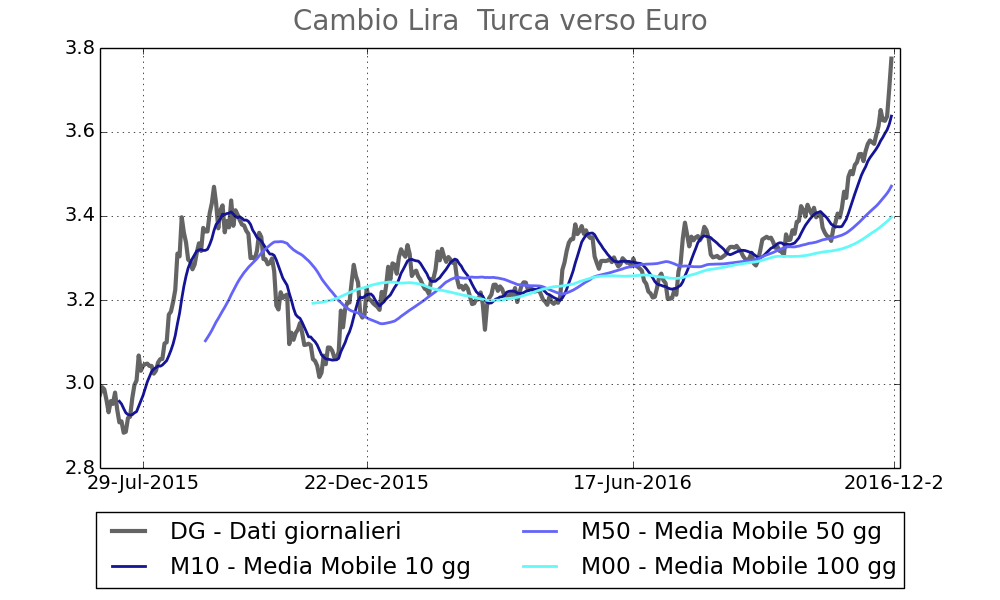 Tra le principali valute, la settimana appena chiusa si è caratterizzata per una prosecuzione della fase di deprezzamento dello Yen verso l'euro. Anche Dollaro e Franco svizzero sono risultati leggermente deprezzati. Viceversa continua il recupero della Sterlina inglese che dopo aver toccato alcune settimane fa valori superiori a 0.90 pound per euro, è ridiscesa sotto la soglia di 0.85.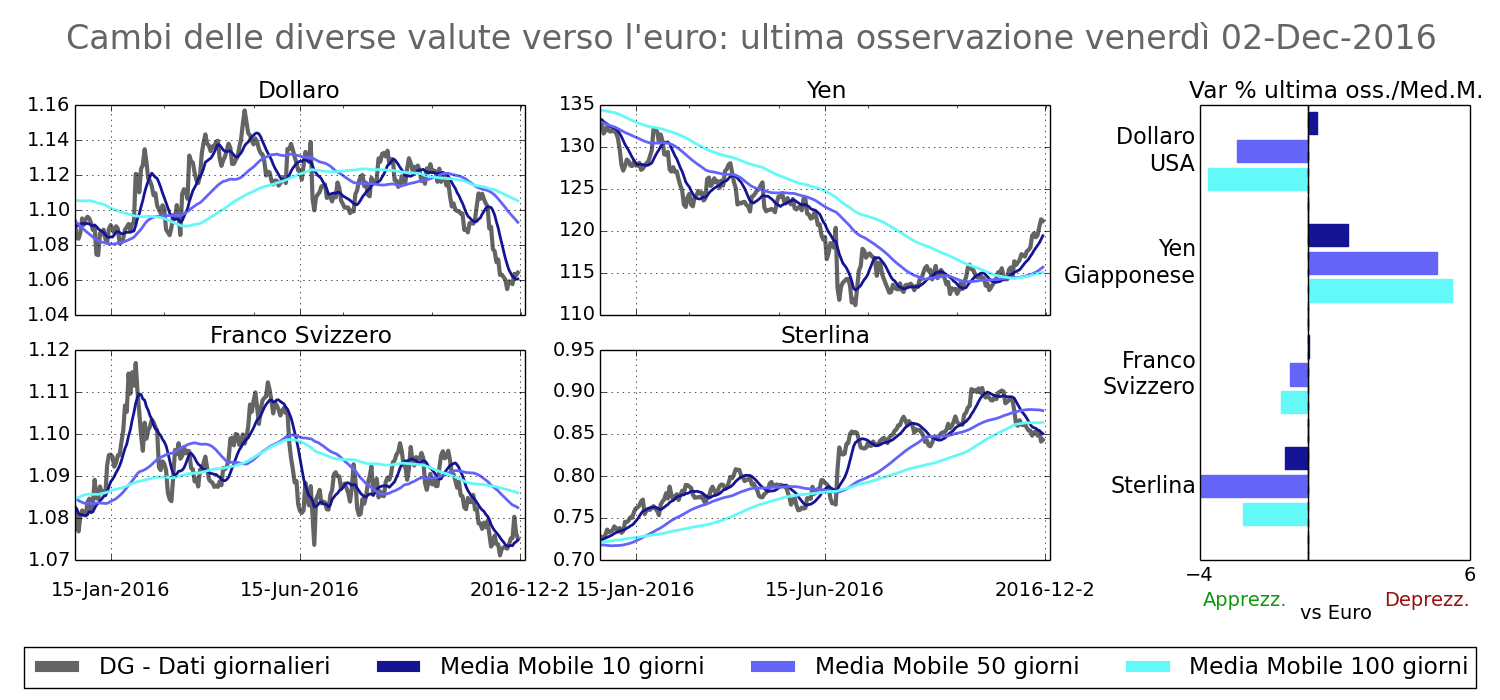 Da segnalare il deprezzamento in atto dello Zloty polacco che in una settimana ha perso quasi il 2% e si sta avvicinando ai valori di massimo storico assoluto.