Log in to use the pretty print function and embed function.
Aren't you signed up yet? signup!
Nell'articolo di questa settimana ci concentreremo sulla dinamica di lungo periodo del Won Sudcoreano. Le prospettive economiche della Corea del Sud sono buone; nel 2016 il PIL è aumento del 2.7%, l'inflazione ha registrato una riduzione fino all'1.9% rispetto a Gennaio 2017, il saldo delle partite correnti è positivo (maggiore al 5% del PIL) e il livello del debito pubblico non è elevato (minore al 40% del PIL). I tassi di interesse applicati dalla Banca di Corea, rimasti invariati da Giugno, sono pari all'1.25% e potrebbero favorire le operazioni di carry trade verso valute con bassi tassi di interesse (ad esempio: euro, yen).
Sebbene il contesto macroeconomico non presenta punti deboli, il Won SudCoreano ha alternato fasi di apprezzamento con fasi di deprezzamento nei confronti del dollaro.
Concentrandoci sull'ultimo giro di boa di inizio Settembre, in cui la valuta sudcoreana ha raggiunto il suo valore di massimo apprezzamento nell'ultimo anno (pari a 1089 Won per dollaro), il Won ha iniziato una significativa fase di deprezzamento dove alcune vicende politiche hanno contribuito fortemente alla perdita di valore di questa valuta. Nel dettaglio, nel giorno dello 'scandalo sciamana' (25 Ottobre) e della votazione da parte del Parlamento sull'impeachment per la Presidente Park (9 Dicembre), il Won ha registrato significative debolezze nei confronti del dollaro fino a raggiungere nei primi giorni del 2017 il valore massimo deprezzamento di questa fase (1207 Won per dollaro) per poi iniziare una nuova fase di apprezzamento che ha riportato il cambio su valori inferiori a 1140.
Le parole di Trump sull'arsenale nucleare per fronteggiare la minaccia della Korea del Nord e la conferma dell'impeachment da parte della Corte Costituzionale sudcoreana, hanno sospeso la fase di apprezzamento che era in atto ma che è ripresa nei giorni della settimana appena trascorsa.
Questi eventi fanno pensare come nonostante l'economia sudcoreana godi di un buono quadro macroeconomico, il Won Sudcoreano è fortemente influenzato da vicende politiche in grado di alterarne la sua dinamica.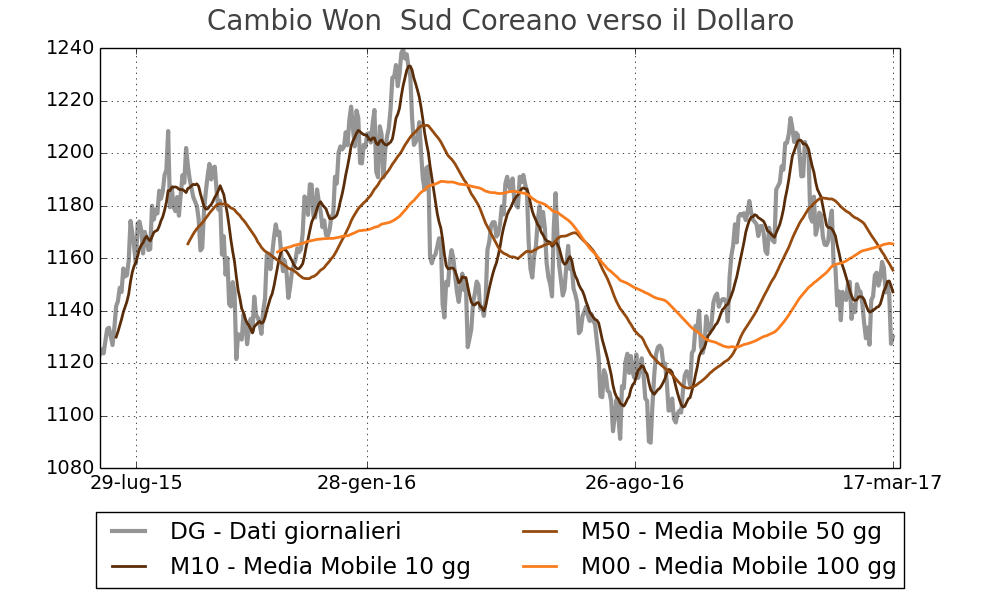 L'aumento dei tassi di interesse di un quarto di punto percentuale da parte della Fed non sembra aiutare il dollaro che sta attraversando una fase di significativo deprezzamento nei confronti di euro e Franco Svizzero. Un comportamento sorprendente da parte della valuta statunitense nonostante l'economia a stelle e strisce godi di un buon stato di salute, il mercato del lavoro è vicino all'obiettivo di massima occupazione posto dalla Fed e l'inflazione è maggiore al 2%, segnalando buoni livelli di domanda.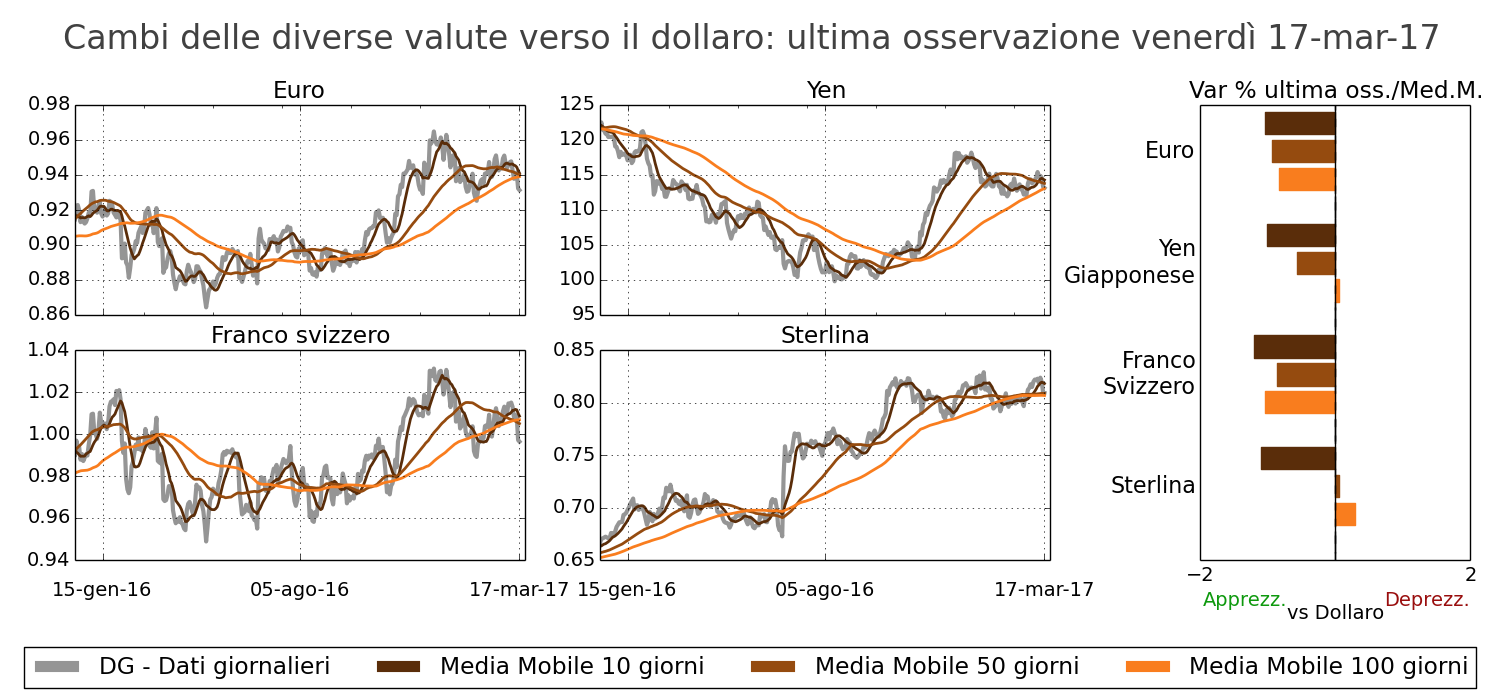 La dinamica del dollaro nei confronti delle principali valute si riflette anche nei confronti delle valute dei paesi emergenti in cui è evidente il deprezzamento della valuta statunitense. In particolare, sorprende il forte rafforzamento di questi ultimi giorni della Lira Turca.