Log in to use the pretty print function and embed function.
Aren't you signed up yet? signup!
Nelle scorse settimane abbiamo commentato valute, le cui dinamiche sembrano risentire fortemente dell'influenza di alcuni fattori politici. Questa settimana analizzeremo, invece, l'andamento dello Zloty Polacco che nel lungo periodo mostra una fase di significativo apprezzamento, non influenzata dai rumori politici.
Nella settimana appena conclusa alcuni istituti di rating hanno rivisto in rialzo le stime di progressione del PIL, grazie ai segnali di ripresa registrati dall'economia polacca.
Il profilo macroeconomico della Polonia presenta i seguenti dati: il PIL è aumentato del 3.1% e nel 2017 dovrebbe accelerare al 3.4%; il debito pubblico si attesta al 52.3% del PIL; l'inflazione presenta un valore intorno al 2% mentre la disoccupazione è in calo dal 2013 (pari al 6% nello scorso anno).
A questi dati è utile aggiungere i tassi di interesse applicati dalla Banca Centrale di Polonia, pari all'1.5%, leggermente superiori di quelli delle principali valute mondiali (Yen: 0.00%, Euro: 0.00%, Dollaro: 1.00%).
La significativa fase di apprezzamento che lo Zloty sta attraversando è iniziata il 5 Dicembre 2016 (quando il cambio era di 4.50 Zloty per euro). Il tasso di cambio registrato questo fine settimana è stato di 4.22 Zloty per euro, inferiore ai livelli di minimo registrati ad Aprile dello scorso anno.
A differenza delle altre valute commentate in precedenza lo Zloty sembra, quindi, non risentire delle turbolenze di politica interna (il mancato sostegno all'elezione del neo-presidente Tusk per la presidenza del Consiglio Europeo e il ritiro del proprio contingente dalla forza multinazionale di difesa Eurocops).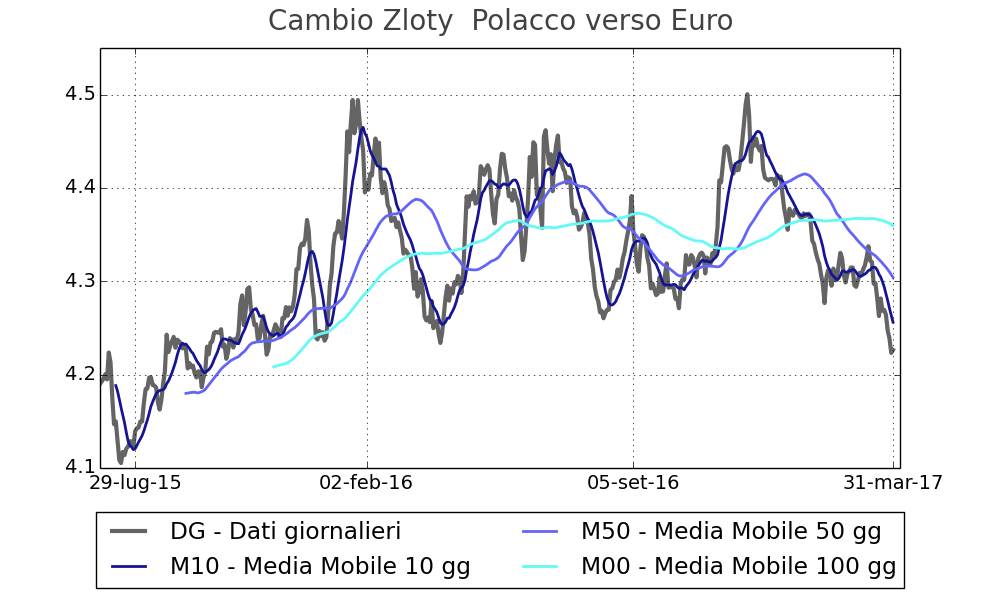 Negli ultimi giorni della settimana l'euro ha registrato alcuni elementi di debolezza nei confronti delle principali valute mondiali. Yen, Sterlina e, in particolare, il dollaro, registrano un rafforzamento nei confronti della moneta unica.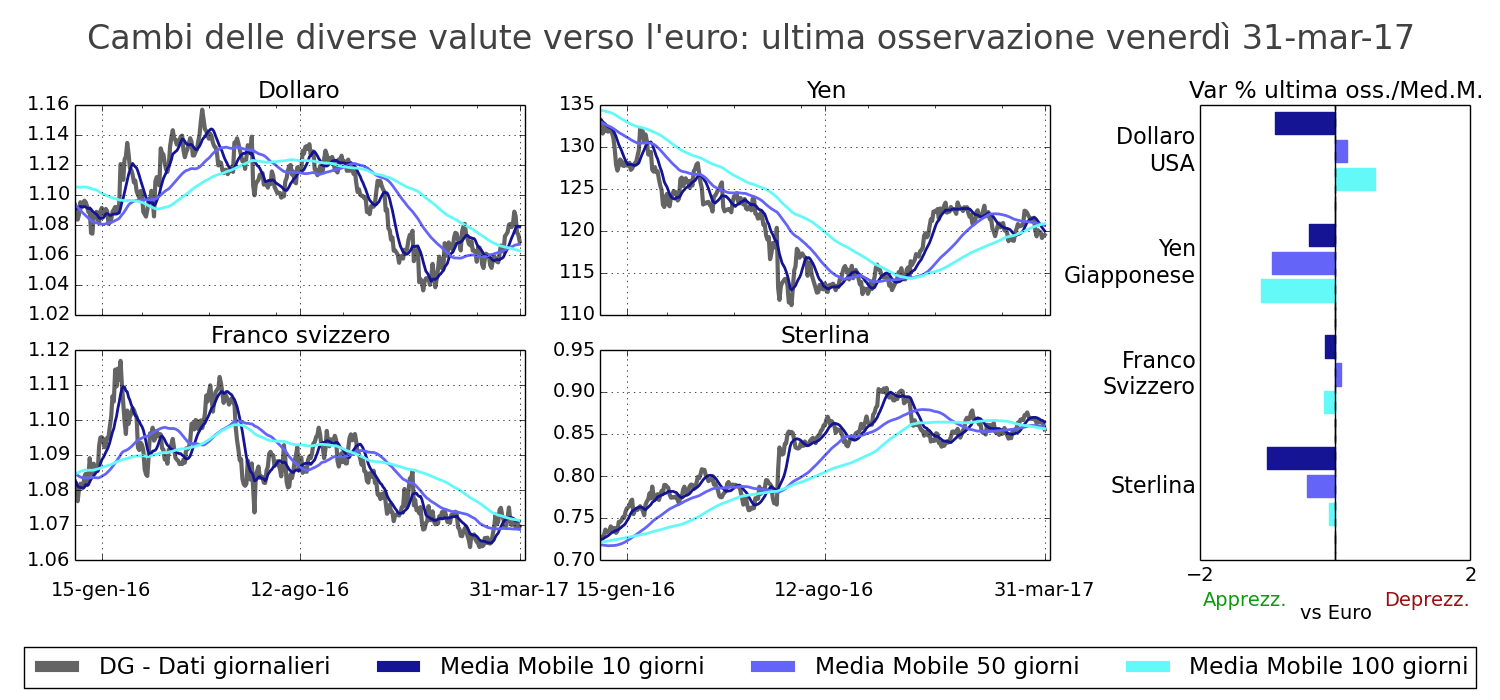 Anche le valute del continente asiatico (colonna di destra nel seguente grafico) mostrano un rafforzamento nei confronti dell'euro, a conferma di fattori specifici di debolezza della valuta europea. In questo contesto, risalta il significativo deprezzamento subito dal Rand sudafricano.