Log in to use the pretty print function and embed function.
Aren't you signed up yet? signup!
Già a marzo di quest'anno era evidente una tendenza del Peso Messicano a rafforzarsi (si veda "Il peso messicano si sta apprezzando, nonostante Trump"), dopo l'elevato deprezzamento subito nel corso della scorsa campagna elettorale americana. Questa fase di rafforzamento è proseguita anche nei mesi successivi, come evidenzia il grafico del tasso di cambio bilaterale del peso verso dollaro, fino ad arrivare, in questo fine settimana, a 18.23 pesi messicani per dollaro, ritornando ai valori registrati a metà agosto dello scorso anno. E' evidente che i mercati finanziari ritengono superata e non realizzabile la politica protezionistica nei confronti del Messico annunciata da Donald Trump durante la campagna elettorale.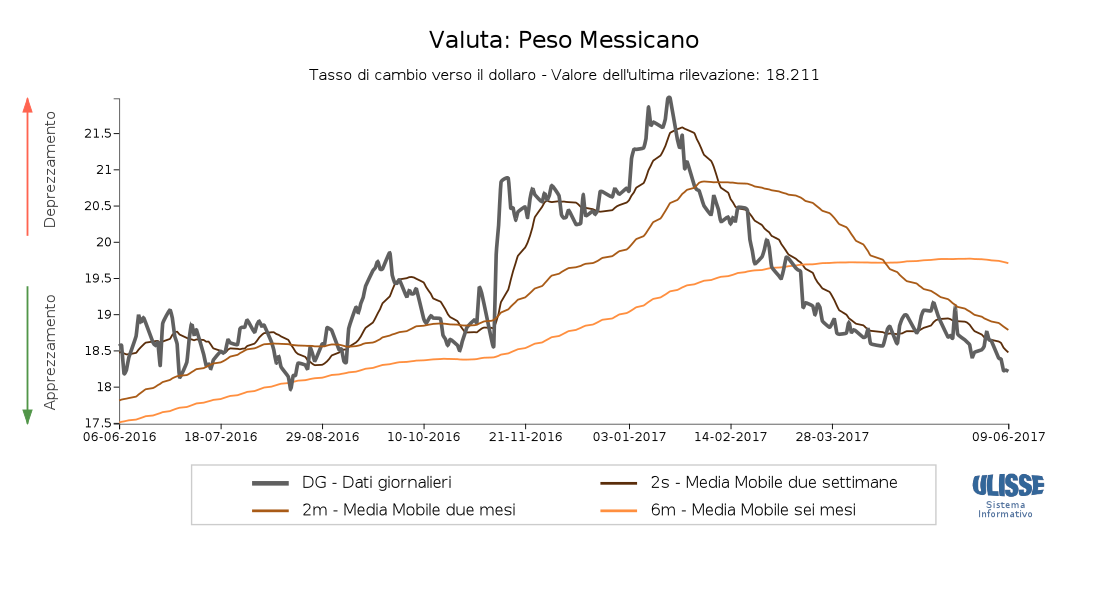 Il grafico che segue riporta una rappresentazione sintetica della dinamica dei tassi di cambio effettivi delle principali valute mondiali, estratta dall'infografica relativa a 30 valute mondiali. Esso consente una valutazione assoluta della forza o debolezza delle diverse valute. Dalla sua analisi emerge chiaramente la debolezza della Sterlina, del dollaro e, nel periodo più recente, anche dell'euro.
Il cambio effettivo della valuta inglese, a seguito del risultato elettorale che ha visto il primo ministro May perdere la maggioranza in parlamento, si è indebolito passando in poche ore da 85.3 a 84.3 (indice base 2015=100). La valuta americana sta risentendo delle influenze politiche provenienti dalla vicenda Russiagate. L'euro, ha risentito delle recenti comunicazioni del presidente della BCE che lascia presagire come l'incremento dei tassi d'interesse non riguarderà il prossimo futuro.
Dinamica dei tassi di cambio effettivi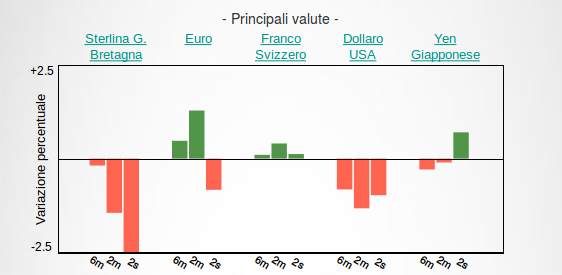 In relazione alla dinamica dei tassi di cambio effettivi delle principali economie emergenti è evidente la fase di debolezza del Real Brasiliano
La valuta brasiliana continua a risentire della debolezza derivante dalla situazione politica e giuridica che interessa il presidente Temer; in questa settimana, infatti, è iniziato il processo sulle presunte irregolarità nella campagna presidenziale del 2014, quando l'ex presidente Roussef era candidata e Temer il suo vice.

Dinamica dei tassi di cambio effettivi