Log in to use the pretty print function and embed function.
Aren't you signed up yet? signup!
Il commercio mondiale di merci si sta da più anni caratterizzando per una maggior dinamica dei segmenti di qualità: anche nel 2016 i segmenti di qualità hanno registrato variazioni positive (di circa il 3%), ribaltando i risultati dei segmenti a minor prezzo, mediamente risultati negativi. Risulta quidi confermato il trend ampiamente positivo che caratterizza il commercio mondiale di qualità. Tra il 2008 e il 2016 il commercio mondiale di beni di qualità, misurato in euro correnti, è, infatti, aumentato ad un tasso medio annuo superiore al 10%.
Tra le varie merceologie che compongono il commercio mondiale, un settore interessante è rappresentato dalla meccanica, con particolare focus sulle macchine per il confezionamento e l'imballaggio, le cui importazioni mondiali di qualità (macchine più performanti, con più funzionalità e/o più personalizzate) crescono maggiormente rispetto a quelle relative ai segmenti di macchine di prezzo inferiore.

Come mostrato dal grafico disponibile sul portale www.allesterodove.it, il mercato delle importazioni di qualità delle macchine per imballaggio è cresciuto sia a livello europeo che intercontinentale. In particolare, da segnalare un aumento dei flussi sul mercato verso Cina e Stati Uniti, dove le importazioni di qualità hanno raggiunto livelli pari, rispettivamente, a 1 e 1.6 miliardi di euro, arrivando a rappresentare la quasi totalità delle importazioni complessive di macchine per imballaggio.
Figura 1:Paesi importatori di macchine per confezionamento ed imballaggio di fascia Alta e Medio alta di prezzo (2016)
Fonte: All'estero dove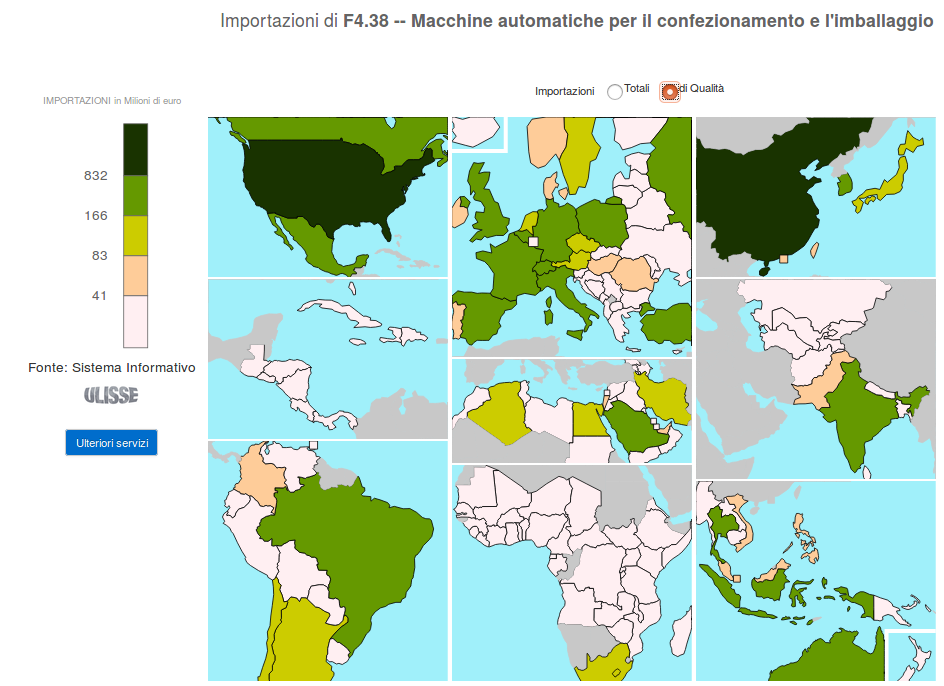 L'Italia è uno dei principali paesi esportatori di macchine per confezionamento ed imballaggio e il secondo paese competitore sia sul mercato cinese che su quello americano, con una crescita delle esportazioni di qualità, nel 2016, del +19% verso gli USA e del +15.5% verso la Cina.

Come evidenziato dai dati Exportpedia, l'Emilia Romagna sta trainando la crescita del comparto anche quest'anno. Le esportazioni di macchine per imballaggio dell'Emilia Romagna hanno, infatti, registrato nel primo trimestre una crescita tendenziale (rispetto al primo trimestre 2016) del +13.5%.
Figura 2:Esportazioni metalmeccanica Emilia-Romagna: variaz. tendenziali I trimestre 2017
Fonte: Exportpedia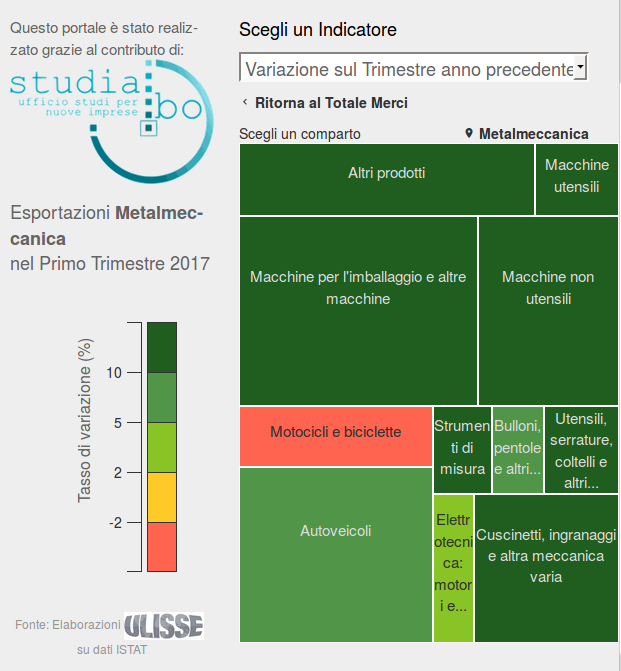 La regione si caratterizza per un ampio distretto metalmeccanico sparso su più province, con realtà produttive all'avanguardia a livello internazionale: imprese di grandi dimensioni al fianco delle quali si colloca una fitta rete di piccole e medie imprese fondamentali nel completare la catena del valore distrettuale.

La crescita dei mercati internazionali, soprattutto nei segmenti di fascia alta e medio alta, pongono alle PMI non ancora presenti in modo significativo sui mercati esteri, la sfida concreta dell'internazionalizzazione. Per supportare questo processo, SIUlisse sarà presente a Farete il 6-7 settembre 2017 per presentare il sistema informativo Ulisse a sostegno dell'internazionalizzazione.