Log in to use the pretty print function and embed function.
Aren't you signed up yet? Log in!
La settimana appena conclusa si caratterizza da numerosi eventi che hanno influenzato significativamente il mercato Forex.
Il discorso di Malusi Gigaba, ministro delle finanze del Sudafrica, tenuto lo scorso mercoledì presso Città del Capo, è stato quello che maggiormente ha condizionato gli agenti di mercato provocando un significativo deprezzamento del Rand sudafricano. Le parole del ministro non sono incoraggianti, infatti, seppur l'economia sudafricana sia uscita dalla recessione registrata nel secondo trimestre dell'anno, le stime sul tasso di crescita del PIL per il 2017 sono state riviste a ribasso dall'1.3% all'attuale 0.7%.
La crescita lenta e le insufficienti entrate fiscali hanno peggiorato il disavanzo di bilancio che si attesta al 4.3% del PIL (superando ampiamente il target prefissato) contribuendo ad incrementare il debito pubblico.
Tale situazione, aggravata da un mercato del lavoro sempre più in crisi (tasso di disoccupazione annuale si attesta ad un livello record del 27.7%), preoccupa gli agenti internazionali e le principali agenzie di rating, Fitch e Standard & Poor's, che potrebbero, per la seconda volta nell'anno, declassare il rating del debito sovrano del Sudafrica.
In un contesto così negativo e con una classe politica in profonda crisi, che vede il Presidente Zuma accusato di numerosi scandali, il Rand sudafricano si è indebolito in pochi giorni del 3.8% nei confronti del dollaro (4.2% nei confronti dell'euro), per poi chiudere la settimana con un valore pari a 14.206 Rand per dollaro (16.485 Rand per euro).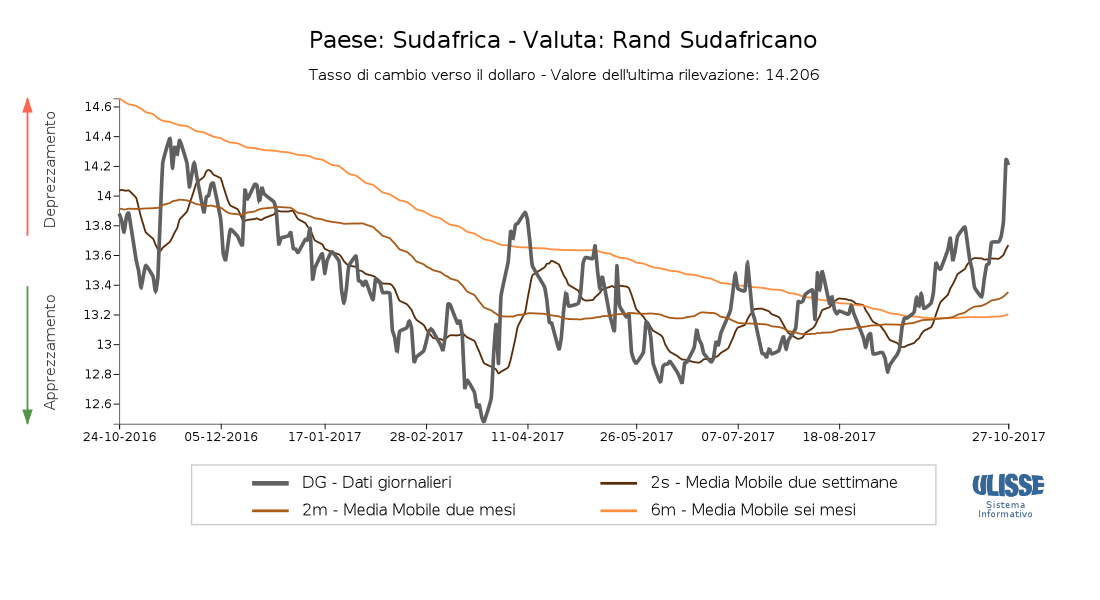 Venerdì scorso si è riunito a Bruxelles il consiglio europeo per affrontare argomenti di politica estera. Uno dei temi che maggiormente ha scosso i mercati riguarda la Turchia e la sua candidatura per entrare nell'Unione Europea.
E' la cancelliera, Angela Merkel, a sollevare questo tema ed ad esprimere il suo totale dissenso riguardo la situazione dei diritti umani in Turchia che, per tale motivo, si allontana sempre più dai parametri necessari per l'adesione all'UE. Proprio ieri, infatti, è iniziato il processo contro undici attivisti dei diritti umani, tra cui un tedesco e uno svedese, che rischiano dai sette ai quindici anni di prigione.
Tale situazione ha spinto il consiglio europeo a ridimensionare in modo "responsabile" i fondi pre-adesione destinati alla Turchia, sollevando numerosi interrogativi sul futuro del Paese e i suoi rapporti con l'UE.
A farne le spese, in un quadro così incerto, è la Lira turca che dopo l'annuncio del consiglio europeo si è deprezzata del 2.5% nei confronti dell'euro (4.4% nei confronti del dollaro), attestandosi su un valore pari a 4.436 Lire per euro (3.823 Lire per dollaro).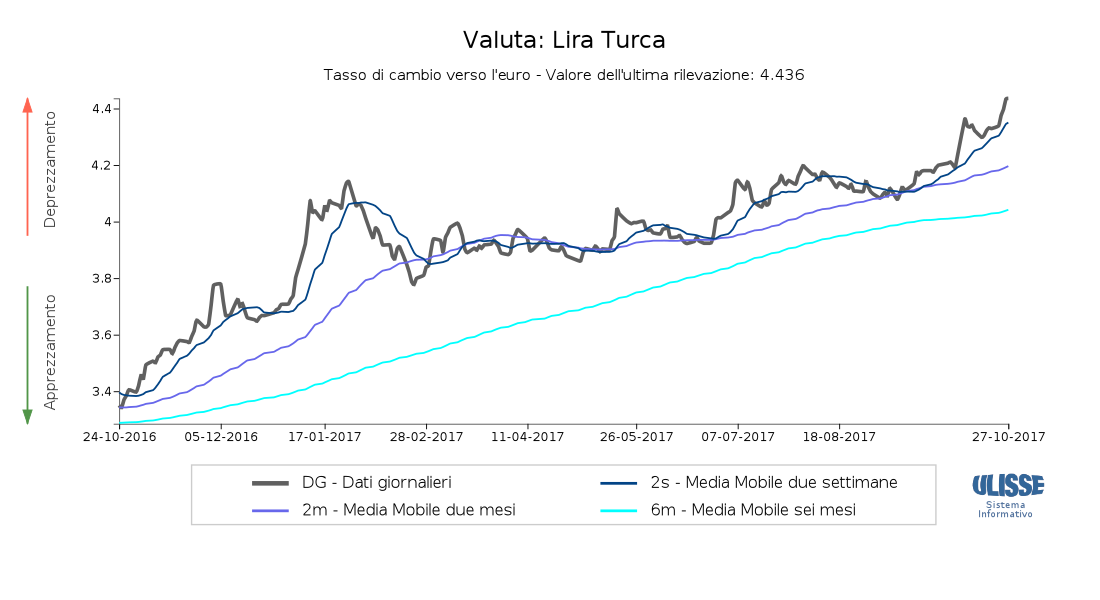 Infine, ma non meno importante, da citare l'intervento di Mario Draghi avvenuto ieri in merito alla politica monetaria della Banca Centrale Europea.
Il consiglio direttivo della BCE ha deciso di diminuire il programma di acquisto dei titoli finanziari (Quantitative easing) dagli attuali 60 miliardi ai 30 miliardi, programma che entrerà in vigore da gennaio fino a settembre 2018. In merito ai tassi d'interesse, il consiglio direttivo non ha effettuato modifiche, lasciando i tassi allo stato attuale (tassi sulle operazioni di rifinanziamento principali: 0%, sulle operazioni marginali: 0.25%, sui depositi: -0.40%).
Il presidente della BCE ha, inoltre, aggiunto che non si tratta di una vera e propria operazione di tapering in quanto, il programma di acquisto dei titoli potrà essere modificato, sia in termini di entità che di durata, anche dopo settembre 2018, in base alle future prospettive macroeconomiche.
Infatti, lo stesso Draghi ha affermato, durante il suo intervento, che attualmente la crescita economica e l'inflazione dell'UE non sono in grado di auto sostenersi ma, la decisione di diminuire il Qe a 30 miliardi, riflette la crescente fiducia nei confronti dell'economia dell'Unione e quindi la possibilità che tali variabili raggiungano i target prefissati.
La reazione dei mercati Forex non è stata positiva, infatti l'euro si è indebolito dell'1.3% nei confronti del dollaro, attestandosi su un valore pari a 1.161 Dollari per euro.