Log in to use the pretty print function and embed function.
Aren't you signed up yet? signup!
L'esordio di Jerome Powell, subentrato alla presidenza della Federal Reserve americana (Fed) lo scorso 5 febbraio, non è passato inosservato ai mercati Forex.
Questa settimana -più precisamente martedì 27- il sostituto di Janet Yellen, ha sostenuto il suo primo discorso al congresso americano, esprimendo ottimismo sulla crescita dell'economia americana aiutata anche dalla recente riforma fiscale attuata dal presidente Donald Trump.
Tale ottimismo, parzialmente frenato dal rallentamento del tasso di crescita del Pil del quarto trimestre -diminuito dello 0.1%, dal 2.6% al 2.5%-, è stato letto dai mercati come un possibile aumento dei tassi d'interesse nel 2018 più accentuato delle attese. I mercati, quindi, stanno già scontando quattro probabili rialzi dei tassi d'interesse, rispetto ai tre precedenti, spingendo il dollaro ad interrompere la fase di indebolimento iniziata alla fine dell'anno scorso.
Negli ultimi giorni, infatti, il tasso di cambio dollaro per euro si è leggermente apprezzato, oscilando su valori prossimi a 1.23 dollari per euro.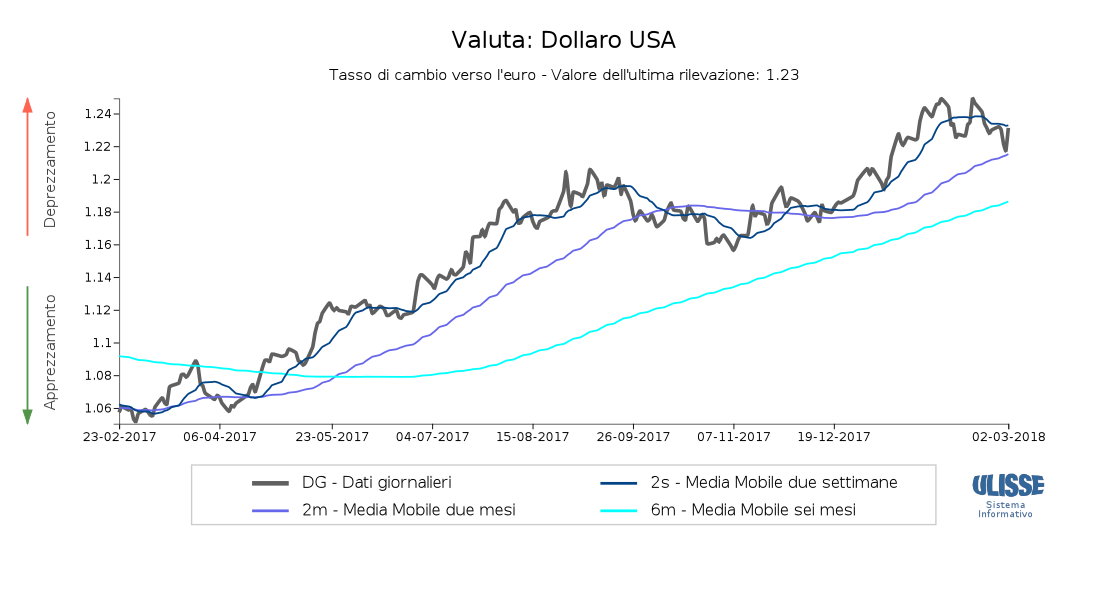 Essendo un tasso di cambio bilaterale, il suo andamento dipende anche dalla dinamica della valuta controparte, ovvero l'euro.
I recenti dati sull'inflazione, pubblicati dall'Eurostat, vedono l'indice dei prezzi al consumo (annuale) passare dall'1.4% stimato a dicembre all'attuale 1.2%. La politica monetaria della Banca Centrale Europea (BCE), quindi, potrebbe essere completamente diversa da quella adottata dalla Fed. Il programma di acquisto dei titoli della BCE (il cosiddetto 'Quantitative Easing'), quindi, potrebbe essere prolungato anche dopo l'attuale scadenza fissata a settembre 2018.
Contemporaneamente alla tenuta verso l'euro, il dollaro si sta rafforzando nei confronti delle valute dei suoi principali partner commerciali. Questa settimana, il tasso di cambio effettivo del dollaro (calcolato verso le 30 principali valute) è aumentato dell'1.0%, attestandosi su valori pari a 100.8.
Le valute che questa settimana si sono maggiormente indebolite (circa l'1%) nei confronti del biglietto verde sono: Corona svedese, Dollaro canadese, Dollaro neozelandese, Rupia indonesiana e Peso argentino.
Continua il ruolo di valuta rifugio svolto dallo Yen, apprezzatosi nell'arco di un mese di quasi il 5% sia nei confronti del dollaro che dell'euro.