Log in to use the pretty print function and embed function.
Aren't you signed up yet? signup!
I dati aggiornati al 2° trimestre dell'anno, disponibili nel sito Exportpedia, segnalano la prosecuzione della fase di crescita dell'export dei territori italiani, con il 74% delle province italiane che registra aumenti tendenziali nei valori in euro delle proprie esportazioni.
In particolare, la crescita delle vendite all'estero si conferma particolarmente diffusa al Nord, con l'85% delle province che registra un tasso di variazione positivo.
Esportazioni delle province italiane: variazioni tendenziali 2° trimestre 2018
(euro correnti)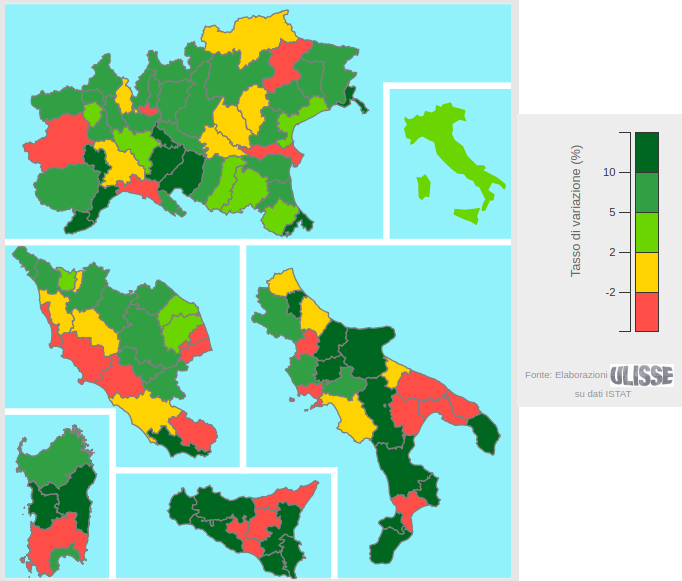 Fonte Exportpedia
ATTENZIONE: le variazioni relative alle province della Sardegna non devono essere considerate, in quanto dal 1° trimestre 2018 viene recepito il nuovo assetto regionale stabilito dalla Legge regionale n. 2/2016 e successiva delibera della Giunta regionale n. 23/5 del 20 aprile 2016.
Vai a exportpedia
Le province del Nord-Est continuano a mietere successi sui mercati internazionali ...
Nel periodo aprile-giugno 2018 il Nord Est si è confermata l'area con la maggiore diffusione (86%) di province in crescita nelle vendite all'estero.
Nel trimestre esaminato si segnalano, in particolare, i rilevanti contributi positivi delle vendite all'estero delle province di Gorizia (+675 milioni di euro rispetto al corrispondente trimestre 2017) e Trieste (345 milioni di euro in più rispetto al secondo trimestre dell'anno scorso), trainate entrambe dal settore navi, yacht e imbarcazioni, e di Piacenza (+240 milioni di euro, grazie alle conferme di dinamicità delle vendite di abbigliamento, soprattutto verso i mercati asiatici), Parma (+211 milioni di euro, in virtù delle ottime performance di macchine per l'imballaggio e altre macchine), Treviso (+202 milioni di euro), Reggio Emilia (+193 milioni di euro), Padova (+157 milioni di euro), Udine (+117 milioni di euro) e Bologna (+104 milioni di euro).
.. (quasi) tutti i territori lombardi in aumento ...
Anche nel Nord Ovest le performance di crescita delle esportazioni nel secondo trimestre dell'anno si confermano ampiamente generalizzate (84% dei casi). In particolare, in Lombardia, con la sola eccezione di Monza-Brianza, tutte le province risultano in crescita: Milano risulta la provincia di gran lunga trainante - anche a livello nazionale -, grazie un incremento tendenziale del proprio export nel periodo aprile-giugno 2018 di 794 milioni di euro1, seguita da Brescia (+373 milioni), Bergamo (+254 milioni), Como (+107 milioni) e Lodi (+88 milioni).
.. e, in Piemonte, le conferme di Asti e Cuneo.
Non da ultimo, in Piemonte si segnalano - a mitigare il calo evidenziato dall'export della provincia di Torino - i risultati particolarmente positivi nel 2° trimestre dell'anno delle vendite all'estero delle province di Asti (+494 milioni di euro in termini tendenziali, confermando l'ottima performance di crescita già evidenziata nel trimestre precedente, trainate dal settore automotive, che nell'ultimo trimestre ha raggiunto la cifra record di 2.7 miliardi di euro su base annua2) e Cuneo (+129 milioni), con le vendite di vino e altre bevande in ulteriore accelerazione sul mercato statunitense.
---
1) In particolare, si evidenziano le conferme di crescita delle esportazioni milanesi del settore farmaci, che nella prima metà del 2018 hanno registrato un incremento tendenziale cumulato del 53% rispetto al 2017 (per un controvalore di quasi 700 milioni di euro "anno su anno").
2) L'export di Autoveicoli dalla provincia di Asti (riconducibile in massima parte al comprensorio di Villanova d'Asti) sta sperimentando forti crescite soprattutto verso Stati Uniti (+150 milioni di euro in termini tendenziali cumulati), Messico (+102 milioni), Brasile (+69 milioni), Turchia (+62 milioni), Cina (+31 milioni) e India (+15 milioni).