Log in to use the pretty print function and embed function.
Aren't you signed up yet? signup!
Global economic growth is slowing down. According to the recent estimations published by the International Monetary Fund, this year global GDP will grow by 3.5%, 0.2 percentage points less than expected in October and 0.4 percentage points less than projected in April.
The automotive industry weighs on Italy and Germany
Focusing on expected GDP growth for the most important economies, two nations are to be mentioned: Germany (+1.3%) and Italy (+0.6%) will grow respectively 0.6 and 0.4 percentage points less than what projected last October, according to the latest estimations.
The industry that most of all affected this revision of the German economy and, consequently, of the Italian one, is the automotive sector. In the fourth quarter of 2018, Germany produced 1.2 millions of cars, 24% less than the same period in 2017 (Source: VDA).
Turkey negatively impacts emerging economies growth
As regards developing economies, the expected GDP growth in 2019 for the Emerging and Developing Europe countries1 is equal to 0.7%, 1.3 percentage points less less than October forecasts.
Among the reasons that led to such a drastic reduction in estimations, there are the market turmoils Turkey has been facing for months, caused by:
the shift towards authoritarianism of the country;
the institutional crisis with the USA, to which Trump replied with a tariffs hike for the exports of aluminium and steel;
the trade balance deficit;
the strong foreign currency exposure of Turkish companies.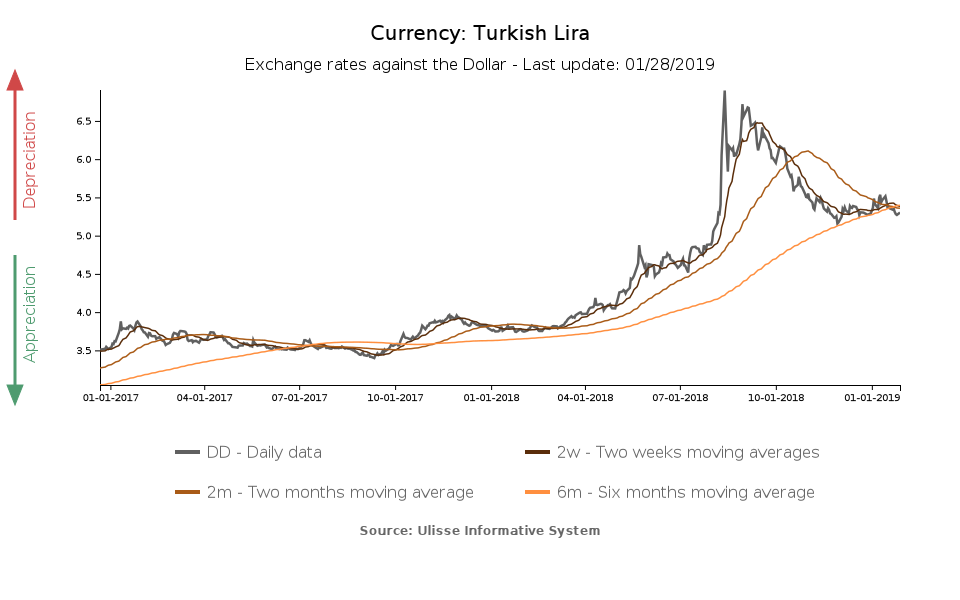 As shown in the graph above, in the summer of 2018 a sharp depreciation of the Turkish Lira occurred, which almost halved its value against US Dollar, from 4.0 TRY/USD in June to 6.9 TRY/USD in August.
These events were followed by an exchange rate recovery (stable at 5.3 TRY/USD), that led to higher interest rates, now equal to 24%. Moreover, the galloping inflation (20% in December) and the rate of return of a one-year bond greater than 20%, are signals of a strong short-term instability, especially considering that Turkish private sector needs to pay back part of the 70 billions of debt claims of foreign investors.
US-China tariffs war
Another element of the 2019 scenario is a slowing down of both the American and Chinese economies by 0.4 percentage points. This downturn was already present in the October forecasts and it hasn't been revised downwards in the January update. This shows that the IMF does not expect negotiations to worsen, but quite the opposite: an agreement could be found soon.
Considering the stabilization of the US stock exchange and the strengthening of the US Dollar, markets seem to confirm the optimistic view as well.