Log in to use the pretty print function and embed function.
Aren't you signed up yet? signup!
Once again since the beginning of the pandemic, central banks are at the center of the economic and financial scene. In a context still marked by Covid-related uncertainty, this week several central banks put in place new measures to support national economies, which have partially helped to improve the sentiment on financial markets. In particular, new measures came from the US Federal Reserve (FED), the Bank of Japan (BoJ) and the Bank of England (BoE).
The reassurances of the central institutions supported stock markets: indexes rose in the first part of the week and then stabilized, in the midst of conflicting signals. Indeed, while central bank action reassured financial markets, risk factors remain, first and foremost about the infamous "second wave". This week, contagions have started to rise again in China, while in the US cases of Covid-19 continue to increase, especially in Arizona, Florida, Texas and California. The Covid factor therefore proves to be firmly present, keeping investors' attention on safe-haven currencies.
FED: towards corporate bonds
On Monday June 15, the FED announced that, as part of the Secondary Market Corporate Credit Facility, it will begin purchasing "a broad and diversified portfolio of corporate bonds to support market liquidity and the availability of credit for large employers". Further news that has supported investor sentiment this week is the possibility of a more than $1 trillion infrastructure investment plan, which could be launched shortly by the US administration.
Another event of the week was Chairman Powell's semi-annual monetary policy testimony to the Senate, where he maintained the cautious approach shown at last week's monetary policy meeting, confirming the strong uncertainty weighing on the country's economic outlook, despite some encouraging early data.
Balanced between conflicting factors, the dollar has overall shown a strengthening against the single currency, recovering almost 2% of its value against the euro in just over a week. For the time being, its safe-haven appeal therefore seems to prevail.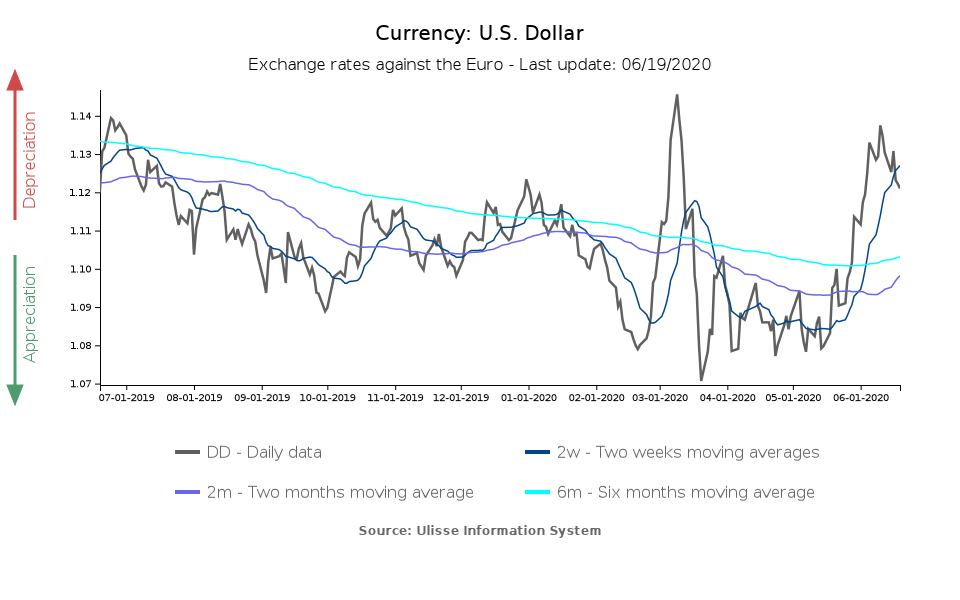 The BoJ in action
The stance of the Bank of Japan was also very accommodative at its monetary policy meeting on June 16. In addition to confirming negative rates and unlimited QE, the committee decided to increase the budget for corporate financing measures. The news had a positive impact on the Nikkei, while the yen confirmed this week its strengthening trend against the single currency, driven by risk aversion that continues to be present. Overall, since early June the currency strengthened by more than 3% against the euro.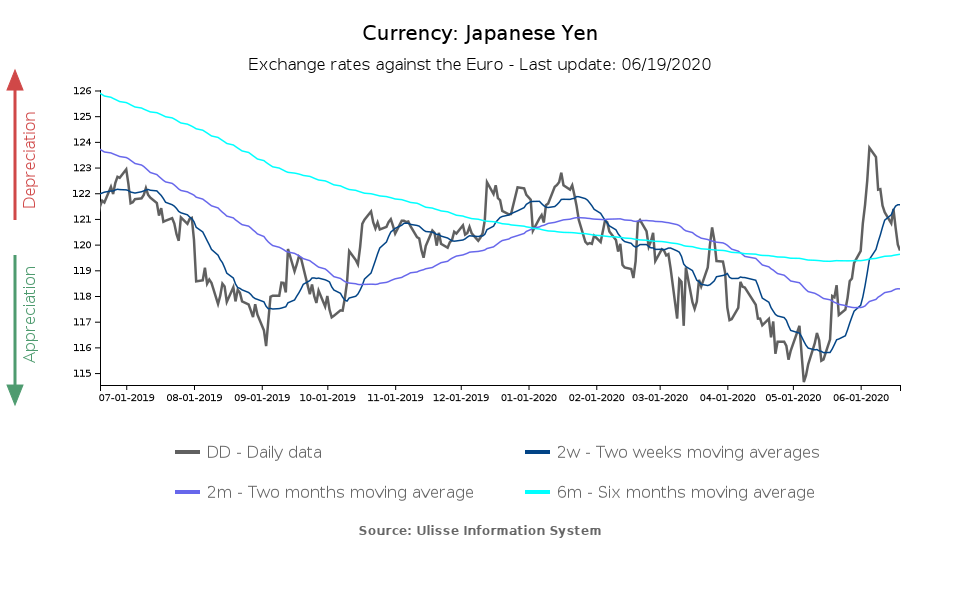 Expansionary monetary policy measures came from the Bank of England as well: at yesterday's meeting, it announced the increase of its quantitative easing programme by more than £100 billion. Central banks therefore continue to confirm their firm and necessary presence in the fight against the economic effects of the virus.