Log in to use the pretty print function and embed function.
Aren't you signed up yet? signup!
World economy is growing again
Between the end of 2020 and the first months of 2021, global economy has entered a recovery phase. According to IMF spring forecasts, world GDP will increase by 2.5% more than the pre-pandemic outlook as global growth is projected to expand in 2022 and 2023, respectively by 4.5% and 3.5%. From April on, when the IMF World Economic Outlook was released, economic information seem to firmly back the prospect of strong growth for the next two years. While a few months ago analysts were far less sanguine about growth forecasts, they now believe in a fast and solid recovery.
As protectionism loses strenght there is greater openess to foreign markets
With the new US presidency, there has been a shift from a phase of raising barriers to one in which accessing foreign markets is increasingly less difficult.
The need to determine how to allocate investments across countries
Notwithstanding the overall growth prospects, opportunities will not be the same for all countries. The chart below shows the projected change in imports between 2019 and 2023, according to Export Planning's April scenario, for the best and worst performing countries (the top and bottom 10). The wide dispersion of results is evident: they range from a high in China, whose total imports will increase by over 450 million euros, to a low in South Africa, with purchases in 2023 still not recovering to 2019 levels.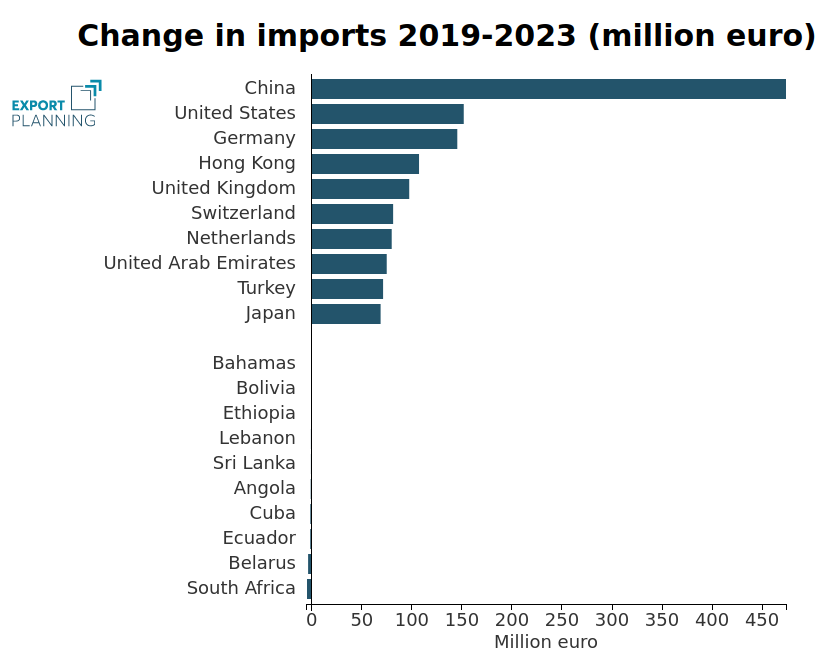 Given that firm's positioning may vary across different markets, the willingness to transform opportunities into concrete results will change accordingly. For this reason, companies distribute their marketing budgets according to the expected return on investment in the short, medium and long-term. Investments in marketing have indeed long-lasting effects.
The positioning-opportunities matrix
A useful method to allocate investments over the different countries is to construct a matrix, by positioning the different markets on the basis of two criteria:
expected business opportunities in the market. These can be discovered using ExportPlanning's Market Selection tool;
competitive positioning of the company, which accounts for the past opportunites, the marketing investments made and the results obtained.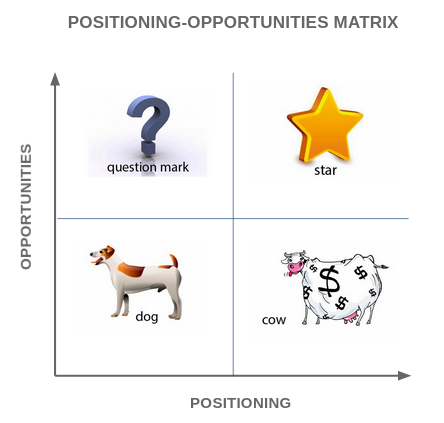 The four sections have been defined on the basis of a matrix by the Boston Consulting Group.
How to allocate investments
An optimal distribution of investments should:
maximize results over the medium term;
diversify investments across markets to reduce overall risk.
In particular, the following may be really useful:
Star markets: the markets to be privileged, where firms should direct the largest share of funds. These markets must be attentively monitored as they generate the resources needed to economically and financially support all other projects of commercial development;


Cow markets: The firm is well positioned in the market. Therefore, it must continue to deepen its market knowledge in order to properly anticipate future opportunities;


Question Mark markets: these markets require careful analysis to identify the reasons which may explain the company's failure, especially if it has been exporting there for several years. That can reveal some of the reasons hidden behind the failure (strong local producers, inadequate product/management philosophy, design, etc.). In this case, the company will have to decide whether to change its strategy and invest in the market, or to approach it only through a tactical lens;


Dog markets: before leaving them, it is useful to consider whether these markets could present some kind of opportunities in the future. Low short-term opportunities reduce the cost of improving one's positioning. To this extent, China's case is particularly significant: whilst a few years ago it was a virtually closed market for some products, those who started to invest are now in the best position to benefit from Chinese demand for variety.
More specific indications only starting from firm's characteristics
What have been said consists of somewhat general observations. To get more specific advices, a company needs to ask itself two fundamental questions: who am I today? Who do I want to be tomorrow? Clearly, this in-depth study can only be done on a case-by-case basis.